Count the Angels as one of those clubs that is definetly looking ahead to the All Star Break. The last two nights have highlighted everything that has been wrong with the season so far. Tonight, the defense and the bullpen contributed to what was a pitcher's duel becoming a laugher for the Mariners. This trend is problematic because losing to teams in your division is bad, but when its the supposed easy ones (like the M's and the Astros), it makes it that much harder to gain any traction.
Game Notes
— Gonna be short tonight as there wasn't really much to this one. Let's face it, the offense was bound to struggle given that Felix Hernandez was on the mound. Historically, the Angels have hit him well but you could tell early on, he was at the top of his game. The Halos never really chalenged him once in the game. Special kudos to Albert Pujols for continuing like he needs a GPS and a flashlight to find a hit lately.
— Jered Weaver was strong early but faded as his pitch count rose. When in an ace duel you can't have long innings that lead to any sort of offensive traction for the other side and that is what happened to Weaver in the 6th. I gotta think Weaver will be much stronger in the second half of the season, but tonight he just wasn't sharp enough.
Halo A Hole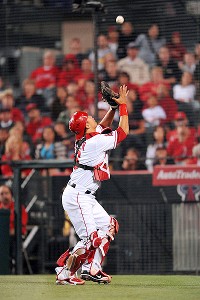 Nice work behind the plate tonight Hank. He dropped a sure out in that resulted in first run of the game. Then he had two pithces pass him by that led to runs later in the game. Guess this means we won't be seeing much of Mr. Conger for awhile as he spends some time in Mike Scioscia's doghouse. See ya Hank!