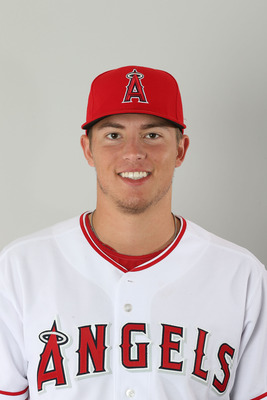 1. Alex Yarbrough will be a Top 5 prospect and finish the season in AA/AAA.
Call it intuition or simply a fool's wild guess, but the scout in me sees something in Yarbrough that I'm not sure many other publications see. His stroke is smooth, direct to the ball, no unnecessary movements. He has gap power but looks like he may have some homerun power eventually. He's athletic and is going to hit for average. I might be going out on a limb here, but I'm really excited about this Yarbrough kid. I genuinely believe he'll hit over .300 this year and climb the ladder fast enough to replace Howie Kendrick by the time his contract expires. I envision Yarbrough beginning the year in the Cal League but being promoted aggressively to AA or AAA around the all-star break, which is incredible given it will be his first year in the minors.
2. Chevy Clarke will have a breakout season
This is where we test the limits of he term "breakout season". By breakout season, I mean that for the first time in his professional career, Chevy Clarke won't disappoint fans who bought the hype following his first round selection. Clarke should spend the majority of the season in Burlington playing for the Angels A Ball affiliate. He'll contribute across the board, accumulating 30 doubles, 15 home runs 30 stolen bases and a .250 average. Most surprisingly, Clarke will collect more than 50 base on balls for the second consecutive season. It won't be enough to land him on any Top 100 Prospect lists, but it should be enough to make him a relevant prospect again in the organization.
3. Ty Kelly, Michael Morin, Daniel Tillman, Austin Wood and R.J. Alvarez will all be on the 40-man roster to begin 2014.
This bold prediction has more to do with what happens in the 2013 season resulting in a change for the 2014 season. The Angels bullpen in 2013 won't be nearly as strong as they'd hoped when they signed Ryan Madson and Sean Burnett. At the same time, Jerome Williams and Scott Downs' contract will expire at the end of the season and Garrett Richards will be in the rotation, leaving quite a few vacancies. Enter the Angels terrific crop of collegiate relievers. Ty Kelly posted an ERA under 2 in the Cal League in 2012 and is ticketed for AA in 2013 after a terrific Spring. Michael Morin was perhaps the best reliever in college baseball in 2012 and should climb quickly in 2013. He's armed with a good low-90's fastball and a devastating change up. He works quickly, attacks hitters and stays in the zone. Daniel Tillman will give AA another go in 2013 after disastrous results in 2012. Tillman throws a good low to mid-90's fastball and wipeout slider. Austin Wood was a starter in 2012, but all signs point toward him someday becoming a reliever. I believe "someday" will be late 2013. Wood throws a hard and heavy mid to high 90's fastball, great slider and a decent change. What he lacks for now is control or the ability to command his pitches. R.J. Alvarez was the Angels top draft pick in 2012 and posted very solid numbers in A Ball. Alvarez came prepackaged with a mid-90's fastball with movement and an impressive slider and change up. What he lacks are clean mechanics and experience. The Angels should fix both in 2013 and Alvarez could press for a bullpen spot late in the season.
4. C.J. Cron will post a better walk rate in AA in 2013 than he did in the Cal League in 2012.
The knock on Cron so far is that he simply doesn't walk. Most fans conveniently ignore the fact that Cron is death against all pitcher when runners are on base and the fact that he has as much raw power as any hitter in the minor leagues. So far in 163 minor league games (roughly a full major league season) Cron is hitting .296/.337 with 32 doubles 40 home runs and 164 RBI's. In 2013, I'm expecting Dickey Stephens park to knock back quite a few of his home runs which might hurt his value with publications that only read numbers and fail to properly scout players, but I expect Cron's BB rate will steadily climb as he proves that he's a future legitimate middle of the order hitter in the Major Leagues.