I don't want to sound toooo misleading off of that title there, there won't be any "stealing" of jobs by Ernesto Frieri. Although the fact is that Mike Scioscia does happen to prefer Ryan Madson as the Angels full-time closer this season he has not been officially given the job yet. While it's been made clear the Angels want Madson to close for them they do acknowledge the fact that the job is up for grabs, no one has safely earned the job yet. This is business as usual in Spring Training, every manager on every team spouts the usual "We would like to see so-and-so playing this position, but it's still up for grabs. Anyone can win the job with an impressive Spring Training."
Normally you would think that this means "Sure other people can try to earn the job, but it'll probably go to so-and-so at the end of the day", yet there are certain factors in here that make the case between Ryan Madson and Ernesto Frieri a tad bit more complicated. Let's start this one looking at Ryan Madson's side of the battle. Although he has shown to be an All-Star closer in previous years he is currently recovering from Tommy John surgery, though there are no major setbacks that will impede his progress in making the team. The only problem is that he isn't slated to return to the Angels until after Opening Day, and with his recent shutdown due to "stiffness" (which an MRI ruled as non-major) his progress will be held back a few weeks at most. While a few weeks isn't even close to enough to automatically stamping out his dreams of closing for the Angels it is more than enough for Frieri to claim the title of "closer" as his own.
The biggest issue with Ernesto Frieri down the stretch last season was his vulnerability to the homerun ball based off the spottiness of his fastball in high pressure situations. I don't need to go pulling out the numbers to remind you guys of the fatal stretch against the Kansas City Royals and Texas Rangers at the tail end of the season that cost the Angels what looked to be for sure victories. These would have been victories that would have strengthened the Angels playoff contention as much as it did to weaken them. Regardless of Frieri's fleeting moments of vulnerability he has shown to have one of the best fastballs in baseball; over 70% of his recorded K's came off his fastball and two-seamer. Maybe 70% of strikeouts coming off fastballs doesn't seem too out of the ordinary to the average baseball fan, once you take into account his absolutely ridiculous 13.3 K/9 rate. That's 80 strikeouts over a period of 54.1 innings pitched, and as a matter of fact Frieri was a top 5 leader in reliever appearances with 2 strikeouts or more last season. While he did have some trouble with his control, noted by his 4.3 BB/9 rate, he did more than enough to keep batters from putting the ball in play. Even though he did give up a few free passes, at times giving multiple walks in an inning, his pure stuff was great enough to keep batters from putting the ball in play and getting consistent movement on the basepaths.
In other words, Frieri was a polyester-clad god at keeping action on the basepaths to a minimum despite the walks.
If Frieri was so dominate as the Angels closer for the better part of last year then why not just let him keep the job? Simply put, the Angels bullpen needs significant depth changes and Ryan Madson has an excellent track record as a closer. Madson has pitched in 9 separate postseason series across a 4 year period. During this period Madson personally pitched the last outs of 11 different playoff games while putting up a ridiculous 2.31 postseason ERA. Madson has spent nearly a decade closing in the eternal playoff contention environment of Philadelphia with the Phillies. Frieri spent two years buried in a fantastic San Diego Padres bullpen where he was made to mop up innings and pitch in low-pressure situations before spending little more than half a season closing in Anaheim. Frieri simply does not have the track record Ryan Madson does. If Madson can close to such great success in a high pressure baseball city like Philly then why wouldn't his transition be as smooth to the new AL powerhouse in Anaheim?
Changing leagues is always a difficult transition for MLB players, having to learn new players sometimes takes a little transitioning. Fortunately for Madson this problem is usually more evident with hitters than pitchers, if anything Madson has the edge given the fact that many hitters will be unfamiliar with his pitching repertoire. The fact that he might not join the Angels until a month or so in the season does hurt him a bit, not only will he have to transition to a new league but to live pitching once again. After missing last season due to Tommy John as well as his limited bullpen sessions means he'll have to get his feet wet during the season. It could take a little while before Ryan Madson is pitching like Ryan Madson again. This is where Frieri's edge comes in.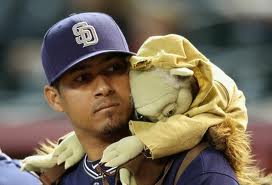 The biggest factor in Frieri possibly snatching the closer role out of Madson's jaws will be his ability to develop his new pitch during Spring Training. Frieri stated he was developing a cutter that he would take into Spring Training, which would be devastating given the effectiveness of his fastball. Just because he says he's developing a new pitch doesn't automatically mean it's going to be there once the season starts. I've seen plenty of players come into Spring Training with a new pitch or two they'd like to develop until they realize the pitch(es) are more far behind than they thought, this is relatively common. However, there are reports coming out of the early Angels practices that paint Frieri's "developing" cutter as coming along quite fantastically. He's only thrown some bullpen sessions so far, but so far he has impressed and if he can take the pitch into live action and showcase its effectiveness he could set himself up for a serious jump at the closer role, FULL TIME. I'm not talking about Frieri manning the fort until Madson is back and can pitch effectively, I'm talking about Frieri dominating the closer role so much that Madson is forced to stick around as the set-up man. This isn't that likely of a scenario, but if Frieri's cutter is developing as well as initial reports make it seem his "strong" pitch repertoire of excellent fastballs could suddenly turn into a devastating lineup of killer fastball's and mediocre off-speed pitches.
Frieri has a very "Mariano Rivera" approach to pitching as a reliever, he uses almost NO off-speed pitches and focus heavily on fastball movement. Frieri throws off-speed pitches less than 10% of the time, the movement and speed of his fastballs are usually more than enough to keep hitters off balance. Adding in a possibly "super-effective" cut fastball could give him far more versatility on the mound than he had before. If Frieri can develop his cutter into a break-your-bat type of pitch then hitters could be left looking foolish after every AB. Not only would an effective cut fastball improve his ability to strike out hitters, it'll also increase the rate at which he produces groundballs. Cut fastballs are not a pitch that you can count on driving should you make contact, not like a curveball or fastball. Although Frieri is pretty damn good at keeping the baserunners he allows on base by way of a free pass being able to produce groundballs more consistently will make him a better close by miles. This all does hinge on his ability to develop his cutter in a hard cut fastball and not just a "half-assed slider" cutter that is more common.
I don't know if it's just because I'm biased towards my Angels, but I think Frieri is capable of developing a Mariano-like cut fastball. Hell, if Scott Kazmir can develop a cut fastball as killer as Mariano's I have no doubt Frieri will be able to. It's hard to grasp Frieri getting significantly better after his season last year, I was expecting him to patch some rough spots up a bit and maybe give an entertaining battle for the closer role this year. It now seems that Frieri is intent on making this a major power struggle for the closer job, it's yet to be seen whether this will be for better or worse. It could encourage each player to pitch above and beyond their usual capabilities, but it could also lead to an embittered Madson and some clubhouse tension.
Whatever the case may be it seems that the Angels closer role will be far more hotly contested than any of us could have anticipated. That or Frieri's change-up could end up falling flat on its face after some promising bullpen sessions. Personally I think Frieri has more than enough to command the closer role once Madson comes back, but anything can happen.
This is the game of baseball, the most unpredictable sport on the planet. Anything can happen.