With the Angels sweeping the Mariners they've inched just a bit towards avoiding a complete disaster of a season. I mean, it still has been a monstrous disaster, but at least the Angels have shown enough life to look ready to avoid a 90 game losing season. It's great that the Angels can sweep when they have been showing they have almost no ability to do it consistently, but as a front-office minded sports fan I wouldn't mind seeing the Angels pick up as many losses as possible in order to get a tasty draft pick. We all know the Angels and Dipoto have been working towards stocking the farm system, and a strong draft pick to make up for the picks they've lost the past few seasons could be tremendous to the Angels. We've already come this far when it comes to losing, why not spend another few weeks losing in order to ensure a successful draft?
The Angels looked like their vintage selves with their timely hitting and strong starting pitching by Weaver, but against a foe like the Mariner's that only goes so far. It does have a nice novelty factor getting to watch the Angels smash on the Mariners.
Game Notes
— The Angels looked rather worrying early on, letting Aaron Harang take them for 4 innings with only 1 hits being allowed (Hank Conger). After that though, the Angels exploded, taking Harang for 7 runs through his 5.2 innings of work. This included a big homerun by Kole Calhoun and a pair of triples by Bourjos and Nelson. Five Angels came away with multi-hit games games, including Josh Hamilton and Grant Green as well as Mark Trumbo. Nelson and Calhoun also came away with multi-RBI games. I know that Aaron Harangs presence might water down these stats just a bit, but it still stands that many Angels came away with big offensive games today. It's doubtful they'll continue on a tear such as this for any extended period of time, but any win is nice to see when you're an Angel fan.
— Jered Weaver was incredible today, taking the M's for only 1 run across 8 innings of work. He could have gone all 9 innings if he didn't have a shaky end to his 8th inning, but it's still great to see Weaver take the game away from the bullpen's dirty little hands. This is magnified once you take a look at Cory Rasmus' horrifying 9th inning, which could have been worse had the game been a lot closer. The Angels always tear up Harang and Weaver never has any problems with the Mariners, but the bullpen is always a different story. Rasmus was able to come away from the inning with no damage, regardless of the 2 hits and 1 walk that he gave up to load the bases before getting his outs. I didn't think the Angels pitching staff would hold the Mariners to only 2 runs across the whole series and I doubt they'll be able to hold that up for the rest of the season. Nice to see them put the effort together, no matter how short a period of time it is.
Halo Hero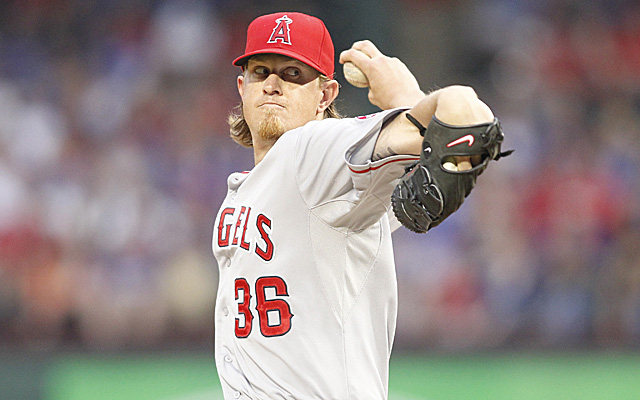 Where's the decline? Where is it? Despite many baseball "experts" pointing out his declining velocity as a point for his sharp decline he is still pitching as strong as always. Today is a strong indicator of his will overpowering his ability to gas up his pitch speeds.
Hopefully he can stave off the decline for just a couple more years.