Going into the season everyone had the same questions about the Angels. Could they muster enough starting pitching to survive when their offense didn't score a ton of runs? What could they expect out of the rotation that was built on a bunch of random B- to C+ major league arms? Well, 101 games into the season we have our answer.
The Angel rotation will be the reason this season is a bust. Say what you will about Josh Hamilton's below average season or the bullpen's lack of success, the starters will be the #1 factor for the Halo's lack of contention this year. When 3/5 of the rotation is either coming off major injuries or have been mediocre their entire career, I'm not sure we could have expected any other possible outcome other that what we are seeing now. It's been frustrating to watch to say the least.
Game Notes
— Paging Jason Vargas stat. Jerome Williams is done. I know the stat line ended up being a bit better than it could have been and I'm not sure what we expected other than 5 innings and giving up four runs, but the eye test tells me he is kaput. Williams will always be a swing man or an emergency starter type. He is not an every fifth day guy.
— Anyone else have mild cardiac arrest when Joe Blanton started warming up in the bullpen? When he's your contingency plan, then all hope is truly lost.
— I still cannot explain how Bartolo Colon does it. All he throws are 90 mph fastballs and a changeup that he often hangs over the plate. And yet, he mowed down Angel batters with ease. He's the ani-Blanton. He throws meat and gets out. Joe throws meat and gets cooked.
— You feel bad for Mike Trout who is having an MVP caliber season and will probably finish third or lower since his team sucks. Another day, another couple of hits (includng a home run). You hate it when teams waste talent and you hope that's not going to be the case with this team over the next couple of years.
Halo A Hole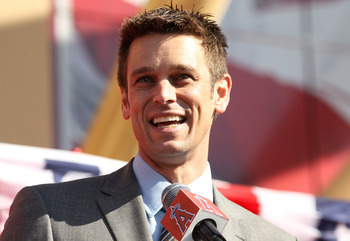 The shine is off the kid GM. Jerry DiPoto created this rotation. He signed Blanton, who is epically terrible. He traded for Tommy Hanson, who might be made of glass. He overspent on Josh Hamilton and then chose not to build a bench. He created a bullpen that has yet to be run out as contructed all season. The results of this year are on your head JeDi. Here's hoping you wise up and get some real pitchers in the offseason or Arte will start getting angry.