The Angels system is barren in AA/AAA of projectable young pitchers.   Clearly, this year's draft was meant to rectify this situation, as the Angels not only went pitching heavy, they drafted a majority of college players who likely could find themselves in AA to begin next year.  For the most part, they sacrificed upside in favor of polish in their selections.  We saw less prospects with thinner frames but mid-90's heat and the chance for "plus" off-speed pitches in favor of more filled out frames that offered low-90's heat and average off-speed pitches.  It's an understandable approach too.  As an organization, the Angels simply aren't in the position to metaphorically buy lottery tickets and gamble.  They needed to invest their money in pitchers who are closer to the big leagues that likely won't ever be top of the rotation starters, but at least mid-end of the rotation inning eaters.  Let's see who they grabbed.
First Round
LHP Sean Newcomb –Though Newcomb wasn't talked about as much as some other draft picks, it was widely assumed that he would be gone before the Angels had the chance to pick.  But luckily for the Angels, other teams chased upside and Newcomb landed in the Angels lap.  Sean Newcomb has what is likely the highest floor of any pitcher in the draft, meaning it's a very safe bet he'll be a major leaguer.  He's big, left-handed, has a good fastball and average off-speed offerings.  His delivery shows a little across the body movement that provides deception, but his balance and easy arm-slot allows him to spit consistent fire at hitters deep into ball games.
That'll get you a spot in any rotation.  While Newcomb doesn't have the front of the rotation potential, he's a safe bet to be a #3 starter and should find his ceiling much sooner than his peers.  National cross-checker Greg Morhardt is extremely familiar with the coaches, scouts and players in the Northeast as that was his scouting assignment once upon a time.  Clearly, Morhardt felt more comfortable going with the sure-thing Newcomb.  It was the right decision to make, too.  Newcomb should begin next season in AA and be ready for the majors less than a year after that.  Currently, the only pitcher the Angels have that should be ready in that timeline is Michael Roth, so clearly Newcomb met a rather significant organizational need.
Second Round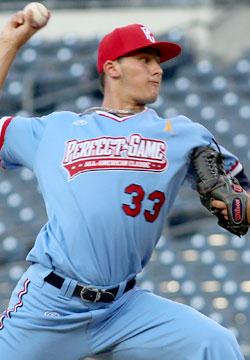 RHP Joey Gatto – Since the Angels went with the safe bet in the first round, they took a chance in the second and drafted a high school arm with lots of projectability in Joey Gatto.  Gatto, also from the northeast (Morhardt clearly loves the players up there as the Angels almost completely ignored the baseball mecca trifecta that is California, Texas and Florida), has the right mix of everything to be one of the Angels premier prospects.  At 6'3 200 lbs, Gatto has the frame scouts love.  He also has the low to mid-90's heater and off-speed arsenal that could help him succeed in the majors at some point.  In comparison to last year's second round pick Hunter Green, Gatto has a lower upside but comes with more polish.  Gatto's release is compact and over the top, but he struggles with finding a consistent release point and slows down his arm when throwing a change up.  Though from the footage I've seen, he's able to command both pitches which is rare from an 18-year old prep pitcher.
Third Round
RHP Chris Ellis – The Angels went with another safe pick here in Chris Ellis coming out of Ole Miss.  Ellis, like Newcomb, is a large-framed pitcher that comes with a solid three-pitch mix.  He's a safe bet to begin next year Advanced A Ball or AA.  Ellis himself may have been one of the great picks of the draft for the Angels.  Other teams stayed away from him in the first and second rounds despite his polish because of his short-track record of success in college.  Ellis just caught the attention of scouts as a starter and climbed the draft rankings quickly all in one year.  Clearly, the Angels were convinced by the performance and understandably so.  Ellis has an easy, well balanced and smooth delivery with loose arm action.  His fastball has tons of movement and his offspeed pitches are all able to play off this motion. In comparison to what I saw from the other 2nd and 3rd round selections, Ellis probably should've gone in the late first round or supplemental round.