What the hell was that? How is it that Bud Norris can look like Cy Young against our beloved underachievers? Do you realize that he has beaten the Angels three times giving up one run in the process? How is that possible when facing such a vaunted lineup? Oh yeah, forgot, the Angel bats have gone silent again. So after winning 8 in row, the Angels have given most of that back in a week and find themselves in the same whole they were a month ago. I'm really starting to hate watching this team play. I need a drink…
Game Notes
— Jerome Williams deserved a better fate. He pitched a heck of a game, really only making one mistake. Unfortunately that mistake was a two run homer to newest Angel killer Chris Carter. Other than that, Williams has held up his end of the bargain. He deserves to be in the staff. Most people are framing the argument that it is either Jerome or Joe Blanton, but I argue that it's Tommy Hanson who such be in jeopardy of losing his spot. Either way, Jerome is a starting pitcher, there is no doubt about that.
— It's not like the Angel offense didn't have their chances. The team went 1 for 7 with runners in scoring position and left 11 men on base. I don't understand why this team simply can't get it together when it counts. I suppose when the heart of the order goes 1-13 with only the measly Josh Hamiton infield single to show for it, those numbers seem about right.
— A quick note about off the field stuff. I don't know about you but the whole world's record for wigs thing was just ridiculous I fear that the Angels are being mocked by other teams when they do this thing. Although, I'm sure teams like the Pirates and the Marlins would kill for a crowd that could set any kind of record. Still, it would be nice if the on field product was good enough to not warrant such silly stunts.
Halo A Hole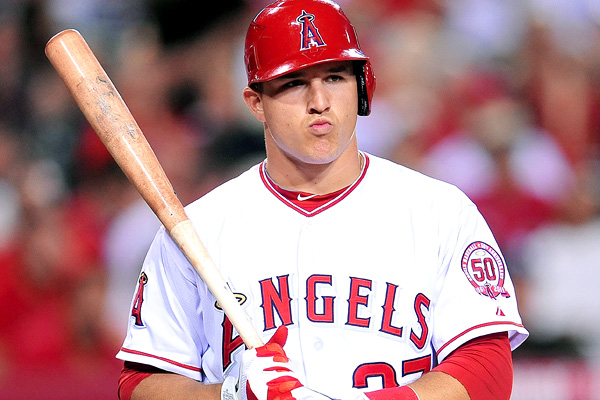 Mike Trout will not be putting this game on his highlight reel. He got picked off second, and twice came up with a chance to tie or win the game and both times grounded out to third. I know it's asking a lot to expect him to come up big in these situations, but if you are going to be one of the all timers, you have to deliver in these spots. I also notice that Mike is pulling the ball a lot more this year. When he's going good, he goes the other way. Lately, he pulls everything. There will be better days, just not today.