Ever since he was drafted, Kaleb Cowart has intrigued me as a prospect analyst.  He's a unique player in that many of his perceived strengths are typically weaknesses in other players while his weaknesses are things that come to other prospects rather easily.  Case in point….
1. Cowart is well-built, but his power is still predominantly gap power because of a line-drive type of swing.
2. He's athletic, but with added muscle has come added weight, which you'd think would slow him down but it's actually made him faster as evidenced by his 22 stolen bases so far.
3. His K/BB ratio is extremely close from both the right and left handed batters box, and he's showing no specific power advantage.
In fact, just about the only thing that makes sense with Kaleb Cowart is that his home games at Dicket Stephens Park (One of the most pitcher friendly parks in all of minor league baseball for RHB and half of LHB) have been awful.  He's hitting .169 at home compared to a somewhat respectable .254 on the road in more neutral parks.
I haven't been able to wrap my head around who he is as a prospect, so I went on search for others that I might be able to compare him to.    But first I had to figure out who Kaleb Cowart actually is.  So what do we actually know about him?
– He's athletic, with an amazing arm which most scouts believed translated better on the mound than in the field in high school.
– He's toolsy.  If you watched hi on the practice field and ignored the game performance, you'd say he has a beautiful swing, decent eye, great glove and arm and have hit for considerable power.
– He was drafted in the first round and came with considerable hype out of high school when he was named the Gatorade High School Player of the Year.
– As a pitcher, Cowart touched 97 mph on the mound  and frequently sat in the mid 90's with a killer slider.
– He's a former Top 100 prospect.
– He was very good in the lower levels but just hasn't been able to figure out AA pitching.
Those were my search criteria when I began looking for comps for Cowart.  This search began roughly a year ago when I was leisurely looking through current major and minor league third baseman.  The minors is littered with third baseman who never made it past AA, but none came with Cowart's hype or specific skill-set.  Then I stumbled upon a player this year that made me realize I was going about this all wrong.  I was searching for third baseman, and what I should've been searching for are pitchers.  Position players that can't make it at the plate often switch the mound and find success, but this typically happens down in Rookie Ball.  Jose Arredondo, Casey Kelly, Troy Percival and Trevor Hoffman are just a few that come off the top of my head.
But has there ever been a pitcher that was once a Top 100 prospect that made the switch to the mound in AA?  In all of my searches, just one.  And luckily for us, he happens to be still playing.
No player in the history of baseball likely fits who Kaleb Cowart is better than current Blue Jays reliever Sergio Santos.  Just look at the criteria.
– Santos was drafted in the first round out of baseball powerhouse Mater Dei High School, which suggests he certainly had some hype heading into pro ball.
– Santos was drafted as a shortstop before making the switch to third base, indicating he had considerable athleticism.
– Santos and Cowart have almost the same exact height and weight.
– Santos was a Top 100 prospect both in 2004 and 2005.
– Santos hit for just about the same amount of power as Cowart has.
– Santos was successful all the way through AA but stumbled in AAA and was never able to get over the hump.  At age 24, Santos gave up his bat and began pitching instead.
– Santos as a pro has sat 94-97 with a killer slider.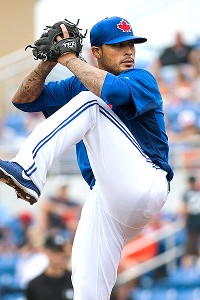 So there you have it.  Kaleb Cowart isn't the second coming of Trout Glaus, Ken Caminiti, or even David Freese for that matter.  He's the second coming of Sergio Santos.  Who would've thought?  If you're looking at what sort of transition Cowart would be facing if he did decide to return to the mound, look no further than Santos again.  He spent his age 25 season bouncing around between different levels of the minors as a reliever, just trying to get his feet wet at each level.  He then made it up to the majors in his age 26 season and was a closer by age 27.  Santos has had a rough go of it this year in his age 30 season, but I think you get the gist of it.
So if Cowart were decide to go back to the mound, you'd likely see him bounce all over the place next year in 2015 before settling into the Angels bullpen in 2016.  But this is all here-say.  Cowart hasn't expressed any interest in a return to the mound and the entire reason he signed with the Angels in the first place was because they wanted him to play third base, which is what he wanted as well.  But after two disastrous seasons in AA, you have to think a switch back to the mound for Cowart is only a few months to a couple of years away.