The Angels needed to upgrade their bullpen this off-season and their solution was to sign Fernando Rodney.  While he has a closer's pedigree, Rodney has the stats of a below average mop-up man.  Which pitcher will the Angels be getting in 2010?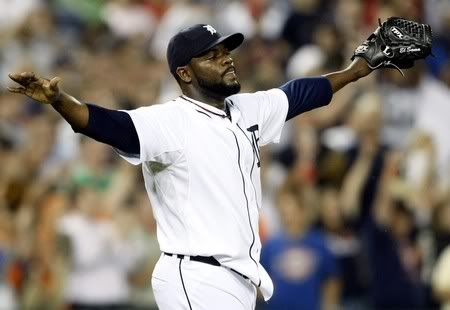 2009 Stats: 75.2 IP, 2-5, 37 SV, 70 H, 41 BB, 61 K, 4.40 ERA, 1.47 WHIP
2010 Bill James Projections: 85.0 IP, 5-5, 30 SV, 76 H, 45 BB, 81 K, 4.02 ERA, 1.42 WHIP
2010 Chone Projections: 57.0 IP, 3-3, n/a SV, 55 H, 31 BB, 50 K, 4.58 ERA, 1.51 WHIP
2010 Marcel Projections: 67.0 IP, 2-5, 19 SV, 65 H, 33 BB, 57 K, 4.57 ERA, 1.46 WHIP
2010 Monkey Projections*: 60.0 IP, 2-4, 8 SV, 60 H, 30 BB, 55 K, 4.75 ERA, 1.50 WHIP
*All stats courtesy of FanGraphs.com except the Monkey Projections which are strictly based on my own knowledge, logic and intuition.
---
2009 Review:
37 saves is a fairly impressive number but not when you are the closer by default like Rodney was in Detroit last season.  Most teams want consistency from their closers, but Rodney was all over the map mixing months of extreme dominance with months of extreme horr-awfulness.  However, the real concern about Fernando isn't his inconsistency since that has always been his reputation, but rather his sharp fall of in strikeout rate last season.  Rodney has a career 8.56 K/9 rate but saw it fall all the way down to 7.26 in 2009 which looks even worse when you consider his 10.93 rate in 2008.
3 Questions for 2010:
What will Fernando's role be? Rodney is getting paid like a set-up man but now Scot Shields is back and Scioscia has never been afraid to show preference to his loyal veterans.  He also has closing experience and Brian Fuentes isn't exactly oozing with job security right now.  It might take awhile for Sosh to figure out what Rodney's role will be, but he will and there is a good chance that Angel fans won't like it.
Can Rodney ever find his control? Great stuff, poor control, that is the story of Fernando Rodney's career.  If he could just show even average command to help him reduce all the walks and home runs, he could really be a tremendous closer rather than a wildly frustrating middle reliever.  He is a bit long in the tooth to learn new tricks, but maybe getting into a new organization with a new pitching coach might just do the trick.
Was the drop in strikeouts a fluke or a harbinger of doom? There was no injury to my knowledge that limited Rodney in 2009, so there doesn't seem to be an obvious explanation for the drop off, which is actually a good sign for the Angels unless Fernando has been secretly hiding an arm injury for over a year and snuck it past the team doctors during his physical as well (highly unlikely).  Then again, he is going to be 33 by Opening Day, so old age can't be ruled out either.  For the sake of the Angels, just hope that it was nothing more than some bad luck with finishing off batters.
2010 Preview: Say hello to Justin Speier 2.0.  Just when the Angels got rid of their last overpriced, underachieving veteran middle reliever, they go and make the same mistake with Fernando Rodney.  At least they only signed him to a two-year deal rather than a four-year deal, so I guess that is progress.  Rodney has great stuff, but he has been mostly crappy the last few years and at age 33, it is hard to believe he is suddenly going to turn the corner.  Like the Tigers before them, the Angels will no doubt continue to have Rodney pitch either the eighth or ninth innings even though he is wildly inconsistent and should probably be more of a middle inning guy.  When he is going well, he is great and will probably even get more than a handful of save opportunities when match-ups dictate or when Brian Fuentes falls on his own face again.  But don't let those save chances fool you, Rodney is going to end the season as the most-hated player on the Angel roster (I am getting a head start on everyone and will henceforth refer to Fernando only as Fraud-ney).