Joel Pineiro revived his career thanks to a new pitch in 2009, but the Angels were the only team really willing to take a chance that Pineiro's strong 2009 showing was nothing more than a fluke.  Will the gamble pay off for the Halos or will Pineiro's miracle pitch let him down?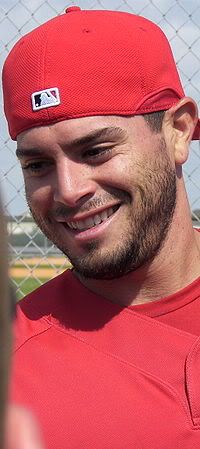 2009 Stats: 214.0 IP, 15-12, 218 H, 27 BB, 105 K, 3.49 ERA, 1.14 WHIP
2010 Bill James Projections: 205.0 IP, 12-11, 224 H, 53 BB, 118 K, 4.17 ERA, 1.35 WHIP
2010 Chone Projections: 168.0 IP, 10-9, 198 H, 35 BB, 79 K, 4.45 ERA, 1.39 WHIP
2010 Marcel Projections: 176.0 IP, 11-10, 187 H, 38 BB, 100 K, 4.04 ERA, 1.28 WHIP
2010 Monkey Projections*: 140.0 IP, 7-9, 155 H, 40 BB, 65 K, 4.65 ERA, 1.39 WHIP
*All stats courtesy of FanGraphs.com except the Monkey Projections which are strictly based on my own knowledge, logic and intuition.
---
2009 Review:
With his career teetering on the edge of extinction, Joel Pineiro resorted to desperate measures in 2009 in an attempt to salvage his once promising career.  That desperate act turned out to be Pineiro adding a sinking fastball to his repertoire and it successfully gave Pineiro a much more promising future.  Relying heavily on his new pitch, Pineiro had one of the best seasons of his career despite being on the wrong side of 30 years old.
3 Questions for 2010:
Is this sinker thing for real? The staggering jump in groundball/flyball ratio speaks to the impact of his newly discovered sinker.  Last season, Joel induced grounders more than 60% of the time.  Before last season, Pineiro has topped out at 48.6% grounders.  That is just too much of a difference to be an anomaly.  The only problem will be for Pineiro to keep his sinker in top form without the guiding hand of pitching coach extraordinaire Dave Duncan.  Mike Butcher is good, Duncan is the best.
Is durability going to be a problem? The facts are simple.  Pineiro threw 214 innings last year, but has only once topped 200 innings in his previous eight seasons as a pro and that season came all the way back in 2003.  It wasn't long ago that Joel was bouncing around on minor league contracts because of all his arm problems.  The Angels are hoping Pineiro can be an innings-eater, but they should just be hoping he can avoid a trip to the disabled list.
Can Pineiro make the transition back to the American League? Going from the pitcher-friendly National League to the American League is no small task for any starting pitcher, especially a guy like Pineiro who allows so much contact.  However, Pineiro is no stranger to the AL as he spent his first several seasons with the Mariners and Red Sox.  So while Pineiro may still struggle to battle against the tougher and deeper line-ups, he at least should know what kind of challenge he is in for and how he might need to alter his approach.
2010 Preview: I think it is pretty obvious that I am not high on Pineiro.  So much of his performance last season screams fluke.  While his groundball rate gets the most attention, I am more concerned over his precipitous reduction in walks, as he issued just 1.14 bases on balls per nine innings last year versus a career rate of 2.56.  I know his sinker is supposed to kick ass, but did it really make him all the much better of a control pitcher?  I'm not buying it.  Nor am I buying that hitter's won't adjust to his new approach.  The last two months of the season were the only two months Joel posted ERAs north of 4.00.  Of more concern, Pineiro also allowed 8 of his 11 homers during that stretch which indicates to me that opposing batter's finally caught up with him.  In that case, moving to the American League will actually help Pineiro since they still haven't seen his sinker that much, but they do have a full year's of scouting reports and video on him, so the effect might be short-lived.  The real surprise I see in his projections though is that he is expected to throw so many innings.  His durability problems are too big to ignore and I very much worry about how his arm will respond after his first 200+ inning season in years.