Despite Mike Scioscia actively avoiding using him, Rich Thompson had a strong 2011 campaign and finally seemed to secure a permanent place in the major leagues. Can he now take the next step in 2012 and earn a more prominent role in the Angel bullpen?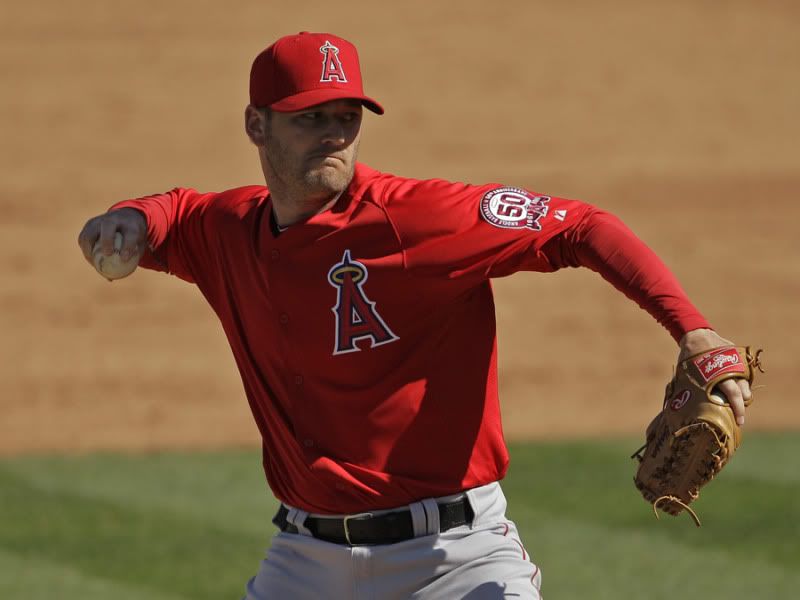 2011 Stats: 1-3, 54.0 IP, 3.00 ERA, 46 H, 20 BB, 5 HR, 56 K, 0 SV
2012 ZiPS Projections: 2-2, 53.0 IP, 3.74 ERA, 49 H, 19 BB, 6 HR, 51 K
2012 Bill James Projections: 3-2, 48.0 IP, 3.38 ERA, 41 H, 16 BB, 6 HR, 48 K, 0 SV
2012 CAIRO Projections: 2-2, 40.1 IP, 3.20 ERA, 36 H, 14 BB, 4 HR, 38 K, 0 SV
2012 PECOTA Projections: 2-1, 45.0 IP, 3.40 ERA, 40 H, 15 BB, 5 HR, 44 K, 0 SV
2012 MWaH Projections*: 2-1, 48.0 IP, 3.50 ERA, 45 H, 14 BB, 7 HR, 50 K, 0 SV
*The MWaH projections are simply my best guess based off my own personal opinion and research
2011 in Review: If you look at Rich Thompson's line from 2011, it loks like he was terrific and no doubt in line to be the setup man for Jordan Walden, if not challenge him for the closer gig. But if you actually watched Thompson last season you know that he was mostly nothing more than a mop-up man, a really effective mop-up man though.
It seemed that no matter how effective Chopper was, Mike Scioscia could not be convinced to pitch him in close games. In fact, only 3.2 of his innings came in high leverage situation and 8.1 came in medium leverage situations. The problem seemed to be that Rich crapped the bed in those rare pressure situations, allowing seven hits and issuing five walks during his high leverage outings. That is obviously not very good, but it is a sample size so small that it can't possibly be taken seriously. Unless, of course, you are Mike Scioscia who seemed to take it very seriously and often went four or five games without using Thompson at all. Plain and simple, he doesn't trust Thompson.
That's a darn shame too because Thompson is the exact kind of arm they need in the pen. He throws hard and has that big curveball, which can be very effective when it is working, making him the biggest strikeout threat the Angels relief corps has after Walden. Rich even displays decent control, keeping the walks to a minimum. His Achilles heel though appears to be the home run. It's not a massive problem, but it is something that might hold him back from ever moving into a late-inning role.
Three Lingering Questions for 2012:
What can Rich do to earn Scioscia's trust? He probably can't pitch much better than he did last season, but his peripherals suggest he can definitely repeat it. The only way he can earn Scioscia's trust is if he is given a chance to pitch in pressure situations and comes through. But will Sosh actually grant him such opportunities in an increasingly crowded bullpen?
Does Thompson actually have problems against right-handed batters? In 2011, Thompson posted a 4.37 FIP against righties in addition to a .234 BABIP and allowed all five of his home runs to right-handed batting. Is that just a fluke a potentially fatal flaw in his profile?
Is Chopper's roster spot potentially in jeopardy? If the Angels carry 11 pitchers, Thompson is arguably the man in that 11th spot. Could he lose that spot if Jerry Dipoto finally adds another proven arm to the pen? That seems crazy given how great his numbers were in 2011, but if Scioscia doesn't like him, you never know what can happen.
What to Expect in 2012: Rich Thompson drives me crazy in that he doesn't get used more. Unfortunately, I think he also drives Mike Scioscia crazy. 2011 wasn't some sort of aberration; Scioscia has never shown any faith in Thompson. Rich first got called up in 2007 but it wasn't until 2011 that he finally stuck in the majors, this despite him generally dominating Triple-A the entire time. In that time, countless other relief prospects have gotten shots at landing a real role in the bullpen despite not having worse stats and less talent than Thompson.
Here is an incomplete list of lesser relievers that Mike Scioscia has relied upon the last five seasons while actively ignoring Chopper: Chris Bootcheck, Hector Carrasco, Shane Loux, Matt Palmer, Rafael Rodriguez, the other Francisco Rodriguez, Trevor Bell, Kevin Jepsen, Michael Kohn, Bobby Cassevah, Jason Bulger, Brian Stokes and, last but certainly not least, Fernando Rodney
I'm sorry, but at a point I think we have to ignore the stats and defer to Mike Scioscia's better judgment (non-catcher related judgment, that is). There is just something there that Scioscia doesn't like and I suspect it is his odd problems against right-handed batting and home runs, even is Scioscia doesn't fully realize that. That's why I'm predicting that it is pretty much going to be deja vu all over again in 2012 for Thompson. He's got more arms in front of him this year, making it an even more uphill climb than it already was. I do think he will be given a handful of chances to test his mettle though, but that is where his homer problem will rear its ugly head since Sosh will likely try and line him up against dangerous righties based on match-ups only to get burned by the longball as a reward. Ultimately, that will submarine Thompson. With Downs and Takahashi in place already, the Angels need right-handed complements and Thompson won't be permitted to fill that role if he is no more effective against righties than the southpaws in the bullpen are.