This time last year, Bobby Cassevah was just organizational depth. Now, he gets his own profile. Despite starting the season in the minors, Cassevah fought through the mess that the Angels bullpen was to emerge as the unlikely top right-hander in the pen. The question now is if he can hold onto that lofty status.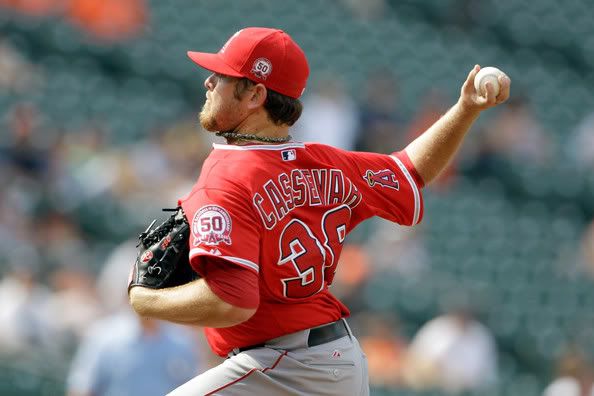 2011 Stats: 1-1, 39.2 IP, 2.72 ERA, 28 H, 19 BB, 1 HR, 24 K, 0 SV
2012 ZiPS Projections: 3-4, 65.2 IP, 4.80 ERA, 71 H, 30 BB, 6 HR, 36 K
2012 Bill James Projections: 3-3, 56.0 IP, 4.18 ERA, 56 H, 26 BB, 3 HR, 32 K, 0 SV
2012 CAIRO Projections: 4-1, 46.0 IP, 4.40 ERA, 48 H, 24 BB, 3 HR, 25 K, 0 SV
2012 PECOTA Projections: 2-1, 37.1 IP, 4.74 ERA, 39 H, 18 BB, 3 HR, 20 K, 0 SV
2012 MWaH Projections*: 2-4, 52.0 IP, 4.35 ERA, 55 H, 22 BB, 4 HR, 28 K, 0 SV
*The MWaH projections are simply my best guess based off my own personal opinion and research
2011 in Review: Despite getting beaten out by multiple players for the final few bullpen spots in Spring Training, Cassevah was able to emerge as the most pleasant surprise amongst the relievers. Granted, he might have been the ONLY pleasant surprise, but it still counts for something. Bobby finally got his call up the majors after Kevin Jepsen and Michael Kohn flamed out and Fernando Rodney got hurt, joining the team in mid-June. He was used sparingly at first, but a combination of attrition and steady performance helped Cassevah earn Mike Scioscia's trust. By August, he was a regular part of the Angels' middle relief, and by September he had become the de facto right-handed setup man.
While Cassevah isn't the typical sort of relief pitcher Scioscia prefers in high leverage situations (i.e. a strikeout pitcher), Cassevah stood out from the pack because he proved immune to the gopheritis that plagued the relievers that fell before him. In almost 40 innings of work, Bobby and his hard sinker allowed just one home run and six extra-base hits total. So while he wasn't fanning many batters and issuing more walks than you would like to see, Cassevah was able to prevent big innings and give Mike Scioscia the consistent righty he had been looking for all season.
Three Lingering Questions for 2012:
Was Cassevah's 2011 season for real? His FIP and SIERA numbers are almost a full run worse than his actual 2011 ERA, but that would still be perfectly acceptable. However, can Cassevah really survive allowing so many walks with so few strikeouts? With the huge amount of grounders he induces, it is possible, but not necessarily a guarantee.
What will Bobby's bullpen role be? Cassevah finished last season as the de facto right-handed setup man, which was a big surprise. He could reprise that role given the lack of additions to the bullpen, but Scioscia might look hard to replace him as well as he seemed to only reluctantly use Cassevah in setup opportunities. Could he be unseated by veteran LaTroy Hawkins? Or perhaps Rich Thompson will finally win Scioscia over and take the job?
Is his roster spot guaranteed? Given his strong 2011 performance, one would think so. However, if the Angels add another relief arm via trade or free agency, Cassevah could get squeezed out. He might rank higher on the totem pole than Rich Thompson, but Cassevah has options left, meaning he could end up being the odd man out so that Thompson doesn't have to be released.
What to Expect in 2012: As you can tell from my projections, I don't think too highly of Cassevah's chances this year. I subscribe to the theory that to be a quality reliever you need to do two of three things: get lots of strike outs, get lots of groundballs and minimize bases on balls. Cassevah only does one of those things, inducing grounders. He does that very well, but ultimately, it isn't going to be enough. It really only seemed to work for him last year because he got lucky. His BABIP against was an unsustainably low .241, which is well below any mark he posted in the minors. Having a great major league defense behind him is part of the reason for that, but a lot of it is luck.
When his luck runs out, so will his time as the Angels' top right-handed setup man. In fact, there is a good chance that Mike Scioscia will strip him of that job before the season starts, simply because LaTroy Hawkins has seniority and is basically the same pitcher, but with a low number of walks (thus satisfying the two-out-of-three requirement). Hopefully though, it will be the Angels adding a power arm via trade instead of Hawkins, but that is academic to this discussion. What that means for Bobby is that he will, before long, end up fighting for innings in middle relief. In his 2010 stint with the Angels, Scioscia like using him as more of a long-man, which is probably fine. Hopefully Sosh will also see fit to turn him into a situational pitcher as well. It was a small sample size, but he showed he was much more effective against right-handed batters last season. His groundball tendencies also make him the ideal guy to bring in when the Halos need a doubleplay. Scioscia used him like that a few times last season, so expect him to do the same in 2012.
The only way I see this season working out differently for Cassevah is if he somehow develops an outpitch. He may not strike a lot of batters out, but Cassevah does throw hard, so there is potential there. The problem is that his splitfinger and aren't very good. If he could just work on one of them instead of trying to throw both, maybe he can turn one into a legitimate out-pitch. The splitfinger seems to have more promise, but this whole notion might be wishful thinking since Bobby is already 26 and hasn't been able to develop his secondary stuff to anything better than average.