Thanks to an ill-conceived vesting option, the Angels have the distinct, ummm… pleasure(?) of welcoming back Bobby Abreu for one more season. Will Bobby be able to go out on a high note, or will he ride the bench into the sunset of his career?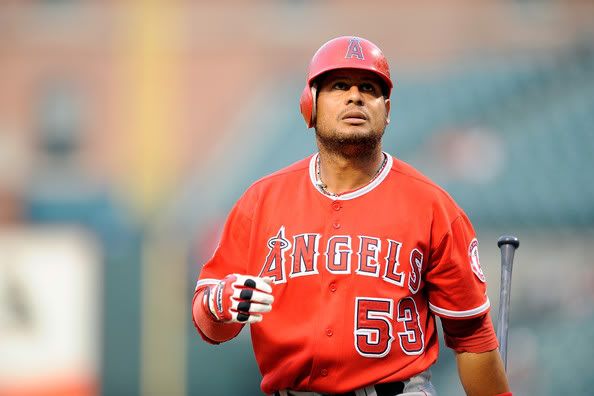 2011 Stats: 502 AB, .253 AVG, .353 OBP, .365 SLG, 54 R, 8 HR, 60 RBI, 21 SB, 5 CS, 113 K
2012 ZiPS Projections: 480 AB, .246 AVG, .338 OBP, .385 SLG, 61 R, 12 HR, 64 RBI, 19 SB, 7 CS, 110 K
2012 Bill James Projections: 423 AB, .260 AVG, .364 OBP, .404 SLG, 61 R, 11 HR, 61 RBI, 15 SB, 6 CS, 97 K
2012 CAIRO Projections: 551 AB, .259 AVG, .342 OBP, .387 SLG, 78 R, 12 HR, 78 RBI, 23 SB, 7 CS, 121 K
2012 PECOTA Projections: 410 PA, .251 AVG, .342 OBP, .377 SLG, 48 R, 7 HR, 39 RBI, 14 SB, 5 CS, 80 K
2012 MWaH Projections*: 215 AB, .271 AVG, .378 OBP, .412 SLG, 36 R, 5 HR, 29 RBI, 10 SB, 2 CS, 42 K
*The MWaH projections are simply my best guess based off my own personal opinion and research
2011 in Review: For Angels fans, when they think of Bobby Abreu's 2011 season, they will think about his accursed vesting option. Locked into a full-time role despite plenty of struggles as old age continued to sap him of his abilities, Abreu ended up playing almost every single day, which forced that option to vest. Bobby gets cracked on for that, but it isn't his fault that deposed GM Tony Reagins provided Mike Scioscia with almost no alternative to playing Abreu so often. Despite posting career-lows in fWAR (0.4), slugging percentage (.365), batting average, homers, runs, RBIs and really just about every single offensive category, Abreu amassed 585 plate appearances, which is probably 200 more plate appearances than he should have received, and that is being generous.
Abreu proved he still had some use since he was second on the team in on-base percentage, but he was an albatross in the middle of the order due to his complete and total lack of power. His struggles were exaggerated further since his job as the full-time DH overexposed him to left-handed pitching, which he only posted a .598 OPS against. That poor number masked a respectable .766 OPS against righties, which shows that he can still be productive when used properly. That does not include him hitting third and fourth in the order as he was often tasked with in 2011.
Three Lingering Questions for 2012:
Will Abreu get traded before or during the season? Abreu's name has been popping up in trade rumors all off-season, almost always at the behest of Angel fans. No doubt the Angels would love unload all or part of his salary, but are there any teams that really want him if it is going to cost them anything of value? Is it worth trading him if the Angels get nothing for him? Can they even afford to trade him until they know the health status of Mark Trumbo and Kendrys Morales?
If he doesn't get traded, what will his role be? If everything goes according to plan, Abreu is set to be a very expensive bench player. However, if Trumbo and/or Morales have health problems, then Abreu could suddenly find himself thrust back into a prominent role again despite what appears to be rapidly declining skills. Then again, will anyone's health matter or will Scioscia just fall back on his old habit of playing veteran's out of respect even if they aren't producing anymore?
What does Bobby have left? As maligned as he was last season, Abreu showed that he can still draw plenty of walks and even still swipe a good number of bases. But is that enough given his dwindling power output and mildly horrifying platoon splits.
What to Expect in 2012: Barring some team getting desperate during Spring Training, it is looking increasingly unlikely that Abreu will be traded. Jerry Dipoto has publicly acknowledged a need to have Abreu around as an insurance policy for Trumbo and Morales and with Trumbo's latest setback, it doesn't look like he is going to want to divest himself of that insurance anytime soon. That means Abreu is destined for the bench, though I'm predicting he won't be collecting too many ass splinters. Between Trumbo and Morales' slow recoveries and the age and brittleness of Torii Hunter and Vernon Wells, Abreu will still see semi-regular action. However, expect Mike Scioscia to be choosy about when Abreu gets his starts.
We saw last season the Abreu can't really hold his own against southpaws anymore, so his plate appearances should skew heavily toward right-handed pitching, which is why my projections looks so rosy compared to the rest since those other systems almost all see him as playing full-time and thus having his numbers heavily dragged down by his ineptitude against lefties. The real reason he is even going to play as much as he is, rather than say calling up Mike Trout as a part-timer, is because Bobby can get still get on base. Yes, his power has been sapped, but the man can still work a count and that skill never really goes away. Dipoto wants more OBP in the lineup and Bobby is the guy who can do that for him, even if he only plays 60 or so games. It also doesn't hurt his case that the Angel lineup is right-hand dominant, so his lefty bat will be seen as a nice way to balance out the order.
There is one additional role Bobby will be playing this season that won't show up in the stats, at least his anyway. With so much extra time on his hands, Abreu will almost definitely end up serving as another hitting coach for the Angels, kind of like he did back when he first joined the team. With the team mandate to increase on-base skills, Abreu tutoring the younger hitters on how to work a count will most definitely be welcome.