The Angels thought they were getting a versatile starting-caliber infielder when they acquired Alberto Callaspo last season, but his return to the Angel franchise couldn't have gone worse. Will Callaspo continue to make the Halos look like fools for trading for him or can he return to his pre-trade form?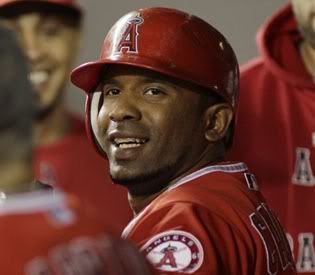 2010 Stats: 562 AB, .265 AVG, .302 OBP, .374 SLG, 61 R, 10 HR, 56 RBI, 5 SB
2011 ZiPS Projections: 500 AB, .274 AVG, .319 OBP, .396 SLG, 62 R, 9 HR, 53 RBI, 3 SB
2011 Bill James Projections: 455 AB, .281 AVG, .333 OBP, .396 SLG, 56 R, 7 HR, 47 RBI, 4 SB
2011 Marcel Projections: 518 AB, .280 AVG, .329 OBP, .403 SLG, 62 R, 9 HR, 56 RBI, 5 SB
2011 MWaH Projections*: 365 AB, .285 AVG, .333 OBP, .419 SLG, 33 R, 7 HR, 37 RBI, 3 SB
*The MWaH projections are simply my best guess based off my own personal opinion and research
2010 in Review: Thanks to a litany of injuries and poor performances, the Angels found themselves compelled to seek outside help at the hot corner. Their solution was to trade for Alberto Callaspo, a former prospect they had traded away a few years prior. Callaspo had since evolved into a very good utilityman who was on the verge of becoming a solid everday third baseman in Kansas City. At the time of the trade, Callaspo had posted a respectable .275/.308/.410 line with the Royals while also showing some real improvement with the glove at third base. Good trade, right? Yeah, not so much. Maybe it was the pressure of returning to the Angels or finally getting to play for a contending franchise, but Alberto fell on his face the instant he donned the Halo Red. That solid slash line in KC crumbled in LA with Callaspo ending his 2010 Angel tenure with a line of .249/.291/.315. Yikes. That second-half collapse quickly turned Alberto from a reliable short-term solution at third to an obvious target for replacement.
Three Lingering Questions for 2011:
Why did Callaspo fall apart when he arrived in Anaheim? It is possible we may never know the answer to this. His big league resume is that of a high contact hitter with a little bit of pop who should hover around the .300 mark, not the incompetent slappy the Angels saw in 2010. It could be as simple as bad luck for Callaspo as his BABIP with the Halos was a meager .256, whereas his 2009 and 2008 BABIP's were .312 and .325, respectively. On the other hand, Callaspo also became allergic to walks in 2010, so it is possible he started doing something different with his mental approach.
How much will Alberto play? Callaspo entered the off-season as the incumbent third baseman, but he has already lost that gig. Now it seems like he is headed for the familiar utility role. He'll likely spell most of the infielders on a regular basis, but how regularly remains to be seen. If Kendrick, Aybar and Izturis all play well (and stay healthy, of course), Callaspo's appearances could be few and far between. But if any of them struggle or get hurt, Callaspo could become an everyday player in a hurry. What will be more interesting to see is where in the lineup Callaspo bats since he has poor on-base skills, isn't a basestealer but also doesn't have much power.
Could Alberto be traded away so soon? Hard to believe, but Callaspo could be sent packing in the near future even though he hasn't even spent a full season with the Angels. The emergence of Mark Trumbo has created a roster crunch that is likely to cost either Brandon Wood or Callaspo their roster spot due to their positional redundancy. Who will be set free? Wood had that awful 2010 season but looks like he might be on the verge of a resurgence. Callaspo, though, lacks Wood's upside but also might actually fetch more in return in a trade since he is more of a known commodity.
What to Expect in 2011: I remember liking the Callaspo trade at the time it happened (although I still think the Halos overpaid and probably wish they had Sean O'Sullivan back right about now). I also remember many fans not knowing what to make of it at the time since they were unfamiliar with Alberto. That lack of familiarity caused him to be judged harshly and I believe unfairly.
When I look back at the evidence, I see a guy who is a quality player that merely fell on bad luck last season. He hit in the minors and he hit in his other previous seasons in the big leagues and he will hit again. However, he will only be hitting part-time as long as he remains an Angel. So long as everyone else is healthy, Callaspo isn't going to play no more than two or three times per week. He will probably see occassional upticks in starts whenever he gets on a hot streak, but will still be nothing more than a bench player, which is probably the proper role for him on this team since he doesn't bring much to the table in terms of addressing their needs.
What I do hope to see though is Mike Scioscia keeping Callaspo at third whenever he is in the lineup. Alberto made some real progress their defensively last year since he was finally allowed to concentrate on just one position and if he is able to do so for another year, he could become an excellent defender. Let Maicer Izturis move around the field, he is much more comfortable with that role anyway. If the Angels are going to keep Callaspo, they it owe to themselves to develop him.
That is if they keep him, which I am not sold that they will (EDITOR'S NOTE: I forgot to mention that my projections for him only apply if he spends the whole season with the Halos). At some point they will have to choose between Callaspo and Wood, and Alberto is just too similar to so many players the Angels have ahead of him on the depth chart and also coming up in the minors. Factor in that Scott Kazmir is currently melting down faster than the Fukushima nuclear power plant (too soon?) and the Halos will have an urgent need to import a back-of-the-rotation starter, which is the approximate trade value of Callaspo (see the previous trade involving O'Sullivan). The only reason the Angels might balk at such a move is the justifiable fear of Maicer Izturis getting hurt, so let's call the trade odds 50/50. In a weird way, it is kind of a win-win for the Angels. They either hang on to a limited but useful player or they trade him for a lesser player who fills a greater need.