Ervin Santana got his groove back in 2010 and once again appears to be back on track to have a long and prosperous career. But was that just another peak in Santana's rollercoaster of a career or has he finally matured to a point where he can realize his full potential?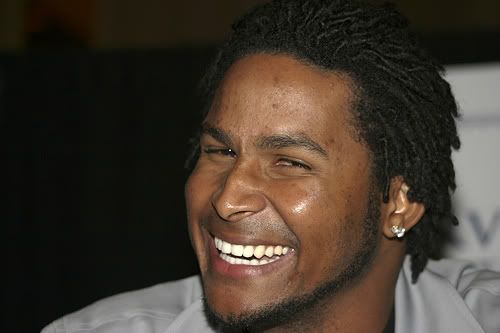 2010 Stats: 222.2 IP, 17-10, 3.92 ERA, 1.32 WHIP, 169 K
2011 ZiPS Projections: 195.2 IP, 12-10, 4.23 ERA, 1.29 WHIP, 164 K
2011 Bill James Projections: 211 IP, 11-13, 4.14 ERA, 1.33 WHIP, 169 K
2011 Marcel Projections: 185 IP, 13-9, 4.09 ERA, 1.30 WHIP, 148 K
2011 MWaH Projections*: 205 IP, 15-12, 4.35 ERA, 1.33 WHIP, 158 K
*The MWaH projections are simply my best guess based off my own personal opinion and research
2010 in Review: Ervin Santana bounced back from a disastrous 2009 campaign by posting some very nice numbers in 2010, including a team-high 17 wins. The biggest difference between Santana from 2009 to 2010 was his improvement at keeping the ball in the yard. He still allowed 27 dingers, but he spread them over 222.2 innings rather than the 24 he coughed up in 139.2 innings the season before. Otherwise a lot of his numbers, like his K/9 and BB/9 rates remained more or less the same. But the most important metric that stayed the same for Santana was his fastball velocity, which remained firmly in the 92 MPH range. Earlier in his career, Ervin had been running his heater one or two MPH faster on average, but his arm problems in 2009 cost him that extra velocity and it appears he finally adjusted to his diminished speed last year. Finally healthy and showing increased maturity, Santana once again become a trusted member of the Angel rotation.
Three Lingering Questions for 2011:
Can Ervin break the odd year jinx? Santana may have gotten his act together last season, but his track record, for whatever reason, has him doing his best work in even-numbered years and getting blasted in odd-numbered years. Seeing how this year is 2011, that could mean trouble, even if there is litte reason to believe in such statistical flukes. Or maybe there is a real rhyme and reason behind his inconsistency? Maybe the AL hitters will adapt to Santana's evolving pitching approach as he adjusts to life with a more ordinary fastball. Or maybe Ervin has finally learned how to pitch with craft and guile instead of just trying to strike everyone out all the time and will finally break the jinx.
Will Santana be able to add to his arsenal? For all intents and purposes, Santana is a two-pitch pitcher, a sometimes dangerous proposition for a starting pitcher, especially when you don't have a dominating fastball (which Santana obviously no longer has). His slider is truly stellar, but adding a more reliable third pitch to his repertoire would really help. He scrapped his curveball years ago and his changeup is mostly used to keep batters honest, so it might be too late to teach this not so old dog new tricks. He has been experimenting with a split-finger fastball this spring, but the early reports strongly suggest that his new pitch is nowhere near ready for primetime. One has to wonder if he really should be fooling around with a new pitch when it seems like his time could be better spent refining his changeup.
Could Santana end up as trade bait? This season very much could be a make-or-break season for Ervin's Angel career. He earns a reasonable $8 million this season, but his salary jumps to $11.2 million in 2012. If he stumbles this season, the Angels very likely could start shopping him hard so that they aren't on the hook for such a big chunk of change next season for a faltering pitcher. At the same time, Santana is also probably the third-best starter on the staff, so he could be deemed expendable if the Angels fall out of contention and want to start rebuilding. Of course, if Ervin continues to show signs of improvement, he could cement his status as a Halo rotation staple for years to come.
What to Expect in 2011: At age 27, Santana is entering the prime of his career and appears to finally be "getting it." His velocity is diminished, but his maturity has increased, making him a smarter and more consistent pitcher. Gone are the days of Santana performing well at home and then turning into a total greasefire on the road. That being said, Santana doesn't have all the kinks ironed out just yet. Homers have plagued him throughout his career and I'm not totally sold that he has cured his gopheritis. I just find it hard to believe that a guy can lose velocity, generate fewer swing-and-misses and somehow drastically reduce his home run rate all at the same time. It just doesn't add up and some kind of course correction is probably in order.
A return to his awful 2009 numbers is not likely, but he is going to come back to earth a little bit. He will certainly still have those flashes of dominance for stretches at a time, but when he isn't dominant, things should be a little rougher, leading to the less than rosy picture I have painted for him in my projections.
As for a trade? I wouldn't count on it. I don't doubt that his name will pop up in trade rumors, but unless the Halos want to embark on a total rebuilding project, it doesn't make sense to trade away Santana. The forthcoming crop of free agent starting pitchers is rather thin and features almost no names that are guaranteed to be upgrades over Santana as the third starter in the rotation (especially since the top names like Sabathia, Carpenter and Oswalt would only be free agents if they decline player options). Add the impending free agency of Joel Pineiro and Scott Kazmir and the lack of upper-level starting pitching prospects in the Angel farm system, and the Angels would be creating a big problem for themselves if they force themselves into a situation where they need to fill three rotation slots in one off-season.