It wouldn't be an Angel season if it didn't include a much-maligned closer and this season it is Fernando Rodney's turn to star in that role. But can Fraudney actually hold down the closer's gig or will Mike Scioscia's patience for the enigmatic reliever finally run out?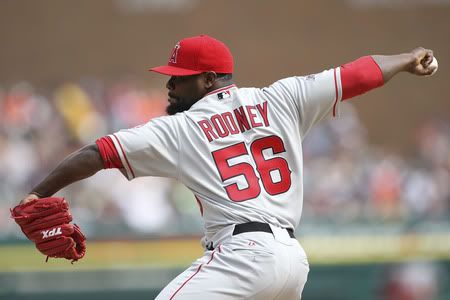 2010 Stats: 68 IP, 4-3, 14 SV, 4.24 ERA, 1.54 WHIP, 53 K
2011 ZiPS Projections: 59.2 IP, 3-3, n/a SV, 4.53 ERA, 1.53 WHIP, 52 K
2011 Bill James Projections: 74 IP, 4-4, 19 SV, 4.14 ERA, 1.45 WHIP, 67 K
2011 Marcel Projections: 67 IP, 3-4, 16 SV, 4.23 ERA, 1.45 WHIP, 53 K
2011 MWaH Projections*: 66 IP, 2-5, 22 SV, 4.40 ERA, 1.51 WHIP, 56 K
*The MWaH projections are simply my best guess based off my own personal opinion and research
2010 in Review: For the first half of the 2010 season, Rodney was probably the best reliever in the Angel bullpen. His strong early performance and the standard ineptitude of Brian Fuentes had most Angel fans calling for Rodney to take over, or at least share, the closer's gig. But as has been the story most of Rodney's career, consistency became an issue. Rodney's usually spotty command betrayed him in the second half of the season, making him all too hittable to opposing batters, something that Rodney just can't afford to be considering all the walks he issues on a normal basis. By season's end, Fraudney had accumulated 14 saves, but not before he blew seven other opportunities, four of which came during the 12 save chances he got after Fuentes was traded away. Those late season struggles had many believe the Angels would seek out a premium closer via free agency, but clearly that didn't happen.
Three Lingering Questions for 2011:
Can Rodney keep a firm hold on the closer's job all season long? Technically, Scioscia hasn't named a closer yet, but we all pretty much know it is Rodney's job to lose, even if Sosh has hinted at using a committee. But it should tell us that Fernando is on a short leash to begin with since he hasn't named the outright closer already. One thing he has going for him is that he is really the only reliever on a deep staff that has extensive closing experience, somethign that is very important to Sosh. On the other hand, Rodney's abbreviated stint at closer to finish out the 2010 season couldn't have inspired a whole lot of confidence in his ability to perform in the role should he be granted an encore performance. With all the potential competition that Rodney has for save opportunites from guys like Scott Downs, Kevin Jepsen and Jordan Walden, there will be a lot of pressure on rodney to perform, and nobody really knows if he can handle that kind of pressure.
Is Fernando actually a bit of a sleeper? Because Rodney was so bad at the end of the season, people tend to forget that he was actually quite good to start the season. When things started to go off the rails for him, we were continuously told that Rodney's problems were more mechanical than anything else. Now, Mike Butcher may not have been able to fix Scott Kazmir, but he has done a great deal of good with several other pitchers on the staff. I don't know if it is likely, but given that Butcher has now had a full year to look at Rodney, he can see the warning signs coming for when Fernando's infamous cold streaks are starting, hopefully Butch can get to him early and straighten out his mechanics before he does any real damage.
How is it possible that Rodney has gotten worse as his velocity has increased? I actually just noticed this oddity myself and don't know what to make of it, but feel it is worth mentioning. Rodney has basically been in the majors for six full seasons. In those first three season, his fastball averaged out to be in the 93 MPH range and he was actually pretty good and much better at striking batters out in those three seasons. The most recent three seasons though, Fernando's fastball has been just shy of 96 MPH, yet his strikeouts fell off a cliff the last two seasons. What makes it even weirder is that Rodney's changeup velocity has remained fairly consistent, so one would think that a guy who is not only throwing harder but also increasing the velocity gap between his fastball and offspeed pitches would be getting better not worse. Yet that is exactly what is happening to Rodney. Is this a fluke or is there something else going on that isn't as readily perceptible as a radar gun?
What to Expect in 2011: In some respects Fernando Rodney is actually best suited to be the Angels' closer, having shown a minimal platoon throughout his career, unlike soft-tossing lefty Downs or the southpaw-vulnerable Jepsen. If that sounds like I am damning him with faint praise, that is probably because I am. The fact of the matter is that Rodney has turned in four consecutive mediocre seasons and really the only reason he ever got a shot at closing for the Angels in the first place is that the Tigers were dumb enough to let him close for them back in 2009.
It really is kind of ridiculous actually. Rodney throws very hard and has a dynamite change-up, but instead of being the second-coming of Trevor Hoffman, he's probably nothing more than an above average middle reliever. For the second straight season his K/9 rate was in right around 7.0, which is startlingly low considering how good his stuff appears to be on paper. That just doesn't mesh well for a guy who averages one free pass every other inning, something that repeatedly bit him in the butt in 2010. What is even more scarier is that Rodney might actually have gotten lucky last year as his home run rates was well below his career average, so really, it could have actually been much worse.
Great. We've established that I don't care much for Rodney and that the stats are on my side in that assertion. But Fraudney didn't earn his nickname for nothing. I may not like Fernando, but he still seems to be conning Mike Scioscia into thinking that he's a real closer. The good news is that I don't think he can continue to perpetrate this fraud for all of 2011.
We all saw how hard it is to actually force Scioscia into making a change at the closer position. Brian Fuentes was a sub-standard closer for two seasons and repeatedly threatened his job security, but never actually made good on those threats. But this is the year Scioscia finally puts his money where his mouth is. Don't get me wrong, Sosh will give Fernando many chances to succeed early on in the season, but by the midpoint of the season, even he won't be able to make excuses for Rodney anymore. But rather than giving Fraudney the heave-ho altogether, he'll simply start mixing Scott Downs in against match-ups that favor the veteran lefty. That arragnement will hold for most of the second half, though I do think Scioscia will throw in Kevin Jepsen or Jordan Walden at times if Rodney is in a bad streak or has been overworked. Whatever the case, Rodney certainly won't be returning to the Angels in 2012.