Hisanori was an under-the-radar free agent signing for the Angels that could pay big dividends this year or turn into another case of the Angels overpaying for mediocre bullpen talent. Which will it be?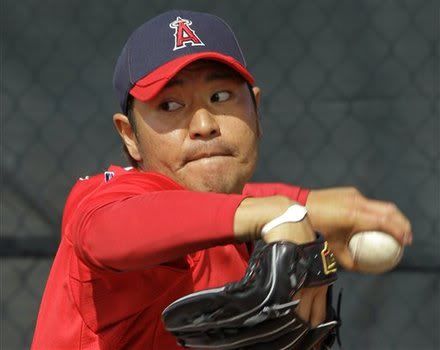 2010 Stats: 122 IP, 10-6, 8 SV, 3.61 ERA, 1.30 WHIP, 114 K
2011 ZiPS Projections: 106 IP, 8-6, n/a SV, 4.16 ERA, 1.33 WHIP, 95 K
2011 Bill James Projections: not available
2011 Marcel Projections: 94 IP, 7-5, 4 SV, 3.93 ERA, 1.34 WHIP, 82 K
2011 MWaH Projections*: 87 IP, 7-3, 0 SV, 4.05 ERA, 1.36 WHIP, 75 K
*The MWaH projections are simply my best guess based off my own personal opinion and research
2010 in Review: Technically, 2010 was Takahashi's rookie year in Major League Baseball, but he did so at the age of 35 after playing his entire previous career in the Japanese leagues for the Yomiuri Giants. Takahashi enjoyed some nice success in Japan, but he came over tot he states with little fanfare, which appears to be the appropriate response. Even though he was a starting pitcher in Japan, the Mets had a hard time figuring out what to do with him. He spent the first six weeks of the season working as a long reliever before moving into the rotation. That lasted just 12 starts though as Hisanori struggled in the rotation, posting an ERA of 5.01 in the role. New York returned Hisanori to the pen on a full-time basis the second half of the season but in more of a middle relief role at first, which is when he finally started to take off. In fact, things went so well for him that he took over as the closer for the final few weeks of the season after Franky Rodriguez went down due to injury. Despite not having the typical stuff of a closer, Takahashi converted all eight of his save opportunities. As a whole, Takahashi's numbers in the bullpen looked much better (2.04 ERA, 9.42 K/9, 1.13 WHIP) and set him up as a quality relief free agent that the Halos gladly scooped up.
Three Lingering Questions for 2011:
What will Takahashi's role be? If there is one thing Takahashi brings to the equation, it is versatility, but that is going to create some interesting decisions for Mike Scioscia. Hisanori is the only Angel reliever with the stamina to work as a long man, but he also showed he has what it takes to close games. Or maybe Scioscia could use Takahashi as a specialist since he is death on lefties, as shown by his .544 OPS allowed versus southpaws, but is somewhat vulnerable to righties (.768 OPS allowed). Scioscia could try and lock him into any one of those roles or he could try and take advantage of his flexibility and use him in each role throughout the course of the year.
Could the disaster in Japan affect his performance? I know it isn't fun to talk about, but this has to be addressed. Takahashi's family was not harmed in the disasters that struck Japan, but with so much damage and all the remaining concern in his homeland, there is a very real chance that Hisanori may not be on top of his game mentally. Nobody could blame him for being distracted, but it is something we have to take into account as project what Takahashi will do this season.
Can we please get this guy a nickname? This may not be the most pressing concern, but Takahashi hasn't even played a regular season game for the Angels yet and I already can't deal with his name. It is both a mouthful to say and a pain in the ass to type. Surely there is something good we can come up with. I guess we could just call him "Taka" but where is the fun in that?
What to Expect in 2011: It is hard for me to make sense of Hisanori Takahashi. He barely breaks 90 MPH with his fastball and throws A LOT of off-speed pitcher (50.9% of his pitches in 2010 were some sort of off-speed pitch, a majority of which were changeups) but he manages to still strike out nearly a batter per inning. This repertoire worked well for him as a reliever, but got him shelled when he made his foray into the starting rotation. This has me concerned and excited at the same time.
Having never seen Takahashi pitch, my best guess is that he is very deceptive at first, especially to lefties, but becomes more and more hittable once opposing batters have gotten a look at him. As such, I really hope that the Angels aren't counting on him to move into the rotation if/when Scott Kazmir flames out. But I have to believe that is at least an option since Takahashi is really the only Angel reliever pitching multiple innings in his spring training appearances. Part of this has to be that Takahashi will be tabbed as the de facto longman out of the pen, but the rotation has to at least be in the Angels' back pocket. My guess is he will see a spot start or two during the season, but if any starter goes down for a long stretch of time, the Halos will opt to call up someone like Trevor Bell rather than take Takahashi out of the bullpen.
Where Hisanori will really earn his money will be as a middle reliever. His arsenal clearly makes him a weapon against lefties and he has the added bonus of few American Leaguers having ever faced him before. Having both Takahashi and Downs in the pen will allow Scioscia to deploy either whenever he wants. He can use Takahashi for an inning or two or as a LOOGY without worrying about not having a southpaw available for later (not that Scioscia has ever worried about that). When used like that in middle relief, I think his number stand a chance to be pretty strong, but it is those spot starts and long relief appearances that are going to make his overall stat line look a bit bloated.