He might be the most unpopular Angel of his generation, but for better or worse, it seems Jeff Mathis will be the Angels' primary catcher in 2011. Will this be the year Mathis finally gets his act together or will Angel fans spend the year stumping for the call up of prospect Hank Conger?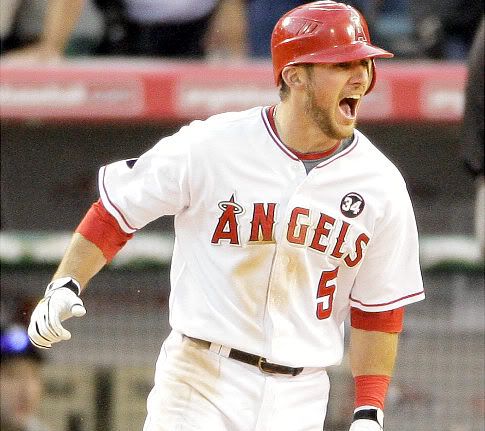 2010 Stats: 205 AB, .195 AVG, .219 OBP, .278 SLG, 19 R, 3 HR, 18 RBI, 3 SB
2011 ZiPS Projections: 274 AB, .212 AVG, .270 OBP, .332 SLG, 32 R, 7 HR, 33 RBI, 3 SB
2011 Bill James Projections: 146 AB, .212 AVG, .277 OBP, .322 SLG, 17 R, 3 HR, 16 RBI, 1 SB
2011 Marcel Projections: 336 AB, ..217 AVG, .279 OBP, .330 SLG, 34 R, 5 HR, 35 RBI, 4 SB
2011 MWaH Projections*: 385 AB, .225 AVG, .280 OBP, .350 SLG, 36 R, 11 HR, 40 RBI, 2 SB
*The MWaH projections are simply my best guess based off my own personal opinion and research
2010 in Review: The 2010 season started off with people actually having high hopes for Mathis, for a change. His strong 2009 post-season performance had many thinking that he might finally have started to find a groove in the batter's box despite having a career average that has always hovered around the Mendoza Line. That line of thinking seemed far-fetched, but Mathis actually got off to a hot start to the season, posting an .851 OPS in his first ten games before he was sidelined with a fractured wrist. Mathis didn't come back until mid-June and whatever progress he may have made offensively had been completely erased. Not only did Jeff struggle with his bat upon his return, but his normally good defensive work ended up taking a hit as well. But with Mike Napoli primarily enlisted as the new first baseman, Mike Scioscia had no choice but to play Mathis behind the plate most days, despite his struggles. The end result was Mathis turning in the worst season of his career with a -0.6 WAR and a career-low OPS (which is saying something) of .497. Somehow this resulted in him getting a modest raise in arbitration.
Three Lingering Questions for 2011:
Is there any chance that Mathis WON'T be the starting catcher this year? As I mentioned yesterday, I highly doubt it. Scioscia, for whatever reason, trusts Mathis implicitly. His offensive woes have never dissuaded Sosh from using Jeff liberally, so it would be hard to imagine a scenario in which Mathis isn't the unquestioned starter come Opening Day. Beyond Opening Day though, that could still be up in the air. If Mathis' defensive struggles from 2010 carryover to this season, Scioscia might finally lose faith in Mathis and opt to give the similarly skilled Bobby Wilson more and more work. There is also the looming specter of Hank Conger, who will likely start the year in Triple-A, who could force his way into the top catching job should he explode offensively and develop quickly defensively in Salt Lake.
Will Mathis ever progress offensively? This question is asked of Jeff every year and the answer, every year, winds up being an emphatic no. However, as you can see from all the projections above, the statheads seem to think that Mathis will at least take a small step forward this year. Since Mathis is entering his "prime" at age 27 and for the first time ever doesn't have to contend for playing time on a daily basis, this might really be the year he becomes something more than totally useless with a bat in his hand.
How much will Mathis actually play? In the past, we could count on Mathis only playing about half the time, but with Mike Napoli gone, all bets are off. The Angels do like Bobby Wilson, but is he really different enough than Mathis to merit another platoon situation? Is Jeff even capable of playing 100+ games since his previous high is 94? Can the Angels really even stomach his bat being in the lineup that often?
What to Expect in 2011: Anyone who reads this blog regularly knows how much I loathe Jeff Mathis, which is why it is so painful for me to make the projections I did for Jeff's 2011 campaign. I don't buy the hype that Mathis has some 2009 ALCS magic to recapture or anything like that, but I do believe that Mathis will be able to find a little bit of that so-called "groove" and end up having an offensive season that is just baaaaaaarely good enough to keep him in Mike Scioscia's good graces and starting 100+ games. How will he do it? Simply by being under less pressure to perform. I've always gotten the sense that Mathis, despite his professed friendship with long-time roommate and platoon partner Mike Napoli, was intimidated by Napoli's big bat and thus tried to do a little too much at the plate. With Naps gone and the Angels likely to return Hank Conger to the minors for at least a few months, Mathis might actually be comfortable with his role for once.