Despite being arguably the most talented pitcher in the Angel bullpen, Kevin Jepsen is still carving out his role in the Angel bullpen. Can he take his game to the next level and compete for the closer's job or will Jepsen get leapfrogged by the other Angel relievers and get stuck in middle relief?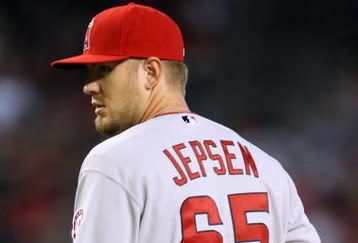 2010 Stats: 59 IP, 2-4, 0 SV, 3.97 ERA, 1.41 WHIP, 61 K
2011 ZiPS Projections: 65.1 IP, 4-4, n/a SV, 4.27 ERA, 1.50 WHIP, 62 K
2011 Bill James Projections: 64 IP, 3-4, 0 SV, 3.94 ERA, 1.48 WHIP, 62 K
2011 Marcel Projections: 60 IP, 4-4, 0 SV, 4.12 ERA, 1.38 WHIP, 53 K
2011 MWaH Projections*: 62 IP, 3-3, 2 SV, 3.65 ERA, 1.34 WHIP, 60 K
*The MWaH projections are simply my best guess based off my own personal opinion and research
2010 in Review: While he may not have had stellar numbers last season, Kevin Jepsen was quietly effective and probably the reliever most responsible for preventing the Angel bullpen from completely imploding early on in the season. He continued to refine the cut fastball that has become his bread-and-butter pitch and figured out how to utilize the pitch so that his scary platoon splits from the year before were evened out. His strong early performance helped him earn Mike Scioscia's trust, as Sosh anointed Jepsen one of his primary setup men, along with Fernando Rodney, and then the main setup man after Fuentes was traded. The only real negative to his season was that his walk rate went way up from the year before, preventing him from earning consideration for the closer's gig (although it apparently didn't hinder Fernando Rodney).
Three Lingering Questions for 2011:
Will Jepsen get a chance to close? While the closer's job seems to be up for grabs in training camp, Jepsen isn't getting a lot of support for the job. Scioscia's comments have strongly hinted at Fernando Rodney and/or Scott Downs being the frontrunners due to their experience, even though neither seems to be perfectly suited for the role for various reasons. After that, Scioscia has hinted that it would be youngster Jordan Walden would get a look since he has the electric arm that has impressed so many. But Jepsen? Nary a mention, even though his numbers have been solid in his two full seasons (excluding the start of 2009 before he discoverd his cutter) and he has the big power arm typically required for closers. Can he force his way into the conversation with his on-field performance or is he doomed to middle relief since he just seems to be in the wrong place at the wrong time?
Can Kevin rein in his command issues? Jepsen throws hard, misses bats and keeps the ball in the yard. Normally this is a recipe for success, but Jepsen was plagued by command issues last season, walking 29 batters in 59 innings last year. That gave him a 4.42 BB/9, which is simply too high, especially if he wants to get more late-inning work. However, his BB/9 in 2009 was a much more palatable 3.13. Which one is the real Jepsen? Judging by his minor league numbers, 2010 is probably a better representation of his abilities, but that doesn't mean he can't improve as he enters his prime this season and cut down those walks and mitigate his biggest flaw.
Is Jepsen trade bait? The notion of trading Jepsen has been raised a number of times during the off-season and I don't suspect that it is just going to fade away. Many feel that the emergence of Jordan Walden and other youngsters like Michael Kohn, plus the additions of Scott Downs and Hisanori Takahashi means that the Angels can afford to swap Jepsen. But does it really make sense for the Angels to start dealing away their relievers right after they just rebuilt the bullpen? Might they not get more in return from one of their more highly-touted relief prospects? Or should the Halos sell high on Jepsen now lest he regress this season?
What to Expect in 2011: For all the talk of Jordan Walden's potential, few people are talking about Jepsen's potential. He is still fairly young, throws very hard and his cutter can be lethal even though he is still learning how to be employ it. Moreover, his stats suggest that he is underperforming. In his two full seasons, his ERA has been 4.94 in 2009 and 3.97 in 2010. However, his FIP in those seasons was 2.86 and 3.03, respectively, with xFIPs right around 3.50. Advanced metrics are well in Kevin's corner, so now it is up to him to start making the sabermetricians look good. Maybe he just needs better luck or maybe he just needs more time for his performance to even out. As such, I am bullish on Jepsen this year.
Mike Scioscia though? Maybe not so much. While I have stated in the past that Jepsen is probably the best man for the closer's job, I don't think Scioscia feels the same way. If anything, I think Sosh views Jepsen as the second coming of Scot Shields, a guy who can handle most situations but maybe isn't quite right (or maybe even too valuable) for the closer gig. Expect Scioscia to take advantage of his increased bullpen depth and use Jepsen in a variety of situations rather than pigeon-holing him into a specific inning-base role like last season. This is a role I like to call the "fireman," which is essentially a mid-inning closer. Jepsen would be the guy who comes in to bail out pitcher mid-inning when they get themselves into a jam or maybe he just pitches the seventh inning of a close game when the heart of the order is due up. That may not leave Jepsen with all those nice shiny saves on his statsheet, but it should earn him the respect of the coaches and fans for being an indispensable member of the relief corps.