After a breakout 2009 season, Erick Aybar finds himself in position to make or break the 2010 Angels as he now must live up to the hype of being a franchise cornerstone as well as the heir apparent to Chone Figgins' as the team's firestarter at the top of the order.  But is Aybar ready for all that added pressure?  Let's find out as we jump into Erick Aybar's Player Preview for 2010.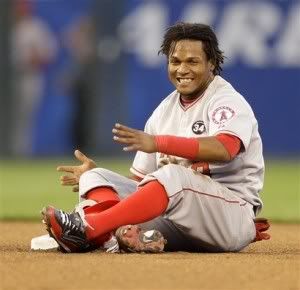 2009 Stats: 504 AB, .312 AVG, 70 R, 5 HR, 58 RBI, 14 SB, .776 OPS
2010 Bill James Projections: 520 AB, .290 AVG, 75 R, 6 HR, 57 RBI, 18 SB, .726 OPS
2010 Chone Projections: 396 AB, .288 AVG, 59 R, 4 HR, 46 RBI, 12 SB, .729 OPS
2010 Marcel Projections: 467 AB, .291 AVG, 65 R, 6 HR, 55 RBI, 11 SB, .745 OPS
2010 Monkey Projections*: 550 AB, .305 AVG, 90 R, 9 HR, 65 RBI, 25 SB, .810 OPS
*All stats courtesy of FanGraphs.com except the Monkey Projections which are strictly based on my own knowledge, logic and intuition.
---
2009 Review:
Like many Angels, the 2009 campaign got off to a rough start for Erick Aybar who struggled both at the plate and in the field the first month of the season.  At the end of April, it seemed like Aybar was firmly entrenched in Mike Scioscia's doghouse for repeated mental mistakes, but he eventually managed to settle in and become both a fan favorite and a Scioscia favorite.  The Angels always knew Aybar could field and he certainly he did that and even got some consideration for the Gold Glove, but his bat was a pleasant surprise as he led the team in batting average at .312.  Aybar's season was such a revelation for the franchise that they flat out refused to include him in any trade talks, even for the highly-coveted Roy Halladay.
3 Questions for 2010:
Can Aybar handle the move to the top of the order?  Aybar lacks the patience you typically like to see from a leadoff hitter, but he could really benefit from having some legit bats protecting him in the line-up.  It should be noted that when Aybar hit second in the order in 2009 his OPS was .895  but when he hit ninth, his OPS was just.717.
If Aybar is so dang fast why doesn't he steal more bases?  The Angel announcers loved to talk last season about how Aybar was a league leader in infield hits thanks to his blazing speed, but he managed just 14 steals all season long.  Aybar has put up some huge steal numbers in the minors but he hasn't been able to translate to the big leagues.  Maybe now that he is poised to hit leadoff, he'll look to be more aggressive on the base paths or maybe he just doesn't have the baseball IQ to be a legitimate base stealing threat.
How much will Aybar really play?  Mike Scioscia is always going to look to get Maicer Izturis regular playing time but the team has clearly committed to Aybar as one of their core players, so will Sosh still find it necessary to sit Aybar on a regular basis to create at-bats for Izturis.
2010 Preview: The projection systems don't seem to think to highly of Aybar's ability to repeat his success from 2009, but I am going to go ahead and disagree (X gets the square).  As I mentioned above, Aybar will be hitting at the top of the order this season, a slot where he thrived last season with real protection behind him.  Aybar won't walk much, but he makes a lot of contact (only striking out 54 times in 2009) which should really play well in the leadoff spot as teams are forced to give him better pitches to hit in order to avoid putting him on base for the heart of the order.  But Aybar will only be able to make that work if he becomes a more potent threat on the bases which I think Mike Scioscia is well aware of, so he will take the restrictor plate off Aybar and let him run free.  This really could be a huge season for Aybar who I think could very well end up an All-Star with his combination of slick fielding and a much improved offensive stat line (it certainly doesn't hurt that the All-Star Game is in Anaheim either).