Up next in the MWaH/LAAI Top 30 Angels Prospect Countdown, one of the most exciting names in the Angels system, John Hellweg. OK, the name itself isn't very exciting but the potential in the big righty most definitely is, especially after his breakthrough season.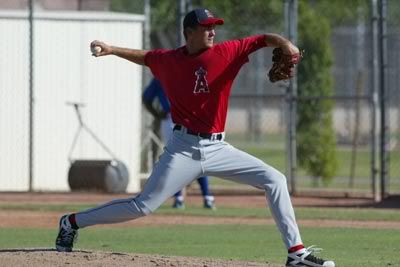 John Hellweg
Position: Pitcher Level: High-A
Bats: Right Throws: Right Height: 6'9″ Weight: 210 lbs.
Age: 23 Born: October 29, 1988
2011 Season Stats: 6-4, 89.1 IP, 3.73 ERA, 75 H, 2 HR, 59 BB, 113 K, 3.45 FIP, .340 BABIP, 2.74 GO/AO
Fastball – A. As a RP sat around 99, as a SP 97. Has also started using a very nice two seam.
Breaking Ball – B. Tight slider, doesn't drop like Santana's, but throws for strike more often.
Change up – C. Same mechanics and it shows promise as it has movement, but needs work.
Performance – B. Wasn't great as RP, but has been untouchable as starter.
Projection – B. He's either going to be a #2 starter or solid late inning RP.
Comp – Floor: Random hard-throwing RP. Ceiling: Daniel Bard as RP, Chris Carpenter as SP.
Video – Hellweg tosses a bullpen session
http://youtube.com/watch?v=
fnthR8RYj6k[/youtube]
Estimated MLB Arrival Date: As a starter, 2014. As a reliever, 2013.
(*As always, the above scouting report is provided by Scotty Allen of LA Angels Insider)
Season Summary: Hellweg did a funny thing this season, he started the year off as a terrible reliever (7.71 ERA, 10.87 BB/9, 11.57 K/9) and then moved to the rotation and became dominant (2.12 ERA, 3.96 BB/9, 11.31 K/9). That is a decidedly backwards transition. How did he pull this feat off? Well, apparently Hellweg made some adjustments and got his mechanics in order, which is a major accomplishment given that he's pretty much 6'9″ of knees and elbows. That successful transition to starter is why you are going to see Hellweg rocketing up all prospect lists because he has always had the amazing arm, but this is really the first season he has been able to harness it, and as a starter no less.
Command has always been Hellweg's biggest problem, but that sub-4.0 walk rate as a starter is real reason for hope. If he can even just maintain that walk rate, he has a great chance to be a very successful starter. But the move to the rotation didn't just come with more control for Hellweg, it also resulted in him suddenly turning into a prolific groundball pitcher. At his height, he has the natural advantage of throwing on a downward plane, but that hadn't manifested itself in his performance until this year, presumably because he couldn't command his pitches well enough. That GO/AO rate is probably too extreme for him to sustain, but if he doesn't regress too much, that groundball-inducing ability combined with his natural knack for missing bats gives him a "win the lottery" ceiling.
While his progress as a starter was tremendous, he definitely still has work to do. For example, just look at his final start of the season in which he allowed just one hit over 6.1 innings of work. In that game, he allowed just one hit, which was a homer, while fanning eight batters, walking four and hitting two batters. Liike I said, that was arguably his best start because he was almost unhittable yet he also probably had no idea where the ball was going when he let it go.
What to Expect in 2012: In a lot of ways, Hellweg reminds me of Randy Johnson. A very tall, lanky guy with an electric arm but given to fits of not being able to hit the broad side of a barn. The older amongst us remember not just Johnson the Cy Young pitcher, but also the Johnson who spent his first few years in the majors struggling to get the ball over the plate. Eventually, the Big Unit figured out his flaws and reduced his walks to a bare minimum. Now, I don't think Hellweg is going to be Johnson, his off-speed pitches just aren't as good and probably won't ever be. The point of the comparison is that getting a handle on command issues can take some time, and looking good for half of a Single-A season hardly means Hellweg has all his kinks worked out.
Moving to Double-A, which Hellweg definitely will be this next season, stand to be a tall challenge (pun intended). The talent leap from Advanced-A to Double-A is a big one and it will be a major test of Hellweg's newfound command. For starters, Hellweg will go from being a touch on the old side for High-A to being right on the age level for Double-A, so he won't have that advantage going for him anymore. He will also be facing better hitters with better plate discipline who will force Hellweg to consistently hit his spots. That means Hellweg will not only be challenged to keep his walk rate from skyrocketing again, but also from getting hit hard when he makes a mistake on location in the strike zone. His velocity and stuff should be good enough for him to be able to hang in the Arkansas rotation, but just how well he performs will determine whether or not his stock continues to rise towards his sky-high potential, or if better competition will put a ceiling on his talent.