The next prospect in the MWaH/LAAI Top 30 Angels Prospect Countdown is coming off an unbelievable statistical season, but does David Carpenter's actual talent back up his stellar numbers?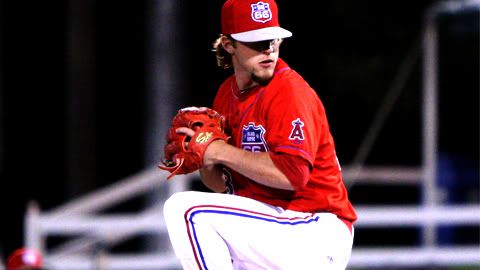 David Carpenter
Position: Relief Pitcher Level: High-A and Double-A
Bats: Right Throws: Right Height: 6'3″ Weight: 180 lbs.
Age: 24 Born: September 1, 1987
2011 Season Stats (High-A): 0-1, 29.0 IP, 0.93 ERA, 23 H, 1 HR, 9 BB, 36 K, 2.20 FIP, .310 BABIP, 1.58 GO/AO
2011 Season Stats (Double-A): 1-0, 18.2 IP, 0.00 ERA, 12 H, 0 HR, 5 BB, 2 K, 2.45 FIP, .226 BABIP, 3.10 GO/AO
2011 Season Stats (AFL): 0-0, 9.1 IP, 6.75 ERA, 13 H, 1 HR, 5 BB, 10 K, 1.43 GO/AO
Fastball – B. It sits 91-93 but has tailing movement and Carpenter keeps it low.
Breaking Ball – B. His slider is pretty good, but he buries it in the dirt, not thrown for strike.
Change up – N/A. He's a RP, and they generally don't use a change up.
Performance – A+. He's run his consecutive scoreless inning streak in AA up to 16 games.
Projection – B. Good ground ball RP, but he falls behind too many batters, shaky command.
Comp – Good ground ball RP, good stuff, but not closer. Quality 7th inning man. Rafael Perez.
Video – Carpenter in Instructional League (Videos in alphabetical order, by last name)
Estimated MLB Arrival Date: 2012/2013
(*As always, the above scouting report is provided by Scotty Allen of LA Angels Insider)
Season Summary: When it comes to actual on-field performance, you literally can't ask for more than what David Carpenter gave the Angels. He started the season with the High-A Inland Empire 66ers, serving as the team's shutdown closer, banking 11 saves and allowing just three earned runs over the course of 29 innings of work. For obvious reasons, this prompted his promotion to Double-A Arkansas where he wasn't just a shutdown reliever, but a shutout reliever, not allowing a single run, earned or unearned, in 19 appearances.
With stats like that, people are dreaming of big things for Carpenter. And while that hype is certainly justified in many respects, there are some areas for mild concern. For starters, Carpenter's strikeout rate took a bit of a hit at when he moved up to Double-A. He still is fanning almost a batter per inning, but K-rates tend to get worse as you climb the minors, so one has to wonder if it will still be at a good enough rate for him to be considered a closer type when he gets to the majors.
But if you really want to see a red flag, just look at what he did in the Arizona Fall League. Let me preface this by saying that the AFL is a wasteland for pitchers because they are essentially facing minor league all-star teams with a lot of players being from more advanced levels than the pitcher, so it is not at all uncommon for a guy to get bombed in that league. Plus, there is the requisite small sample size warning. With all that said, Carpenter had a rough time in the AFL, where his good-but-not-great command made him a little too hittable there and ended his time there having worked just two clean innings in nine appearances. That didn't stop him from being named to the Rising Stars game though. And, again, the fact that he even got to go to the AFL shows how highly the Angels think of him. I only point out that he struggled as evidence that his scoreless streak at Double-A does not make him the second coming of Mariano Rivera.
What to Expect in 2012: The funny thing about Carpenter is that he was so dominant but did so without a single offering that one would call a plus pitch. He throws a good sinking fastball that he used to induce a ton of groundballs in 2011, especially in Arkansas. But he isn't a guy who is going to blow hitters away with his heater or make them look like fool's with his off-speed pitch. What he does is survive by using decent command and keeping the ball on the ground while missing enough bats. To me, that is more the profile of a very good setup guy and less that of an elite closer.
Carpenter will have a chance to prove that assumption wrong though. He may have only pitched 19 innings in Double-A, but he was so good there that the Angels have plenty of justification to move him straight to Triple-A Salt Lake where his groundball-inducing ability will be put to the test, as will his ability to keep getting strikeouts against a better level of competition. If he can keep doing both, then maybe he can maintain some future closer buzz, but more importantly, a half season of high quality work for the Bees could but Carpenter squarely in position to get a mid-season promotion to the big leagues. If he stumbles, no worries. It will just give him more time to make the adjustments he needs, like commanding his slider, to make a run at the 2013 roster.
There really just isn't a lot of risk with Carpenter next season. He was so good in 2011 that he has to regress. But from what we've seen in his three minor league seasons is a proven ability to generate grounders. Only in rare cases does that skill completely vanish when jumping from Double-A to Triple-A (just ask Trevor Reckling). It can certainly fall off a bit, but Carpenter's ground ball rates have been so good, that a regression in that area still makes him a decent, instead of excellent, groundball pitcher. That's good news for him because if he his K/9 rate declines again with the level jump, Carpenter is going to need to turn those lost strikeouts into groundball outs.