Our next prospect in the MWaH/LAAI Top 30 Angels Prospects Countdown is yet another intriguing pitcher who had his season wiped by injury. Had he been healthy Fabio Martinez could have been the best pitching prospect in the Angel farm system, but what do we make of him now after a season of shoulder problems?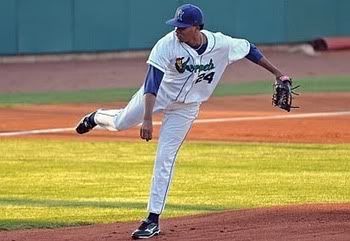 Fabio Martinez Mesa
Position: Pitcher Level: Low-A
Bats: Right Throws: Right Height: 6'3″ Weight: 190 lbs.
Age: 22 Born: October 29, 1989
2011 Season Stats: 0-, 2.1 IP, 0.00 ERA, 2 H, 0 HR, 1 BB, 2 K, 2.77 FIP, .286 BABIP, 4.00 GO/AO
Fastball – A. Sits around 95 with lots of late sink and he hides well. Very difficult to hit.
Breaking Ball – B. One of the best sliders in the minors, but can't command it.
Change up – C. It's a work in progress.
Performance – C. Was great in Cedar Rapids last year, but missed most of 2011 with shoulder problems.
Projection – A. If he can stay healthy and command off speed pitches, either an ace or elite closer.
Comp – Floor: Jose Arredondo. Ceiling: Ervin Santana
Video – Martinez mowing them down in Cedar Rapids
Estimated MLB Arrival Date: As a starter, 2015. As a reliever, mid 2013.
(*As always, the above scouting report is provided by Scotty Allen of LA Angels Insider)
Season Summary: For all intents and purposes, Fabio Martinez Mesa missed the entire season. Shoulder problems limited him to just two relief appearances in August at Cedar Rapids. These were intended to be a rehab assignment of sorts, but his shoulder flared up again and he was shut down for good. For what it is worth, Martinez Mesa pitched a full season at Low-A in 2010 and was flat-out dominant, aside from the vast abundance of walks he issued.
What to Expect in 2012: Hopefully, we can expect a healthy Martinez Mesa to show up at High-A Inland Empire where he can get back to being unhittable and work on his, let's be honest, complete and total lack of command. Unlike Cam Bedrosian and his Tommy John surgery, Fabio's problems are in his shoulder and have not resulted in surgery (yet). Weirdly, that makes his health situation even more troubling because we don't know where he stands in his recovery much less what to predict for him long-term. For all we know, his shoulder will act up again this spring and he will finally go under a knife. For that reason alone, Martinez Mesa gets dropped all the way to #17.
Now, if health was NOT a question for Fabio, he'd almost certainly be in our top five because his stuff is absolutely electric. Take a look back at his numbers since coming over from the Dominican. In his two full seasons, he has given up crazy low hit numbers and posted out-of-this-world strikeout numbers (12.28 K/9 in 2010). His fastball is overpowering and his slider is filthy. Both pitches could make him into something special, assuming he learns how to control both of them. That is a big question mark though because his walk numbers (6.62 BB/9 in 2010) are kind of scary. That is a correctable problem, but it is going to take time to work through and that can't happen if he can't stay on the field. Oh, and he also needs to polish his changeup some. With how sick his two primary pitches are, he just needs the change to be slightly more than fringy if only to keep hitters honest.
But it all boils down to health. If his shoulder problem clears up, then the sky is the limit. Otherwise, it could go a lot of different ways. Martinez Mesa's delivery is the likely culprit in his problems as he comes from over-the-top before a big rough finish across his body, which puts a lot of torque on, you guessed it, his shoulder. If that continues to take too much of a toll on his shoulder, then the Angels will most likely have to make the decision to shift him to relief so that he can stay healthy. This is a similar route that Jordan Walden took, so it is hardly a death sentence. In fact, it could still work out very well as Martinez Mesa could be an elite closer pretty quick since he won't have to worry about his changeup and his command won't have to improve quite as much. Still, they'll probably stick with Fabio in the rotation as long as possible because he does have ace potential.