With the next prospect in Angels Top 30 Prospects Countdown, we finally get a look at what happens when a Dominican Summer League phenom makes good stateside as Ariel Pena begins to come into his own.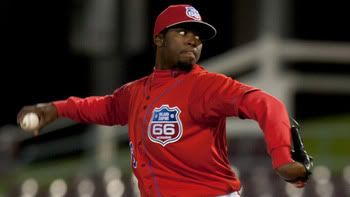 Ariel Pena
Position: Starting Pitcher Level: High-A
Bats: Right Throws: Right Height: 6'3″ Weight: 186 lbs.
Age: 22 Born: May 20, 1989
2011 Season Stats: 10-6, 151.2 IP, 4.45 ERA, 154 H, 10 HR, 81 BB, 180 K, 3.42 FIP, .358 BABIP, 1.24 GO/AO
Fastball – A-. Sits at 95+ with movement, usually topping out around 98.
Breaking Ball – A. Hard, fall of the table slider. Similar to Ervin Santana's.
Change up – C. Nothing remarkable about it. Needs to control it.
Performance – B. Strike out king, but too many BB.
Projection – B+. Looks like an ace or a closer. I have more faith than most he remains SP.
Comp – Floor: Jose Arredondo. Ceiling: Ervin Santana.
Video – Pena in Instructional League (Videos in alphabetical order, by last name)
Estimated MLB Arrival Date: As a starter, 2015. As a reliever, 2013.
(*As always, the above scouting report is provided by Scotty Allen of LA Angels Insider)
Season Summary: We talked earlier this week about Jean Carlos Santiago and his dominance in the Dominican Summer League. Well, Ariel Pena is what the Angels hope will happen with Santiago as Pena is only a few years removed from putting up great DSL numbers. However, since he came over to the traditional minor leagues, Pena has not been nearly as dominant, which is often part of the learning curve.
Consider him caught up on that learning curve. What made Pena special in the DSL was his strikeout rate, but he had been rather pedestrian in the regard his first two years stateside, but the third season ended up as his charm. Pena fanned 10.68 batters per nine innings and finished second in the California League in strikeouts thanks to his great fastball-slider combo. He actually probably would've won the Cal League K crown, but he was moved to Triple-A to make a spot start right at the end of the season (that start did not go well). Nonetheless, having his K/9 rate jump from around seven to 10.68 in one year is pretty damn impressive and suggests that Pena is figuring it out.
Alas, it wasn't all good news for Pena since he still struggled with allowing an abundance of walks and remained a bit more hittable than you would expect in light of him missing so many bats the rest of the time. Even with those red flags, the Angels have to be very pleased with the success Pena enjoyed this season.
What to Expect in 2012: This is going to be a tough decision for the Angels. Pena clearly has an electric arm and two pitches that could be plus pitches in the majors in the very near future, especially if he were to convert to relief. On the other hand, he is still decidedly raw and could have a very high ceiling as a starter if the Angels are willing to be patient. They might even need to be patient enough to let him start the season in High-A again so he can focus on some of his weaknesses.
Fastball command is one thing for Pena to focus since his inconsistency with it is what tends to make him so hittable. He also needs more time to develop his changeup as it is not of much use to him right now, but it is something he needs to improve upon if he is going to even out his platoon splits after he got hit hard by left-handed batters in 2011. These two big projects would be easier for Pena to work on in High-A as his confidence could be protected against a level of competition that he had good success agaisnt but didn't dominate, as his 4.45 ERA suggests. On the other hand, Pena has now proven he can blow a lot of High-A batters away on pure stuff alone and leaving him there too long could cause him to form some bad habits that will work against him as he climbs the organizational ladder.
Those concerns could lead the Angels to just have Pena move to Double-A right away, which isn't a bad idea at all. It will be a bit of a trial by fire though since he will have to work on those improvement points while adapting to a much tougher level of competition at the same time. Should Pena adapt quickly to Double-A, he stands to elevate his status greatly, possibly making him a top 5 Angel prospect this time next season. Then again, if he falters, Angel management might decide that his command and lack of third pitch just won't be sustainable in a starting rotation and convert him to relief. That wouldn't be a terrible fate since he profiles as a closer should he make the change, but relievers just aren't as valuable as starters.