Our next prospect in the MWaH/LAAI Top 30 Angels Prospects Countdown was a player people had big hopes for, but injury ended his season before it ever began. What do we make of Cam Bedrosian now that he has had to undergo Tommy John surgery?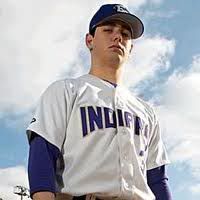 Cam Bedrosian
Position: Pitcher Level: Injured
Bats: Right Throws: Right Height: 6'0″ Weight: 204 lbs.
Age: 21 Born: October 2, 1991
2011 Season Stats: Did Not Play, Injured
Fastball – B+. Before Tommy John surgery he sat at 93+ with command but little movement.
Breaking Ball – A-. He throws a hard sharp slider low in the zone. Definitely "plus" offering.
Change up – C+. Reports indicate it showed considerable promise.
Performance – N/A. Surgery kept him out all season.
Projection – B. If change up develops could be #3 starter. Otherwise closer type reliever.
Comp – Floor: Typical set up man. Ceiling: Steve Bedrosian (elite closer).
Video – Cam Bedrosian strikes out Bryce Harper at Aflac High School All-American Game
http://youtube.com/watch?v=
iYrBWXN6cuM[/youtube]
Estimated MLB Arrival Date: As a starter, 2015. As a reliever, 2014.
(*As always, the above scouting report is provided by Scotty Allen of LA Angels Insider)
Season Summary: Thanks to Tommy John surgery, Bedrosian missed the entire 2011 season. Back in 2010, Bedrosian got off to a mediocre start in Rookie ball, but that was partly attributed to his elbow problems starting up. Prior to the injury news, Bedrock Junior was generally considered one of the top ten prospects in the Angel farm system. Bedrosian did not go under the knife until May of 2011.
What to Expect in 2012: Tommy John surgery is no longer the career death sentence it once was, in fact, it is really not much of a concern going forward at all for most players. Most players can now get back on the field as soon as 12 months after the surgery. For some players it can take longer though, so it is probably too early to speculate exactly when the Angels will try and get Bedrosian pitching competitively again. If they elect to be careful with him, he'll most likely stay in extended spring training to start the season. If he looks good, then they can send him to Low-A Cedar Rapids, otherwise, they can have him wait until the Rookie season starts in June and assign him to Orem where he can continue to build his arm back up before moving up to Cedar Rapids if/when he is ready for it.
The real question the Angels will have to answer though is whether or not Bedrosian should stay in the rotation. Even when he was drafted, there was speculation that he was better suited for relief, though part of that thinking probably had a lot to do with his father being a Cy Young closer back in the 80's and 90's. Having to undergo major elbow surgery probably isn't going to be a big point in favor of keeping him in the rotation.