Up next in our Top 30 Angels Prospect Countdown, reliever Robert Fish, a player who was in high demand before the season and did a fine job of justifying that throughout the course of it. The fireballing southpaw's stock is definitely on the rise, but can he keep it up?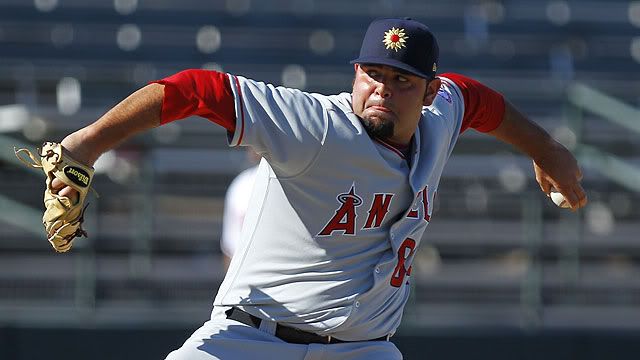 Robert Fish
Position: Relief Pitcher Level: AA
Bats: Left Throws: Left Height: 6'2″ Weight: 230 lbs.
Age: 23 Born: January 19, 1988
2011 Season Stats : 1-0, 30.1 IP, 3.26 ERA, 21 H, 1 HR, 18 BB, 41 K, 2.80 FIP, .303 BABIP, 1.88 GO/AO
Fastball – A+. It's rare to see LHP dial it up over 95, but Fish does. Incredible heater.
Breaking Ball – B. Seems to interchange curve and slider. Good movement on both.
Change up – C. Rarely ever see him use it, but he reportedly has one.
Performance – B+. Guns flashing 100 on his FB were hot, but can't fake missing bats.
Projection – Closer or good set up man.
Comp – Floor: Mike Gonzalez. Ceiling: Billy Wagner – yes he throws that hard.
Estimated MLB Arrival Date: 2012/2013
Season Summary: If the Rule V draft process is any indication, Robert Fish is a guy other teams really want. First, the Yankees took Fish in the draft from the Angels only to end up changing their mind and letting him go. The Royals then swooped in to snatch him up before they too thought better of it and finally returned him to the Angels just before the start of the season. Obviously Robert didn't do enough in short auditions to keep his spot with those two other clubs, but the fact that they even gave him a shot speaks to how well thought of he is in terms of potential.
And make no mistake, it is potential alone that got him selected because he got pounded to the tune of an 8.93 ERA in Double-A in 2010, so those Rule V selections were all about projection. However in 2011, Fish returned to Double-A and did a fine job of justifying all that projection. After coughing up a staggering nine homers in 2010, Fish allowed but one dinger this year, albeit in just over 30 innings of work. Still, he clearly figured out how to be much less hittable this season, which was only his second full season as a reliever. But the reduction of homers did not come with a sacrifice in strikeouts as he fanned 41 batters over that span. Command remained a bit of an issue since he did issue 18 free passes, but those are much easier to stomach when he is keeping the ball in the yard.
With his big fastball, Fish can be death on lefties, but he also held his own against righties. In fact, 19.1 of his innings pitched came against right-handers and his ERA platoon split was virtually identical while his batting average allowed was actually 95 points LOWER against righties at .161 than it was against other lefties at .256. A LOOGY this guy ain't. However, it is worth noting that 14 of his 18 total walks came against righties, which could be foretelling that his success on BAA against righties might have been a bit fluky.
That sound like a great year for Fish, right? Yeah, not quite. Unfortunately, Fish twice missed extended stretches of time with the Travelers. First in May, he was sent to extended spring training for undisclosed disciplinary reasons and stayed there for almost a month. He also missed the entire month of July with leg injuries. Both absense were a real shame because they probably cost him a shot at a promotion to Triple-A and maybe even the majors.
What to Expect in 2012: There is little doubt that Fish will start the season in Triple-A in 2012, assuming he is back in the team's good graces from an attitude standpoint. There is even a minute chance that he could open the season with the big league club, but that seems unlikely given the depth chart at the moment.
That being said, Fish could use a season in Triple-A, if not for his own development, then for the Angels to figure out just how for real he is. Specifically, Fish had no problems with home runs in 2011, but the longball had been a major problem for him his entire career up until then. As always seems to be the case with Salt Lake and the PCL, Fish is going to get the ultimate trial by fire on whether or not he has cured his case of gopheritis or if he just lucked into a one-year remission in 2011. If he can do even a half-decent job of limiting homers while also proving that he can be a good soldier, a mid-season call up to the majors could be waiting for him. And that could be with the Angels or some other team. Let's not forget, two other franchises have already made plays to acquire him, so he could be in high demand come the trading deadline.