Up next in our Top 30 Angels Prospect Countdown, we take a look at one of the system's deep sleeper prospects, pitcher A.J. Schugel.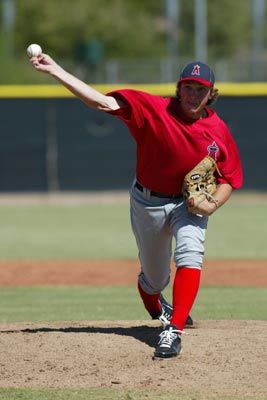 A.J. Schugel
Position: Pitcher Level: Split the season between Low-A and High-A
Bats: Right Throws: Right Height: 6'1″ Weight: 190 lbs.
Age: 22 Born: June 27, 1989
2011 Season Stats (Low–A): 4-3, 90.1 IP, 2.59 ERA, 73 H, 2 HR, 39 BB, 80 K, 3.24 FIP, .280 BABIP, 1.23 GO/AO
2011 Season Stats (High-A): 1-2, 19.2 IP, 5.03 ERA, 22 H, 1 HR, 6 BB, 15 K, 3.40 FIP, .333 BABIP, 0.62 GO/AO
Fastball – B+. Sits around 91 mph with a hard sink and cutting action against RHB.
Breaking Ball – C. I'm thoroughly unimpressed with his slider. Slow, little movement.
Change up – B+. I liked his change up, it has movement and he throws it for strikes.
Performance – Generates weak contact, good K's, acceptable BB. Doing well in low minors.
Projection – Middle reliever right now, #3 starter if his breaking ball improves.
Comp – Floor: Trevor Bell. Ceiling: Shaun Marcum (if he develops a cutter).
Estimated MLB Arrival Date: 2015
Season Summary: Schugel continued his unlikely climb up the prospect ladder in 2011. Schugel was a 25th round draft choice in 2010 and a late-comer to pitching (he didn't start pitching full-time until his third year of college), but has impressed the Angel brass (which includes his father, an Angel scout) from the get go. Schugel built on his rookie ball success my putting up some very nice numbers in relief for the Low-A Cedar Rapids Kernels to start the 2011 season. In fact, the Angels liked what they saw so much that they began transitioning him into the rotation. Over the course of 25 appearance, including 12 starts, Schugel posted a 2.59 ERA before he earned a late promotion to High-A Inland Empire. Not too shabby for a guy who entered pro ball with low expectations.
His move to 66ers wasn't quite as successful as his time in Cedar Rapids though. It was only four starts, but Schugel ended the High-A season with a 5.03 ERA, though his peripherals in that stretch suggest that he actually pitched a fair bit better than the ERA would suggest. In fact, in his next to last start, Schugel pitched five shutout innings. Frankly, no matter what he did at High-A, it is very impressive that he was able to pull of a conversion from reliever to starter and jump a level all in one season, especially considering his relative lack of experience.
What to Expect in 2012: Schugel has moved up relatively quickly considering that he hasn't been focusing on pitcher for that long, but things should slow down for him in 2012. Now that the Angels have apparently decided that Schugel is going to get a long look as a starting pitcher, he'll be returning to Inland Empire and seeing if he can't improve upon his brief debut there late in 2011. Not only will Schugel be asked to prove that he has the arsenal to be a starter, but he will also have to prove that he can hold up under that heavy a workload. Keep in mind that Schugel never went more than six innings in any of his starts last season, so he has to show that he can both go deep into games but also do that over an entire season. As Schugel is a good athlete, the stamina issue shouldn't be too much of a problem since he will have an off-season to build up for it rather than trying to stretch out in the middle of the season.
If the starting thing doesn't work out for Schugel, a return to the bullpen is always an option, but there is little reason for the Halos to make that decision hastily unless the experiment goes horribly awry quickly. Once that is settled though, we should get a better idea of what his ceiling truly is. Will he show he can be a middle-of-the-rotation guy? Back-of-the-rotation? Or is he maybe a swing man or better suited to as an effective middle reliever? That's all guess work now, but it shouldn't be come this time next year.
If there is one area of Schugel's development to watch, it will be in his repertoire. There is some kind of weird universal consensus developing that Schugel needs to start throwing a slider cutter in addition to his sinker. Since he doesn't throw overly hard, he just needs something else in his arsenal to keep hitters off balance and the cutter is the hot new trend, so I guess it make sense. If anything, consider the cutter a replacement for his lackluster slider, though one would hope he could develop both. With a sinker, cutter, change and a show-me slider, that could give him enough variety to survive as a starter, otherwise, he's destined to retrun to middle relief.