The Top 30 Angels Prospect Countdown marches on. Our next prospect may come in a small package, but he delivers big results on the field (and big headaches off of it). Checking in at #24 is reliever Steve Geltz.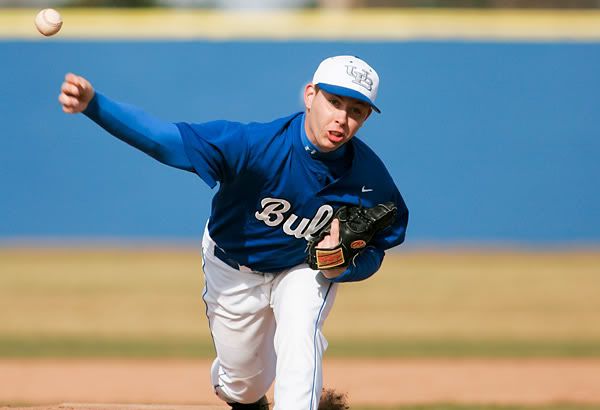 Steve Geltz
Position: Relief Pitcher Level: AA (with two appearances at AAA)
Bats: Right Throws: Right Height: 5'10" Weight: 170 lbs.
Age: 24 Born: November 1, 1987
2011 Season Stats (AA): 3-3, 46.2 IP, 3.09 ERA, 31 H, 5 HR, 14 BB, 67 K, 2.69 FIP, .277 BABIP, 0.26 GO/AO
Fastball – B+. Geltz's fastball touches 94 but generally sits at 92 with movement.
Breaking Ball – A. He throws a sharp cutting slider that causes a lot of misses.
Change up – B+. Not actually a change up, but a splitter with diving action.
Performance – A. Just as dominant as a reliever as he's been his whole career.
Projection – A very good middle reliever.
Comp – Floor: Francisco Rodriguez (Not the good one). Ceiling: J.J. Putz
Estimated MLB Arrival Date: As soon as miid-2012
Season Summary: Steve Geltz's season off on the wrong foot, to say the least. He was assigned to the Triple-A Salt Lake Bees to begin the year. His first outing went just fine, but he got lit up in his second outing and was quickly shuttled back to Double-A Arkansas for some more seasoning, which he definitely needed. But once he rejoined the Travs, it was smooth smailing for the dimunitive fireballer.
Being back in Arkansas really was for the best for Geltz since he had some command problems in Arkansas when he was promoted there in mid-season 2010. Those command issues seem to be behind him though as he walked just 2.7 batters per nine innings over the course of his AA season. More importantly, Geltz continued to strike out batters at an eye-popping rate of 12.92 K/9. Actually I should say he "only" struck out 12.92 batters per nine innings since that was actually down from the 17.36 K/9 he registered in half a season at Arkansas in 2010. While that is a big dip, it isn't one worth complaining since no human on this earth can possibly maintain a 17+ K/9 rate.
Apparently Geltz does feel some bizarre need to carry extreme peripheral stats. This year, it was his 0.26 GO/AO rate. If my math is right, that means over 46.2 innings of work, he induced a mere 19 groundball outs. Even Jered Weaver thinks that is too many flyballs allowed. Again, that rate is far too high to continue, but it does show just how much of an extreme flyball pitcher Geltz is. Those flyballs were actually a good thing for him in the spacious confines of Dickey-Stephens Park, the home of the Travs, where his BAA was just .154 and ERA was 1.72. But on the road, it was more of a problem as his BAA jumped over 50 points to .207 and his ERA ballooned to 3.77, with four of his five homers allowed coming away from home. He definitely still got the job done on the road, but that is a sizeable split that his home stadium certainly aided him with.
You also might have noticed that Geltz pitched less than a full season's workload. Unfortunately, Geltz ened up missing almost an entire month of the season after being suspended for disciplinary reasons. What incident caused that suspension is not known to the public, but considering the length of the penalty, one can't help but assume that there it was something major, which no doubt means that there is going to be a red flag associated with his character as he tries to make it to the majors.
Finally, it is worth noting that Geltz had zero saves on the season. That is a bit of a surprise since he looks like a potential lights out closer, but the organization has not yet seen him fit for end of game duties. Instead, Geltz is used for multiple innings on a regular basis. He pitched 46.2 innings this season, but did that over just 32 appearances. That isn't entirely uncommon in the minors, but it will be curious to see how long the Angels keep him stretched out for frequent two-inning outings.
What to Expect in 2012: While his brief debut in Triple-A didn't go well this last season, there is no reason for the Angels to not start him off there, and keep him there, in 2012. Geltz has nothing left to prove in Double-A and arguably could have been promoted in the latter parts of the season. While Geltz has been dominant at almost every stop, the jump to the high elevation of Salt Lake and the generally hitter-friendly Pacific Coast League will be a HUGE test for Geltz. With the amount of flyballs he allows, he could get himself in trouble real quick.
Geltz is pretty much always going to be prone to giving up homers, but if shows up in Salt Lake and lets that tendency get out of hand, it is going to stall his ascent to the majors. If he starts coughing up homers at an increased rate while simultenously either suffering command problems or seeing his whiff rate decline to more mortal levels, then real questions will arise about whether or not he can hack it in the majors. This would sort of be like what happened with Michael Kohn in the majors last season. All of the sudden Kohn was giving up more walks, missing less bats and then just couldn't keep the ball in the park. That turned Kohn from a potential setup man last season into a guy that couldn't even earn a September call up. Geltz will face a similar challenge in 2012, only at Triple-A instead. Given that his command struggles have never been as bad as Kohn's, Geltz should be in good shape to post strong numbers for the Bees and put himself in position for a big league call up late in 2012 or early in 2013. His flyball issues will probably prevent him from ever getting a real shot at being a big league closer, but he definitely seems like he has a career in middle relief.
As great as Geltz sounds, there is one factor that limits his projection to a certain degree, and that is his size. At just 5'10" and 170 pounds, Geltz is pretty small. His stature hasn't limited him so far, but the track record of guy's his size staying healthy just isn't very good. However, he has no real injury history worth worrying about. Combine the size concerns with his character concerns and that should help explain why he is this far down the prospect list despite his strong performance and obvious talent.