The Top 30 Angels Prospect Countdown marches on. While not blessed with overpowering velocity or electric off-speed pitcher, Max Russell's yeoman-like performance in Single-A is starting to earn him some deserved notice.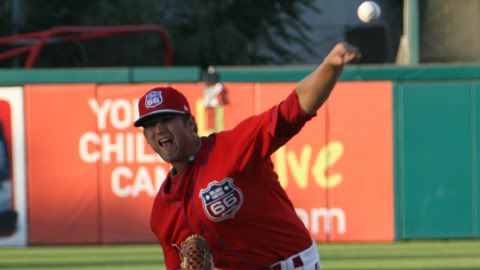 Max Russell
Position: Starting Pitcher Level: Split the season between Low-A and High-A
Bats: Left Throws: Left Height: 6'2″ Weight: 210 lbs.
Age: 23 Born: September 21, 1988
2011 Season Stats (Low-A): 5-10, 114.0 IP, 3.79 ERA, 101 H, 14 HR, 45 BB, 85 K, 4.67 FIP, .264 BABIP, 1.54 GO/AO
2011 Season Stats (High-A): 1-2, 41.0 IP, 4.17 ERA, 42 H, 4 HR, 8 BB, 34 K, 3.61 FIP, .308 BABIP, 1.28 GO/AO
Fastball – B. He sits at 90-91 and spots it, generating ground balls and sets up his curve.
Breaking Ball – B. Curveball that is hard to make solid contact because he keeps it low and spots it where he wants.
Change up – B. The true mark of a polished starter, he can throw it in any count.
Performance – B. Didn't blow anyone away, but he was a quality start machine. Consistent.
Projection – Solid number four starter.
Comp – Floor: AAA flameout. Ceiling: Joe Saunders.
Video – Not one of his finer starts. Max Russell gets hit hard.
http://youtube.com/watch?v=
Bvy_OqmFc0s[/youtube]
Estimated MLB Arrival Date: 2014
Season Summary: Russell's stats aren't exactly going to bowl you over, but that doesn't mean he should be overlooked. First off, his peripheral stats are solid. A 7.67 K/9, a 3.07 BB/9, a decent groundball rate makes for a pretty good pitcher. Granted, not a dominant pitcher, but still a good one. But what makes those mildly impressive numbers mildly more impressive is the way in which Russell did it.
Max made the jump to Low-A Cedar-Rapids for the last part of the 2010 season and, well, he got knocked around pretty good. But come 2011 and Russell returned to the Kernels and showed improved command and effectiveness. That ability to adapt earned him yet another late-season promotion to the next level, only this time he pretty much maintained his same level of production despite the jump. That still may not seem like much of anything to write home about, but what it suggests is that Russell is refining his ability.
For Russell, that is huge. He doesn't throw hard and his off-speed pitches are never going to be electric, so he is going to have make up for it by pitching smart, which his quick adjustment to High-A ball suggests he is starting to do. Then again, Russell was a 2010 draft pick out of college, so this could just be a case of him coming in more polished than his less experienced peers in the California League.
What to Expect in 2012: Since Russell only made seven starts with the 66ers in 2011, the Angels will probably want to get him some more experience at that level next year. If he repeates his 2011 performance, then he should get a quick promotion to Double-A, but that is a decision that won't be taken lightly since it is a much bigger talent gap for him to close than the Low-A to High-A move. Once he reaches Double-A, his prospect profile could get a major shot in the arm or get kicked right in the face. As mentioned before, Russell isn't overpowering, but he is still missing a fair amount of bats thus far. But the hitters in Double-A are much more advanced, so his stuff is really going to be put to the test. If he can maintain his whiff rate, then he might be for real. If not, then Russell could be destined to languish in AA for awhile as he tries to figure out how to adapt to better competition.
The key to that is, and always will be, his curveball. Single-A players aren't able to square it up well because he is good at locating the pitch, at least by Single-A standards. If his curve still plays well in Double-A once he gets there, then Russell's future will seem a whole lot brighter. If not, let's hope he got a real degree during his four years in college.