Up next in our prospect countdown, the man who could some day be the tallest major leaguer of all time, Loek Van Mil. Acquired at the end of 2010 in exchange for Brian Fientes, the Netherlands-born Van Mil was acquired knowing that he was a major project, but after a strong close to his 2011 campaign, the project looks like it might finally be nearing completion.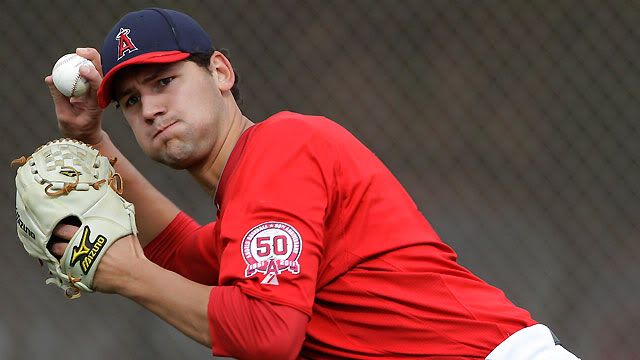 Loek Van Mil
Position: Relief Pitcher Level: AA
Bats: Right Throws: Right Height: 7'1″ Weight: 220 lbs.
Age: 27 Born: September 15, 1984
2011 Season Stats: 3-5, 66.1 IP, 2.04 ERA, 53 H, 4 HR, 23 BB, 46 K, 3.95 FIP, .248 BABIP, 1.26 GO/AO
Fastball – A. Extreme downward angle/close release make his 93mph FB hard to square up.
Breaking Ball – B. Slider lacks bite to be a swing & miss pitch, but effective nonetheless.
Change up – C. He rarely uses it, but it's there and was useful for his spot starts.
Performance – A. Numbers were terrific, he seems to have "figured it out". Great in playoffs.
Projection – A good middle to late inning reliever or swing starter.
Comp – Floor: Jon Rauch. Ceiling: Tyler Clippard.
Video – Van Mil pitching in the Twins organization
http://youtube.com/watch?v=
Ji9dF0CwSaI[/youtube]
Estimated MLB Arrival Date: Mid-2012
Season Summary: Van Mil was acquired via trade in 2010, but it was so late in the season that he only threw one inning in the Angel farm system, so 2011 was the first real chance we've gotten to see Van Mil. The book on him before the season was that he was an obviously very tall guy who threw hard, but didn't exactly know how to pitch. That may have been the case to start the season, but it sure didn't look like it by the end.
Van Mil struggled with consistency the first two months of the season, allowing five earned runs each in May and June, but after that, everything just seemed to click as he only allowed five more earned runs the rest of the entire season, including a month August when he didn't allow a single earned run. That stretch was so good, in fact, that many Angel fans, myself included, called for him to be promoted to the majors. In retrospect, that was probably more out of the sad state of the big league bullpen than Van Mil's readiness. While he is 27 years old, he is still a raw prospect who may have been damaged by skipping a level of the minors.
One reason a big league promotion might've been premature is that Loek and his shiny 2.04 ERA look to have been the recipient of some good luck and good environment. As you can see in the stat line above, his FIP is 3.95, which is miles above his 2.04 ERA. This is no surprise since his .248 BABIP also appears to be quite low for him. His home park in Arkansas was likely a contributor to that since his ERA at home this season was a tiny 1.06 but on the road, it was a full two runs higher at 3.06.
What to Expect in 2012: The potential is there with Van Mil, but the results aren't quite good enough. His K/9 of 6.24 last season is reasonable, but it is hardly inspiring enough to convince anyone beyond a reasonable doubt that he can miss bats consistently in the majors. Where he could make a case for a successful big league career is by inducing lots and lots of grounders with his obvious physical advantage when it comes to generating a downward plane on his pitches. His 1.26 GO/AO rate last season shows promise, but it still isn't good enough, especially since such groundball rates typically get worse as a pitcher moves up in levels.
That is why 2012 will be a huge season for Van Mil who should begin the year in the thin air of Triple-A Salt Lake. If he can prove to Angel management that he can keep the ball down in Salt Lake, then it should be what he needs to earn himself a major league audition for one of the last spots in the Angel bullpen. Given that he is already on the 40-man roster, the Angels should give him a call up at some point, even if they wait until September to do it, unless he turns out to be a total trainwreck in Triple-A.