Next up in our Los Angeles Angels Top 30 prospect countdown, we finally get away from this year's draft choices and look at someone with a bit more experience. After a third straight quality season, Haerther's consistency is getting him some attention even if he doesn't do anything spectacular.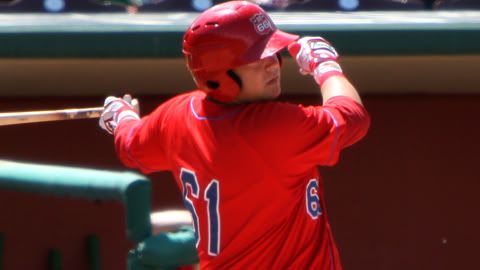 Casey Haerther
Position: 1B/3B Level: High-A
Bats: Right Throws: Right Height: 6'2″ Weight: 210 lbs.
Age: 24 Born: October 5, 1987
2011 Season Stats: 437 AB, .293 AVG, .330 OBP, .426 SLG, 34 2B, 0 3B, 8 HR, 68 RBI, 73 SO, 1 SB, 2 CS, .334 BABIP
Bat – B. Good average with gap power, but HR power still hasn't emerged yet.
Speed – C. He moves well for a corner IF, even if his stolen base totals don't indicate it.
Arm – B. It's good enough to remain at the hot corner, but 1B is more than likely his future.
Performance – B. Haerther is a consistent middle of the order bat.
Projection – His bat will take him as far as he will go. A good 1B/3B utility player/PH.
Comp – Floor: Rob Quinlan. Ceiling: Jorge Cantu.
Estimated MLB Arrival Date: 2014
Video – Haerther shows off his sweet swing at UCLA
http://youtube.com/watch?v=
RZ6L-J4-Sj8[/youtube]
Season Summary: It is hard to complain about Haerther's season because he really didn't do anything poorly. However, he also didn't do anything particularly well. Each year, Haerther hits .300 or close to it and provides a solid and consistent offensive presence for his team. What he doesn't do though is take walks or hit for power. With just 24 walks and eight home runs, Haerther has all the makings of a classic empty batting average guy. That isn't necessarily a bad thing, but it does limit his upside considerably.
It isn't as if Haerther is a slap-hitter, but a .133 ISO just isn't going to strike fear into the heart of even Single-A pitchers. And walking in just over five percent of his plate appearances gives him very little margin for error when it comes to hitting for average. While he has hovered near .300 in his three-year career, if he sees his average decline as he continues to climb the ladder, say down to .270, he suddenly looks less like a non-contact hitter and more of an out machine.
Make no mistake though, Haerther can make contact. He struck out just 73 times this season, so at least he isn't giving away at-bats. If he can keep that up, his consistent contact skills can allow him to cover up for his lack of power and give him a shot at a career as a bench player.
What to Expect in 2012: What complicates matters for Casey isn't just his lack of home run power, but rather his uncertain position on the field combined with his lack of power. As a third baseman, Haerther's ceiling as a gap power guy is far more tolerable than it would be if he ends up being more of a full-time first baseman. Unfortunately, it seems like his future at the hot corner is cooling off since he just isn't a defensive asset there.
The good news is that all hope is not yet lost for his power stroke, though he is running out of time. Haerther is destined to make the big leap to Double-A in 2012 where the opposing pitchers are much more talented and the Texas League ballparks are far less forgiving. He is simply going to have to find a way to start getting some loft on balls and driving them out of the park if he wants to survive in Double-A. He is a well-built kid with decent athleticism, so if he continues to build his strength, he could find that missing power, though he'll never be a big-time power threat.