Up next in our prospect countdown is another promising young arm for this year's draft (maybe the Reagins regime wasn't all bad). As a JUCO relief prospect with a big arm, Michael Clevinger adds to the Angels' growing collection of power bullpen prospects, assuming that he stays in the bullpen and learns to be more than just a flame-thrower.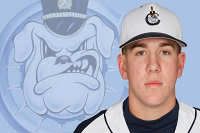 Michael Clevinger
Position: Relief Pitcher Level: Rookie (2011 4th-round draft choice)
Bats: Right Throws: Right Height: 6'4″ Weight: 202 lbs.
Age: 20 Born: December 21, 1990
2011 Season Stats: 0-0, 4.0 IP, 2.25 ERA, 3 H, 0 HR, 2 BB, 5 K, 2.20 FIP, .300 BABIP, 0.40 GO/AO
Fastball – A-. Sits at 95 mph with a deceptive ¾ delivery that could be effective against RHB.
Breaking Ball – B. Has the necessary slider to put hitters away.
Change up – Not applicable. He doesn't use it as a RP, but should he ever start, he has one.
Performance – B+. Best K/9 ratio in competitive Florida JUCO scene. Solid in Orem.
Projection – B. Has the stuff to be closer/decent #3 SP, reports indicate he'll remain in pen..
Comp – Floor: Ben Weber. Ceiling: Octavio Dotel.
Video – Clevinger's delivery in the Cape Cod League
http://youtube.com/watch?v=
5apH55pe4Qk[/youtube]
Estimated MLB Arrival Date: 2014
Season Summary: Michael Clevinger was set to play his 2011 college season at the Citadel, but instead made a late decision to transfer to Seminole State Community College, one of the more competitive JUCOs out there. The decision was clearly aimed at prepping himself to be drafted this year, a decision that worked out pretty well for the fourth-rounder. At Seminole, Clevinger showed the potential to be a hard-throwing dominant reliever, fanning 52 batters in 31.2 innings of work while walking 11. That's a pretty good set of peripherals to build on for a 20-year old.
Like Austin Wood before him, Clevinger signed relatively late, so he only got in a little bit of work with the Orem Owlz, making just three appearances. However, in that short time, Clevinger performed right about as expected.
What to Expect in 2012: Clevinger still needs some polish, but as a college relief arm, his path to the majors could be a pretty short one. As his college numbers indicate, control isn't a big problem for him, which it can be for many hard-throwing relief prospects. What he does need to prove though is that he can be more than just a kid with a big heater and a deceptive delivery. Clevinger has the makings of a good slider, but it isn't refined yet. He'll eventually have to develop that into a real out-pitch since he can't count on just blowing batters away as he climbs the minor league ladder.
After that, Clevinger's ultimate upside will depend on whether or not he can get lefties out in addition to righties. His 3/4 arm slot can make life hard on right-handed batters, but it can have the opposite effect on left-handed batters. Seeing how he primarily lives off his fastball and seldom uses his change-up, he is going to figure out how to neutralize left-handed batters if he hopes to develop into a legit closer.
There is one last little wrinkle, there is some rumblings that Clevinger could be looked at as a starter first. I think that is probably unlikely, but I guess I get the notion to see if he can hack it in the rotation since they are relatively sure he can always have a future in relief. The problem is that converting him into a starter could slow his development curve considerably. That question aside, it will be interesting to see where Clevinger starts next season. It isn't out of the question that he could return to Orem, but since he is a college arm, it seems more likely that he'll start in Low-A or High-A.
Hard thrower, could be ready fast, some rumbles he could become a starter, but that is doubtful. Better off sticking at reliever if they want him promoted fast. Prove he can get lefties out.