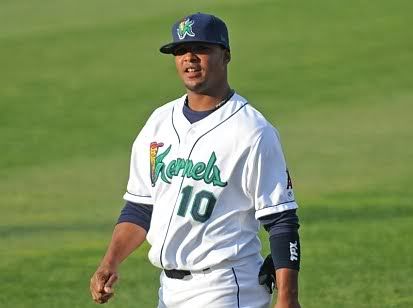 Next up on in our the MWaH/LAAI Top 30 Angels Prospect countdown is the possible third baseman of the future for the Angels, Luis Jimenez, that is assuming his free-swinging ways don't hold him back.
Luis Jimenez
Position: 3B Level: Double-A
Bats: Rightt Throws: Right Height: 6'1″ Weight: 205 lbs.
Age: 23 Born: January 18, 1988
2011 Season Stats (AA): 490 AB, .290 AVG, .335 OBP, .486 SLG, 40 2B, 1 3B, 18 HR, 94 RBI, 72 SO, 15 SB, 6 CS, .303 BABIP
2011 Season Stats (DWL): 117 AB, .222 AVG, .260 OBP, .402 SLG, 4 2B, 1 3B, 5 HR, 16 RBI, 21 SO, 3 SB, 1 CS
Bat – B+. Hits for average & power, but is still undisciplined. Rarely walks, but no K's either.
Speed – B. Above average for 3B, has stolen over 20 in minors.
Arm – A-. Very strong arm, very quick release, not inaccurate but could be better.
Performance – A. AA all-star, Futures Game participant. Very good numbers in AA.
Projection – B. Doesn't look like an all-star but has the upside of being a solid starting 3B.
Comp – Floor: Jorge Cantu. Ceiling: Adrian Beltre
Estimated MLB Arrival Date: Any time in 2012.
Video: Jimenez takes some practice cuts in preparation for the Future's Game.
(*As always, the above scouting report is provided by Scotty Allen of LA Angels Insider)
Season Summary: If you've read enough of these prospect reports here at MWaH then you no doubt have heard me say a number of times that Dickey-Stephens Park, the home of the Angels Double-A affiliate Arkansas Travelers is a brutal hitting environment. I bring that up now to put in perspective the kind of season Luis Jimenez just had for the Travs.
Jimenez is a player who has flashed some very nice power numbers in his minor league career, but a 2009 shoulder injury put that power potential in question. Hitting in Arkansas stood before him as a major test and, well, he passed with flying colors. Not only did Lucho hit for power all season long, but he did so with pretty even home-road splits despite the disadvantages of his home park. In fact, his numbers this year were so impressive that Jimenez was chosen for the MLB Futures Game as well as the Texas League All-Star team. The jury is in, the kid can officially hit and do so with power.
The jury is also in the Jimenez has a terminal case of free-swingerness. This was always the big knock on Luis and nothing has changed as he drew just 27 walks in all of 2011. The good news though is that he only fanned 72 times which is a great sign that his pitch recognitions skills are up to snuff since he is facing much better off-speed offerings in Double-A. The basic takeaway being that while he swings at everything, he also usually makes good contact. It isn't the preferred approach in this OBP-crazy era of baseball, but it is an approach that can survive.
What to Expect in 2012: Jimenez is going to be the ultimate litmus test of the Dipoto administration. Lucho has strong potential at a position that the Angels are weak at, but the fact that he swings at just about everything means he could be a poor fit for the mold Dipoto wants. Do they hold on to him and keep him as their 3B of the future even if he is imperfect? Or do they capitalize on his strong Double-A season and move him now, knowing that he is a guy that will never fit into their long-term plans? An interesting factor in that equation is that in all the rumors the Angels have been involved in, his name has not popped up. Is this because the Angels just aren't shopping him or because other teams aren't that interested in him or is it a combination of both?
Those questions are for Jimenez's long-term future, but the immediate future has Jimenez making the jump to Triple-A. Considering what he just did in Arkansas, it is hard to imagine Luis doing much worse in the high altitude of Salt Lake. It is also hard to imagine him making any significant improvements in his game. The lack of walks is so drastic with him, that even a minor improvement isn't going to make a whole lot of difference. As long as he keeps the strikeouts at such a low level while hitting for average, the poor walk rate won't become too big of a problem.
Really all Jimenez has to do for the Bees is prove that he can handle Triple-A pitching and he might only need to do that for a few months to earn himself a call-up to the majors. The Angels seem happy enough with the Callaspo/Izturis tandem at the hot corner, but if they ultimately decide during the season that they need someone who can bring some pop to the position, Lucho is a fine internal candidate that they may want to explore before they turn to the trade market. His defense may not quite be what the Halos want at this point, but it should certainly be good enough, especially given that the team is currently entertaining the idea of signing the likes of Aramis Ramirez, a clank at third.