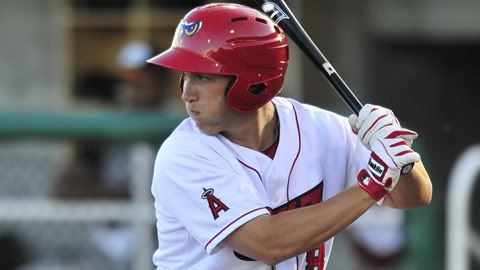 Next up on in our the MWaH/LAAI Top 30 Angels Prospect countdown we take a look at one of the rising stars of the farm system in 2011, second baseman Taylor Lindsey.
Taylor Lindsey
Position: 2B Level: Rookie
Bats: Left Throws: Right Height: 6'0″ Weight: 195 lbs.
Age: 20 Born: December 2, 1991
2011 Season Stats : 290 AB, .362 AVG, .394 OBP, .593 SLG, 28 2B, 6 3B, 9 HR, 46 RBI, 46 SO, 10 SB, 4 CS, .407 BABIP
Bat – B. Tearing apart Orem, but that isn't saying much. Still, a very good bat for 2B.
Speed – C+. He's faster than the average player, but for it's not a part of his game.
Arm – B. It's strong enough for SS, though his range isn't, but it's a great arm for a 2B.
Performance – A. He's been the best hitter on his team at each level of Rookie Ball.
Projection – B. An offensive minded 2B with good defense.
Comp – Floor: Sean Rodriguez. Ceiling: Ian Kinsler
Estimated MLB Arrival Date: Late 2014
Video: Lindsey base hit while playing for Orem.
http://youtube.com/watch?v=
x7FixKqbtIo[/youtube]
(*As always, the above scouting report is provided by Scotty Allen of LA Angels Insider)
Season Summary: It seems every year that there is an Angel minor leaguer that just blows up in the low minors and suddenly because a prospect darling. This year, that player is Taylor Lindsey. A sandwich round pick in the 2010 draft, Lindsey posted ho-hum numbers in his short season with the AZL Angels, finishing with just a .733 OPS in just under 200 at-bats. Considering his draft status, that certainly didn't excite many people about his potential. But in 2011, he changed a lot of minds, or at least is starting to.
Moving up a rung to the Orem Owlz, Lindsey laid waste to the Pioneer League by way of a .987 OPS and .231 ISO, which is pretty great power for a kid that was supposed to be more of a line-drive, gap-power type. In fact, his season was so stellar that he was named the MVP of the Pioneer League, as tends to happen when you are top five in the league in average, slugging percentage, OPS and doubles. The Angels literally couldn't have asked for a better performance from him. Heck, according to scouting reports, he even acquitted himself nicely on defense at second base, an area of some concern when he was first drafted.
His season wasn't totally perfect, since he actually did not walk very much, but that is just nit-picking at this point. Considering how he was pounding the ball all season long, you can't really blame the kid for not wanting to sit back and take pitches.
What to Expect in 2012: There is no question that Lindsey will be moving to full season ball this year. The question is whether or not the Angels will take a conservative route and start him in Cedar Rapids, or jump him all the way to Advanced-A Inland Empire.
Wherever Lindsey plays, he'll have to prove that his stellar 2011 season was more than just a guy laying waste to the Pioneer League in his second season of Rookie ball action. Some scouts were down on Lindsey before he was drafted because it was thought he might have a "metal bat" swing, suggesting he couldn't drive the ball with a wood bat. He did that last year in Orem, but he'll have to show that he can keep doing it next season in a less hitter-friendly environment. Furthermore, he must also sustain his power just in case him staying at second base doesn't really work out. Lindsey is doing well so far at that position, but he isn't a great athlete, so there is some question about his range. He has a strong arm, so he could handle a switch to third base, but if he ends up there, he'll need to sustain his power output so that his bat will play there.
The other aspect of his game that will be judged harshly in A-ball is his plate discipline. Given that new GM Jerry Dipoto has professed a preference for players that can control the strike zone, Lindsey will have to show an improvement in his walk rate. It just isn't very good right now, but, what shouldn't be overlooked is that he also doesn't strike out too much either. Not striking out also demonstrates strike zone control to a lesser degree, so it is at least a sign of hope for improvement.