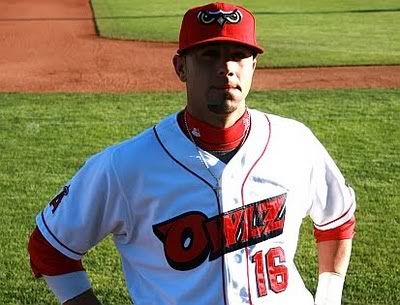 Next up on in our the MWaH/LAAI Top 30 Angels Prospect countdown a guy who could some day be a franchise third baseman, but still has a loooong way to go. That man is Kaleb Cowart.
Kaleb Cowart
Position: 3B Level: Rookie
Bats: Both Throws: Right Height: 6'3″ Weight: 190 lbs.
Age: 19 Born: June 2, 1992
2011 Season Stats : 283 AB, .283 AVG, .345 OBP, .420 SLG, 12 2B, 3 3B, 7 HR, 40 RBI, 81 SO, 11 SB, 4 CS, .363 BABIP
Bat – B+. Can hit for average and power, still raw.
Speed – B. Above average for a 3B, leads Orem in SB. 15+ potential.
Arm – A+. Among the best arms for a 3B I've seen. Was highly touted pitcher in high school.
Performance – B. Feast or famine in rookie ball, needs to gain consistency.
Projection – A. Could end up being perennial all-star 3B. No weaknesses.
Comp – Floor: AA flameout and switches back to pitching. Ceiling: David Wright.
Estimated MLB Arrival Date: 2015
Video: Cowart rips a run scoring double in Pioneer League play.
http://youtube.com/watch?v=
NAaKpXEgLUI[/youtube]
(*As always, the above scouting report is provided by Scotty Allen of LA Angels Insider)
Season Summary: Cowart is a guy who has carried some mighty lofty expectations after being a first-round pick in 2010. He was a late signing that year, so he only got 26 at-bats in 2010. Thus, for all intents and purposes, 2011 was his first real minor league season.
Considering the kind of profile Cowart carries, the numbers he posted left a little something to be desired. Sure, he hit .283 and drew a fair number of walks, but his .137 ISO hardly supported the assertion that this kid has big power potential. It also did not help that he struck out mroe than once per game. The numbers hardly qualify his season as a failure, but when domination is expected, being just above average does make the season a mild disappointment.
A few qualifiers worth mentioning before we are too harsh to Cowart. First, Cowart is just 19, so it isn't like he is a four-year college player who is already beyond the Pioneer League's level of talent. High schoolers need more time to adjust. Second, Cowart was a guy most teams wanted to draft as a pitcher. He still has great potential as a hitter, but his hitting tools are more raw and unrefined, so they are going to take more time to manifest themselves on the field on a consistent basis.
If there is one more legit red flag in Cowart's season, it is that he seemed to get worse as the season went on. His OPS by month from June to September was 1.116, .707, .713 and .646. To be fair, he only had 27 September at-bats, but the mere fact that he wasn't learning and improving over the course of the season is a slightly concerning.
What to Expect in 2012: When all the other Angels prospect lists come out this winter, you'll probably see Cowart fall out of the top five, just like he has here. Part of the reason for this was that he wasn't great at Orem, but a bigger part of that is that other Angel prospects really stepped their games up to leapfrog Cowart. This is a good thing for the organization and not at all a bad thing for Cowart. His stock hasn't fallen, his potential isn't lessened.
That being said, Cowart still is going to have to make some progress if he wants to raise his prospect profile back to top 5 status. For starters, Cowart will have to demonstrate better control of the strike zone. His walk rate is nothing special, especially for Rookie ball, and his whiff rate is concerning. Both of those need to improve, not by leaps and bounds, but they do need to get better. The more obvious area for him to improve is in the power department. A lot of his perceived ceiling is tied up in the notion that he will be a 30-homer guy, but he is barely even hitting homers at the rate of a 15-homer guy and he's in the low minors. Plenty of guys need a few years to learn how to drive the ball, so Cowart could be one of those guys. Still, if you want to track Cowart's progress next season, the first stat your eye should look to should be his home run total.
Cowart will have to do all this while jumping up a level to Single-A, probably in Cedar Rapids. This will be interesting if only because we can see what Cowart does at a higher level of competition, but more importantly, over the course of a full season. Can he improve as the season goes along? Will he still be plagued by inconsistency?