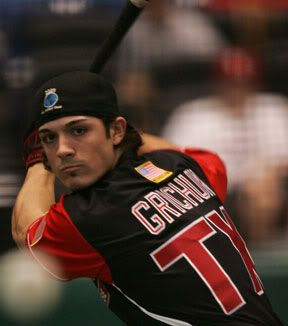 Next up on in our the MWaH/LAAI Top 30 Angels Prospect countdown another injury plagued season continues to hold back Grichuk's development, but the potential is still there. How long will the Angels really wait though?
Randal Grichuk
Position: OF Level: Low and High-A
Bats: Right Throws: Right Height: 6'1″ Weight: 195 lbs.
Age: 20 Born: August 13, 1991
2011 Season Stats (AZL): 24 AB, .333 AVG, .357 OBP, .458 SLG, 1 2B, 1 3B, 0 HR, 6 RBI, 4 SO, 0 SB, 0 CS, .364 BABIP
2011 Season Stats (Low-A): 122 AB, .230 AVG, .267 OBP, .402 SLG, 7 2B, 4 3B, 2 HR, 13 RBI, 29 SO, 0 SB, 1 CS, .280 BABIP
2011 Season Stats (Majors): 53 AB, .283 AVG, .316 OBP, .491 SLG, 4 2B, 2 3B, 1 HR, 6 RBI, 13 SO, 0 SB, 0 CS, .350 BABIP
Bat – B. Hits for average and very good power, fluid stroke, but raw, undisciplined.
Speed – B. Not super fast but capable of swiping 15+ a year, good range for corner OF.
Arm – A. Strong and accurate.
Performance – C. Has been hurt, but no one hit better than Grichuk to end 2010.
Projection – A. Corner OF capable of hitting for average, power with good speed & D.
Comp – Floor: AA flame out. Ceiling: Ryan Braun
Estimated MLB Arrival Date: 2014
Video: Grichuk dominates in the High School Showcase.
http://youtube.com/watch?v=
dthR3VcVnRY[/youtube]
(*As always, the above scouting report is provided by Scotty Allen of LA Angels Insider)
Season Summary: Stop me when you've heard this one before, but Grichuk's season was hindered by injury. In 2010, it was a thumb injury. This year, it was various injuries but I do believe they were leg problems. The reason I am unsure is because he has been riddled by so many injuries in his three years in the minors that I just can't keep them straight anymore. Despite being drafted one spot ahead of Mike Trout who is pushing to the starting left fielder for the Angels next season, Grichuk has only managed to get into 170 games in his entire minor league career.
Comparing him to Trout isn't fair since Trout is such a special prospect, but unfortunately, that is Grichuk's lot in life thanks to his draft spot. The fact that Randal has struggled so much healthwise only makes the comparisons even more unfair. If there is a good thing about the injuries, none of them thus far have been anything serious, so it isn't like he has a bad knee or back or anything. He's just really unlucky or made out of glass. Only time will tell.
In fact, because of the injuries, it probably isn't even worth looking at his 2011 stats too much. He was basically rehabbing on the job, so his numbers didn't stand much of a chance of being much good. All we can really see is that his latent power still appears to be there as does all the strikeouts. It is almost like the injuries prevented him from being able to actually improve his game. Imagine that.
What to Expect in 2012: Hopefully, we can expect Grichuk to play his first full, uninterrupted season of pro ball. I hate to focus so much on his health, but if he has yet another injury marred campaign, then we really have no other choice but to just write him off as a J.D. Drew type of player that ends up on the shelf everytime he someone looks at him funny. At a minimum, the Angels would have to consider moving Grichuk to DH on a full-time basis in order to keep him healthy, but that is something that would be a big hit to his potential. He doesn't profile as ever being a very good fielder, but he has a chance to be decent, so it would be a shame to see him give up his glove due to his fragility.
When he is healthy, Grichuk is set to start the year at High-A Inland Empire. Unless he destroys the California League, he'll probably spend the whole season there. He is still just 20 years old, so despite the sputtering start to his career, it isn't like there is any real rush to get him to the majors. What Randal will need to show over the course of 2012 is an increased command of the strike zone. The Halos love his bat, but with Jerry Dipoto now in charge and placing a premium on guys that control the count, Grichuk is going to have to improve on his marginal walk rate and get his strikeouts down to a more tolerable level.