The Dodgers nearly made a comeback against an tottering Ernesto Frieri in the 9th inning, but the story of the night is definitely the return of Angels ace Jered Weaver. The now-healthy starting pitcher, the anchor for the staff, finally made a triumphant return to the Big A, eight weeks after shattering his left elbow in his second start of the season.
With a heightened velocity and his familiar pinpoint control, the lanky right-hander held the Halos' up-the-freeway rival Dodgers listless over six innings. While a pitch-count governor was the only thing keeping him from going further, Jered Weaver did all that could have possibly been asked of him in his first start back from the DL.
The offense touched up Dodger starter Chris Capuano for three runs, highlighted by a massive Mark Trumbo bomb to deep left centerfield. An insurance run was added in the sixth inning off Javy Guera, with Trumbo lifting a sac fly that scored Mike Trout to give the Angels a 4-1 lead at the time. That run would prove to be crucial.
Ernesto Frieri looked pretty bad once again, surrendering a couple long home runs to Adrian Gonzalez and Scott Van Slyke. Once again struggling to put hitters away, the Angel closer nearly blew another save, but fortunately hung on to preserve Weaver's first win of 2013.
—–
Game Notes
— Jered Weaver's velocity, a season-long topic, seemed to be up a tick, which is an encouraging sign. Most notable was a first-inning 91-mph 4-seam fastball that blew past a flailing Carl Crawford for a strikeout. Yes, we are hurrah-ing over a 91-mph fastball. But for a guy like Jered Weaver, you can't get excited enough about it. Weaver's slider also looked nasty, featuring a nice sharp bite which no doubt helped his fastball play up a few notches.
— Might be a mirage, might not be. But for this Angel team to continue to move forward this season, they will need more of what Kevin Jepsen and Garrett Richards provided out of the bullpen tonight. Both nailed down 1-2-3 shutdown innings to hand the ball to Frieri, who… well, we all know what he did. Positives, people. Positives!
——
Halo Hero of the Game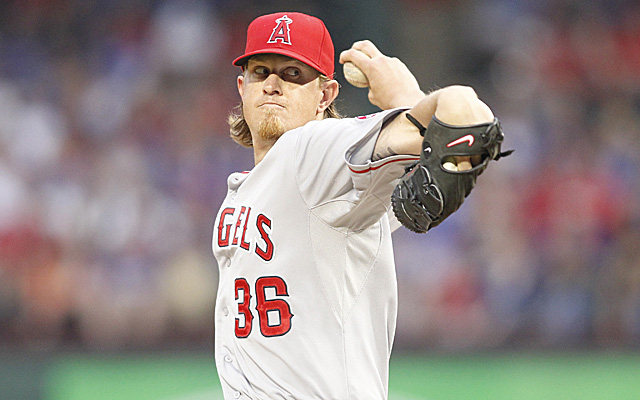 For the shut-down start, Dream Weaver gets his first "Halo Hero of the Game!"