The first or second week of June is my favorite time of the year, every year.  School is out for Summer (at least for most of us), the lakes and rivers are just beginning to heat up, fishing is in full swing, my baby boy was born, and oh yeah, the Angels find themselves a new crop of prospects.  It really couldn't have come at a better time because even as a prospect analyst, I was struggling to find reasons to talk about some of these guys.  That's what happens when your former GM spends a half decade drafting low ceiling collegiate players.  They top out around AA, and it's hard to get excited about a 26 year old in AA hitting .236.  So let's look at this crop of players out to revitalize a depleted farm system.
C Matt Thaiss – Forget about the "C" in front of Thaiss' name.  The Angels didn't draft him to  be their catcher of the future.  Everyone likely including Thaiss' own grandmother knows this to be true.  He was drafted for one reason and one reason alone, his bat. The Angels need impact bats in their system and with their pick, they grabbed the second best hitter coming out of the collegiate ranks.  This is a LF with a short path to the ball but all the requisite strength to hit for power.  There's a lot of Kole Calhoun I see here.  The build, the left-handedness, the swing, follow-through and relative upside.  Most reports indicate Thaiss' eventual move will be to either first base or left field.
My first reaction: WHAT?  Blake Rutherford was right there!  How the heck did you manage to screw this one up again Angels?
My second reaction: Ok, I like that swing.  Ok, I like what he did for a major college program.  Maybe he'll be alright.
My final reaction: Finally!  An impact bat.  Let me just slide you right up to the top of the MWAH prospect list.  Man, I really look forward to him in Anaheim.  I wonder how quickly he'll climb.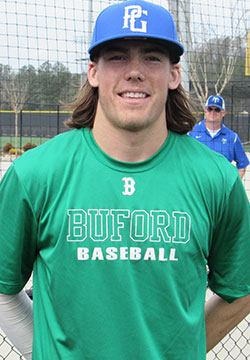 2. OF Brandon Marsh – One look at this kid and I immediately thought "strong safety".  He just has that incredibly strong, yet athletic frame you typically see from college football players.  What's more, Marsh was reportedly a very good wide receiver, but has made it abundantly clear he's a baseball player exclusively now.  Another thing he made clear, he's going to sign with the Angels and forego his full ride scholarship.  This is a really good thing because the more I watch Marsh, the more I like.  He can fly around the bases and in the OF, he can muscle pitches to all fields, and he's reported a good kid.  Also, he made a homemade prospect video back when he was young and skinny and it's just great.
My first reaction: YES!  A strong prep OF with upside.  Finally.  Hey he kinda looks like Bradley Zimmer, and that guy is good at baseball.  Maybe this one is too.
My second reaction: Wait, why wasn't this kid picked in the first round?  Someone as strong and athletic as that doesn't make it out of the first round, especially in a class like this.  He's from Georgia.  Crap, we've been burned by Georgia prep players before.  As soon as they play against Californians and Dominicans they fall apart.
My final reaction: Ok, he's probably raw, but his swing sure is pretty and he looks like a very good all around ball player.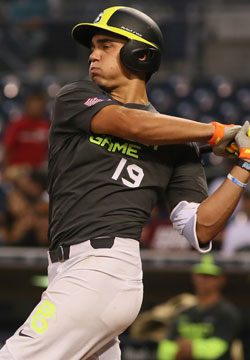 3. SS Nonie Williams – (Editors Note: Nonie Williams has reportedly signed with the Angels)  Question, just how in the heck did this kid fall to the Angels in the third round?  How did he make it out of the first round?  He plays a very good middle infield with a strong arm and plus athleticism.  At the plate, he hits for power from both sides, though he just took up switch hitting last year.  He has good foot speed around the bases and is a well-spoken young man.  What we're seeing here is a shortstop capable hitting for average and power and steal a few bases in the long run.  Because of his physique, there's some debate as to where he ends up playing.  He's good enough to play SS throughout the minors, but once he gets to the majors, there are some that envision third base, others that think second base is a better fit, and still others that envision the outfield.  Just by his swing, size and tools, this kid looks like the infield version of Randal Grichuk.
My first reaction: What the…..that kid was still on the board?  Maybe I wasn't watching closely enough because I figured be'd be gone by the end of the first or beginning of the second round.
My second reaction: Holy moly!  This kid is strong.  He's a shortstop?  Wait,, there's always a catch.  He's home schooled.  Ummm did he get kicked out of high school or something?
My final reaction: This is my favorite pick of the draft, hands down.  He's a strong LSU commit, but most reports indicate the Angels should be able to sign both Thaiss and Marsh for under slot.  The same goes for their fourth round pick.  The end result is enough money should be freed up to give Williams a sizable in line with that of a first or second round pick.
Fun fact, he's good friends with Riley Pint who was picked fourth by Colorado and Coile Duensing who the Angels snagged in the sixth round.