The Athletics had nothing to play for last night but ended up playing spoiler to the Angels with Trevor Cahill and the A's bullpen combining to shutout an Angel offense that looks like it might be past its expiration date.
Perhaps the Angel hitters were merely confused by the idea that a rookie pitcher is actually capable of pitching well after watching their own rookie hurlers struggle for so long.  Whatever the cause, the Angel bats have gone into a tailspin of late, having scored just 31 runs over the last eight games, which just so happens to coincide with the Angels' slump.
The inability of the Angels to score tonight not only spoiled the Angels' own fortunes, but also spoiled a perfectly good start from Ervin Santana which is a real shame considering how few and far between quality starts have been from Santana and the Angel rotation in general of late.  Nobody expects the hitters to stay hot all season long, but they need to pick it up in a hurry before the Angels' lead over the Rangers evaporates altogether.
One bad pitch was Oakland needed to spoil a perfectly good start by Ervin Santana.
---
Angelic Accomplishments:
I like everything I am seeing from Ervin Santana.  He was pumping the gas at 97 MPH even after he had passed the 90-pitch mark and did a fantastic job of getting himself out of jams.  He certainly could have been more efficient with his pitches tonight, but for a guy who has been struggling with arm troubles, this game was a tremendously good sign, especially since he doesn't have to face Ryan Sweeney every night.
For anyone who wants to complain that Maicer Izturis is still splitting time with Howie Kendrick, please allow me to refer you to that amazing dive-and-flip to Aybar play in the seventh inning for an explanation as to why Izzy still gets the bulk of the playing time.
Matt Palmer was perfect in three innings of relief.  Remember that Friday night when Trevor Bell gets bounced before the end of the third.
Devilish Details:
This whole getting picked off thing is becoming an epidemic.  Figgy made it two games in a row now that the Angels have had someone get caught napping.  Can someone please run the "Baserunning 101" DVD in the clubhouse before tomorrow's game?
I really don't see why the Hall of Fame Ceremony had to be 40 minutes long.  Stick to a schedule people.
I liked Torii Hunter's super smart bunt hit in the ninth inning, but I hate that the Angels even had to be reduced to having their #3 hitter drag bunting.
Halo Anti-Hero: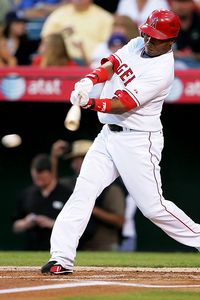 This is somewhat unfair to single anyone out, but Aybar's night was symptomatic of the Angels' overall offensive struggles.  Erick saw just seven pitches in his three plate appearances on a night where the newfound Angel patience took the night off.  Like the rest of the squad, Aybar was overly aggressive on Cahill's sinking fastball and kept trying to pull him even though it was resulting only a cavalcade of groundball outs.