To cruise or not to cruise?  That is the question.  Tis it nobler for the Angels to kick back, relax and coast through the final week of the season or to take arms against their division foe, keeping the pedal to the metal all the way to the end of the season.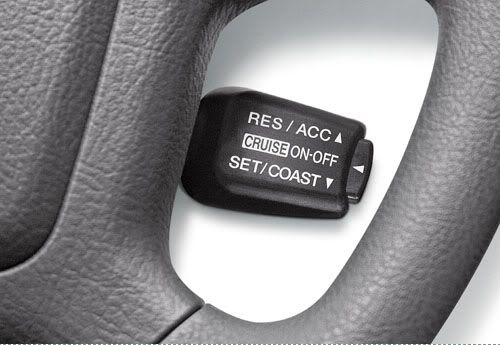 Should the Angels keep driving hard or kick it into cruise control the rest of the regular season?

I wish I knew the answer to this question, but I don't.  On one hand, the Angels have been fighting hard all season long and could really use the physical and mental break.  They've got an overworked bullpen and a lot of old position players that need to spend some time off of their legs before the post-season starts.  On the other hand, before last night's butt whooping, this team was looking generally terrible across the board, so passing up on a chance to build on last night's sweeping success could be a fatal mistake.
This is just going to have to be one of those situations where everyone puts their trust in Scioscia's hands and let him figure out how to blend these two polar opposite goals together.  That means finding clever ways to rest everyone while also staying on top of the guys who are in the game to give 100% effort.  It is an unenviable task for any manager, but if there is one man I trust to do it, it is Sosh.
---
Texas Rangers (85-71) @ Los Angeles Angels of Anaheim (92-64)

Starters: TEX – Scott Feldman (17-6, 3.90 ERA)  LAA – Scott Kazmir (9-9, 5.06 ERA)
Game Info: 7:05 PM PT TV-Fox Sports West, Radio-KLAA 830 AM, KFWB, KWKW 1330 AM
THREE Questions:
Rather than seeing if the Angels ease off the throttle, I am almost more interested in seeing what this Texas team is made of.  Will they just fold now that they were knocked out of post-season contention in such embarrassing fashion?  This is important to see how much mental fortitude this team has next year.
Will the Angels finally beat Scott Feldman who is 3-0 in four starts against the Halos this year?
How will Mike Scioscia use Scott Kazmir?  This could be his final start of the regular season, so there is no sense in risking injury, but at the same time, he may not pitch for almost two weeks with the ALDS schedule the way it is, so you don't want him to get rusty either.
TWO Predictions:
Chone Figgins will draw a walk tonight to become the first Angels since Troy Glaus in 2001 to breach the century mark in bases on balls in a single season.
Both teams lacking focus turn in a very sloppy all-around game, but the Angels pull off the win.
ONE Wish:
I wish that the Rangers remain good sports.  There is a lot of bad blood in past years with these two team and the Rangers have jettisoned most of those instigators, but still, this is no time to start being sore losers and acting a fool by throwing at people or sliding too hard into second base on a double play.
ZERO Tolerance for… any more of this BS uproar over the Angels drenching Nick Adenhart's jersey in champagne and beer last night.  Was it the smartest thing the players have ever done?  No, but they didn't mean any harm and were just trying to honor their teammate.  So knock off your phony PC outrage and just let everyone have their fun, OK?
Leave your own questions, answers, predictions or wishes as a comment or just hang out with us during the game or even chat with us on twitter (@MonkeyWithAHalo).