Let the bidding begin!  Roy Halladay hunting season is officially open and the Angels and Tony Reagins are decked out in their hunting gear and armed to the teeth to go and catch them an ace from north of the border.  The Angels tried to poach Halladay from Toronto once before but find the cost to be too high.  Now that J.P. Ricciardi is out of the picture the Angels will try to renegotiate the price, but where should they set their spending limit?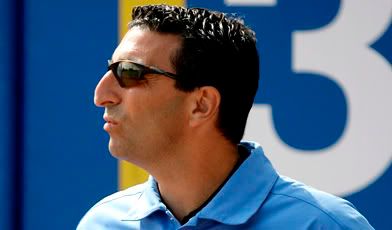 Now that Ricciardi is gone, let's try this whole trade thing again.
Last time the Halos made a run at acquiring the former Cy Young winner, they find the asking price well beyond their liking.  Now fired Toronto GM was asking for a package of Joe Saunders or Jered Weaver, Peter Bourjos, Brandon Wood and Erick Aybar.  The Angels certainly weren't happy about potentially giving up Weaver and wanted to swap Saunders instead, but sending out Aybar in a trade was an absolute deal breaker.  But Toronto has a new head honcho, Alex Anthopoulos, and has different needs in mind that Ricciardi, who was trying to save his job, did.  Anthopoulos is looking for a lot more financial savings and a package that consists more of quality over quantity.  So what quality do the Halos have to offer?
Ideally, the Angels would probably prefer that the Jays revisit their previous offer, but only swapping out Aybar for another prospect.  Unfortunately, this might now be too pricey a package for the cost-cutting Jays.  Wood and Bourjos are both league minimum players but Joe Saunders isn't.  This will be Saunders' first year of salary arbitration, so he won't exactly be breaking the bank, but he could cost Toronto a few million which could well be a few million more than the Blue Jays want to spend.  That means the Angels would need to dip into their thin stock of starting pitching prospects in order to replace Saunders in the package.  This could be a good thing or a bad thing.
The Angels certainly would be more competitive in the regular season with a rotation of Halladay-Weaver-Kazmir-Saunders-Santana rather than replacing Saunders with a prospect or some scrubby veteran they pull off the free agent heap, but they have precious few quality pitching prospects in the upper level of their system that they can afford to give up.  That means likely giving up either Trevor Reckling or Jordan Walden, whichever one Toronto like best.  And that assumes the Jays want another position player as the fourth prospect and not another pitcher.
Trade for an ace or hope a prospect pans out? Is that even a real choice?
Be it Saunders or Reckling going to Toronto, that fourth prospect will continue to be the sticking point in the deal.  The Angels don't have a lot of star potential players in the pipeline.  The most logical inclusion would be top catching prospect Hank Conger.  That would put the Angels in the position of giving up the one position player in the system that can be counted on to produce right away (Wood), their best outfield prospect (Bourjos), either an established starting pitcher (Saunders) or their best starting pitcher prospect (Reckling) and their only real star-potential position player still in the minors (Conger).  That is a hefty price to pay for any team and looking at it by itself, any GM would have a hard time coughing up the ransom.  Still, the Angels have to at least be considering it.
The most important (and most often over-looked) part of this equation is what Halladay can bring to the team.  This is an easy exercise to do.  Just look at what CC Sabathia did for the Yankees this year during the regular season and the post-season.  Now, subtract 250 pounds and you have Roy Halladay.  Doc is the ultimate ace, meeting every single criteria you can imagine:
He is consistent as heck, sporting ERAs of 2.79 and 2.78 in each of the last two seasons and has a career ERA of 3.43.
He is a big strikeout pitcher with three 200+ strikeout seasons under his belt, including both of the last two seasons.
He is the ultimate horse.  His only injuries have generally been of the freak of nature variety (i.e. getting hit by a comebacker) and he has topped 220+ innings each of the last four years with 29 complete games during that span.  Pitching great is one thing, but consistently going deep into games is what separates the men from the boys (pay attention, Scott Kazmir).
He just plain wins.  The Blue Jays have wavered between being slightly below to slightly above average the last four years yet Halladay has managed to win 69 games over that period while only losing 35 games, giving him a .663 winning percentage on a team that has been .511 over the same span.
He is desperate to land with a winner and is willing to sign a contract extension to make it happen so that the team that acquires him won't be scared off at him being a one-year rental
Just imagine being able to trot out Halladay every fifth day in the regular season.  That is an automatic losing streak stopper the likes of which the Angels haven't seen in years.  But the playoffs is where Halladay would really payoff.  Good pitching almost always beats good hitting and very often that good pitching only needs to come from one pitcher.  The Yankees essentially won the championship on the back of their ace as CC Sabathia almost single-handedly beat the Angels in the ALCS and was starting pitcher in four of the Yankees 11 post-season wins.  Even though Halladay has never made a post-season appearance, there is little doubt that he could duplicate that same level of success in his sleep.  His presence in a rotation alone is enough to make him worth trading for.  Halladay is the exact kind of guy that teams enter a post-season series and say "well, we can't beat him, so we better beat the other starters."  Complement Halladay with Weaver, Kazmir and a hopefully rejuvenated Ervin Santana, and the Halos suddenly have a frightening post-season rotation and it is all because they add on guy, Roy Halladay.  Tell me that isn't a guy you don't want no matter what the price is?
I don't want hear anything about "sacrificing the future" when it comes to getting cheap on a Halladay trade.  The Angels have always been wary of depleting their farm system in their hopes of always being able to field a competitive team.  That conservative approach has paid off to the tune of several division titles this decade, but hasn't produced a World Series title since 2002 and sooner or later, winning the division won't cut it anymore.  Sometimes you just need to take a risk, but it has to be the right risk and trading for an established ace like Halladay in a deal that involves almost no major league talent has "right" written all over it, even if it means dealing half the farm system.
Just give Halladay the ball and the World Series could be coming right behind it.
If a Wood-Bourjos-Conger-Saunders/Reckling package is the asking price, the Angels have to do it.  If Toronto gets greedy and asks for a fifth high-level prospect (for example asking to get BOTH Saunders and Reckling or perhaps adding Arredondo or even a top prospect like Chris Pettit or Ryan Chaffee) then maybe the Angels should once again balk.  But still, how often do you have a chance to acquire an ace who is still in the prime of his career and has the ability to carry you to a championship and be able to get him without tearing up your current major league core?  Gutting the farm system shouldn't be taken lightly, but if winning a World Series is the ultimate goal, then no package of prospects should be considered too high of a price, even for an organization that is historically reticent to trade prospects.