There might not be a more unpopular player on the Angel roster than closer (if you can really call him that) Brian Fuentes.  After a train wreck of a debut season with the Angels, Brian Fuentes has a lot to prove to himself, the organization and the fans.  Let's delve into Fuentes'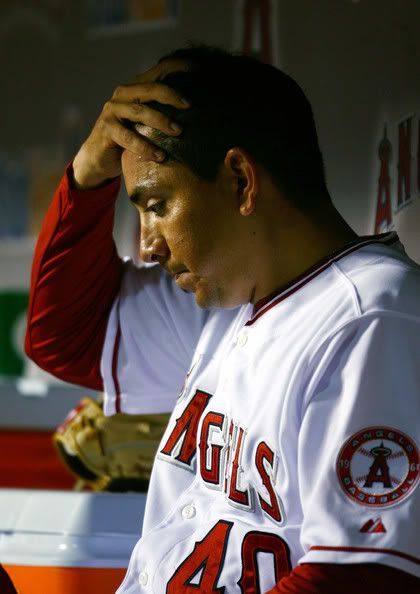 2009 Stats: 55.0 IP, 1-5, 48 SV, 53 H, 24 BB, 49 K, 3.93 ERA, 1.40 WHIP
2010 Bill James Projections: 56.0 IP, 4-2, 40 SV, 47 H, 23 BB, 60 K, 3.38 ERA, 1.25 WHIP
2010 Chone Projections: 56.0 IP, 4-2, N/A SV, 471 H, 22 BB, 49 K, 3.54 ERA, 1.23 WHIP
2010 Marcel Projections: 59.0 IP, 2-4, 27 SV, 56 H, 23 BB, 52 K, 4.12 ERA, 1.34 WHIP
2010 Monkey Projections*: 47.0 IP, 2-2, 22 SV, 52 H, 24 BB, 38 K, 4.40 ERA, 1.40 WHIP
*All stats courtesy of FanGraphs.com except the Monkey Projections which are strictly based on my own knowledge, logic and intuition.
---
2009 Review: On one hand, Brian Fuentes was an All-Star and the MLB leader in saves.  On the other hand, Angels fans live in fear of Fuentes pitching in close games.  The 2009 campaign of Tito Fuentes was a textbook example of how overvalued saves are as a statistic.  While Brian might have been racking up the saves, he seldom did so in efficient, non-cardiac arrest-inducing fashion.  Out of the 48 saves he registered in 2009, only 16 of them came via a full clean inning of work (three outs, no hits or walks allowed).  The straw that broke the camel's back though was in the post-season when Brian Fuentes allowed a crippling extra-inning home run to Alex Rodriguez on an 0-2 pitch in Game 2 of the ALCS, costing the Angels the win and changing the whole complexion of that series.
3 Questions for 2010:
Where did the velocity go? Brian showed up to his first Angel training camp last season but left a few miles per hour behind in Colorado apparently.  We were told at first that this was normal for him as he typically gains velocity throughout the season, but that never came to pass, largely explaining his struggles.  The only problem is that he really didn't have an excuse for the lack of zip on his fastball.  All the Angels can really do with him now is hope that an off-season worth of rest rejuvenated his arm.
Can Angel fans (or Fuentes himself) ever trust Fuentes again? That A-Rod homer was downright inexcusable and knowing that Fuentes is capable of such a horrific mistake at any moment will have Angel fans watching the ninth inning of games in the fetal position this year.  Being a closer is very tough job mentally and Brian is going to have to prove to himself and the fans that he is still up to the task of handling those high leverage situations before he can even begin to win back the confidence of the Angel organization and fans alike.
Will Fuentes be able to hold onto the closer gig on a full-time basis? The Angels have plenty of options for the end of games with newly signed Fernando Rodney, recovering Scot Shields and up-and-coming Kevin Jepsen.  Seeing how rumblings of a potential closer-by-committee have already cropped up in training camp, Tito is a poor bet to get 100% of the save opportunities in 2010.  It also should be pointed out that Fuentes is the only southpaw in the bullpen, so the Angels might have to succumb to the pressure in certain situations and use him earlier in games when the match-up calls for it.
2010 Preview: As you can see, I am a lot more down on Fuentes than the statistical projections are.  In fact, the stats seem to think pretty highly of Tito this year, but I think that has a lot to do with the fact that the calculations used don't have a variable for a guy who just lost several MPH on his fastball last season.  I just don't see how I am supposed to have any faith in a guy that suffered a still unexplained loss of velocity.  Either he is hurt, his mechanics are way out of whack or his arm is just plain going dead (my vote is the latter).  Whichever one is the real answer is not a good thing.  I think the Angels are wise to this concern as well, thus the Fernando Rodney signing, and I think after they give Fuentes an initial shot at being the full-time closer, his performance will mandate that he starts to share save opportunities, thus making him more or less a left-hand specialist.  There is also the added incentive for the Angels to not let him finish 55 or more games this year since it would mean his 2011 team option would vest and there is no way the Angels are going to want to pay him that much dough (I believe $11 million) after seeing just how unreliable he really is.