Another week of Spring Training is in the books for the Halos, so let's take a look at the week that was and all the newest developments for the Angels as they prepare for the 2010 season:
Sorry, Hideki, but we are going to have to take the cost of that windshield out of your paycheck.

The Good:
The Angels finally got on a roll this week, winning four games and doubling their win total for the entire spring.  That these wins came in the same week that the Halos started using their regular line-up should not be viewed as a coincidence.
Torii Hunter and Hideki Matsui both hit their first home runs of the spring at long last.  Of course, Arte Moreno may not be so happy about that development since Matsui's dinger broke the windshield of his new car.
Not to kick a guy while he is down, but I was fairly ecstatic to see Maicer Izturis get pulled from a game due to a stiff back.  I love Maicer and everything, but if he is limited to start the season
I thought Mike Ryan was going to be a shoe-in for a roster spot but Cory Aldridge isn't going away any time soon and could certainly make things really interesting when the final roster decision comes in.  His .406 average and .750 SLG might just be too much to ignore even though Ryan has much more position flexibility and Terry Evans is younger.
It pains me to admit it, but Brian Fuentes is having a strong spring, allowing just six hits and two walks in 6.2 innings of work.  That doesn't mean a whole lot if his velocity isn't back to normal when the season starts, but it is definitely a good sign.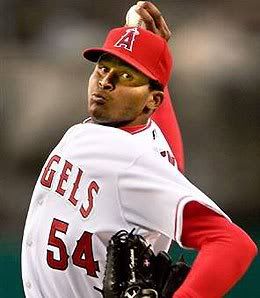 Dear, Ervin, please try and stay away from any and all furniture until the season starts.  Thanks.

The Bad:
Oh goody, Scott Kazmir is hurt already.  You have to love it when one of your team's potential top pitchers gets diagnosed with "shoulder fatigue" in spring training.  I don't know how his throwing shoulder can be so tired after pitching just 6.1 innings but it certainly doesn't bode well for him shedding his reputation as being fragile, even if the injury doesn't hold him back for more than just this week.
Ervin Santana joined in on the injured pitcher action by somehow hurting his elbow on a couch.  That little bump cost him a start and he is already back in action, but seeing the team react like that to him getting a little boo-boo is not exactly confidence inspiring.
Jered Weaver continues to be a bit of a mystery even though he is supposed to be the Opening Day starter.  The Halos sent him to pitch in Triple-A for his most recent start and he still got knocked around a decent amount.  Weaver has been pretty lousy in the spring and used the guise of "working on new pitches" as an excuse, but if he isn't even getting minor leaguers out, there is some real cause for concern here.
If Terry Evans wants to sneak onto the roster as an extra outfielder he might want to consider actually hitting the ball.  Evans is sporting an ugly .565 OPS thus far and that just isn't going to do the trick, even if Reggie Willits starts the season on the disabled list.
As good as Fuentes has been, Fernando Rodney has been just as bad.  Nine hits and six walks allowed in 4.1 innings doesn't exactly lead me to believe that Frodney deserves to be given the set-up man gig that he is bound to get despite Scot Shields and Kevin Jepsen both pitching better than him right now.