The Angels let a lot of long-time veterans walk away this off-season and now that the regular season is about to start, we fans are going to get a real sense of their absence for the first time.  But with so many beloved stars heading off to other teams, it is hard to even guess which former Angel will be missed the most.
You Make the Call! Which former Angel will you miss the most this season?
A) Chone Figgins.  Everyone loves the little guy and Figgy was about as little and fun to watch as they come.  His game exemplified everything Mike Scioscia tried to do on offense and there is not going to be an easy way to replace him.
B) Vladimir Guerrero.  Super Vlad might have been the first real superstar in the history of the Angels and was the face of the team even as his skills started to slip.  Seeing him in a Texas Rangers uniform won't be easy for anyone.
C) Darren Oliver.  He may not have been a fan favorite, but he was a veteran leader in the bullpen and came through for the team in a big way last year.
D) John Lackey.  This seems like a longshot since he is kind of the most hated man in Angel Nation right now, but the guy was the Game 7 winning pitcher in the team's only World Series.
SECRET OPTION E) Gary Matthews.  With him gone who are the Angel fans going to direct all their hatred and ire towards now?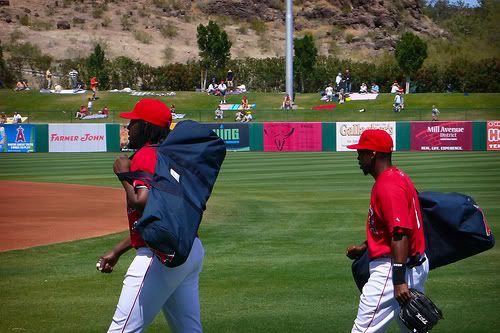 Sorry guys, we hated to see you go.

Let us know what you think the right call is or submit an answer of your own by leaving a comment below.  NOTE: Comment moderation is currently turned on so I have to approve your comment if you have never made one at this blog before, but I will try and be fast about it, after that you can comment freely.  I know it is a hassle, but it is outside of my control for now.
UA:F [1.4.6_730]