What's the best thing about baseball?  That's right, all the numbers (if you answered differently, please go sit in the back of the classroom and hang your head in shame).  The sample sizes may still be relatively small, but there is now a sufficient enough number of games in the books for us to stroll through the stat sheets to unearth some statistical trends and oddities both good and bad for the Angel season so far.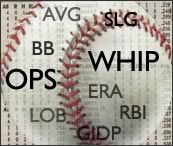 What's the only thing better than baseball stats?  Baseball stat acronyms!!!

GOOD STAT – Bobby Abreu may have gotten off to a slow start and doesn't seem to be walking as much as he usually does, but at least his power is there this year.  Already Bobby has four dingers in 2010.  Compare that to last year when he didn't hit his first home run until May 26th and his fourth homer didn't come until June 24th.  Just to hammer the point home even more, Abreu's ISO the first month of 2009 was a measly .060 but so far this April it is a staggering .221.  That number will obviously come down, but his career ISO is .194, so it may not come down all that much and that is great news for the Angels.
BAD STAT – So far this season, Brandon Wood has had 28 at-bats end on either a 1-2 count or 0-2 count.  He has just 63 at-bats all season.  It is no wonder the kid is struggling so much when he is constantly down in the count like that.  What that should tell us though isn't so much that he has a mechanical problem with his swing but rather a mental problem with his approach at the plate.  That is fixable, but something that takes a long time to really alter.
GOOD STAT – This isn't really a funny or fascinating number, but I thought it was well worth pointing out that Jered Weaver currently leads the free world in strikeouts with 34 Ks in 32 innings.  That certainly seems like the kind of thing an ace would do, eh?  I do have to rain on the parade a little bit though and point out that Jered's K/9 rate is currently 9.56 but he has never posted a K/9 greater than 7.74 in his young career.  So is he just realizing his full potential or is he going to come back to earth soon?  I am betting it is more the former than the latter.
BAD STAT – Every season from 2002 onwards, the Angels have been in the top five in the league in stolen bases… until this year.  As of today, the Angels are tied for tenth in steals.  Of course, they are only a handful of steals away from being in the top five again, but I think it speaks to both how much the Angels miss Chone Figgins and also to how the Halos have slowly been shifting their philosophy towards a more balanced offensive attack.  Being aggressive on the basepaths is still important to them, but now that they can beat you with the long ball more, they don't need to force the issue as much.  Seeing how they are hardly scoring runs in bunches, maybe a little more thievery is in order.
GOOD STAT – Scot Shields has been really bad this season with his 10.50 ERA.  The good news here is that he shouldn't be that bad.  His FIP is only 5.41 and his xFIP is 6.32.  OK, so that is still pretty bad but it isn't nearly as bad as his real ERA so we are just going to have to take that as a positive.
BAD STAT – Need an explanation for Mike Napoli's struggles?  Look no further.  The big slugging catcher is going to continue having a hard time if he doesn't stop pounding the ball into the ground.  So far this season Naps has a 5.00 ground ball-to-fly ball ratio.  I know he thinks he is fast (which he isn't), but I really hope he doesn't think he can suddenly start legging out infield hits.  Feel free to get under a pitch or two, Mike.
GOOD STAT – Before I even start this one, yes, I do realize that the small sample size is a big factor here.  That being said, let's all get mildly excited that Mike Napoli has a catcher's ERA of 4.62 which is almost right on par with Jeff Mathis' catcher's ERA of 4.55.  He still can't throw runners out but at least he is doing a better job of handling pitchers which is a huge step forward in his battle with his defensive deficiencies.
BAD STAT – I haven't really considered defense to be much of a problem for the Angels this year, but maybe I should.  The last thing I expected to see was that Erick Aybar and Torii Hunter (generally considered the best Angel defenders) both have negative UZRs right now.  UZR has never loved Hunter, but Aybar definitely should be performing better.  Oh but it gets worse.  It turns out Kendry Morales is the only Angel regular with a positive UZR thus far.  Yikes.  The net effect is that the Angels are just 19th in the league in UZR.  That definitely isn't something that will sit well with Mike Scioscia.