VS.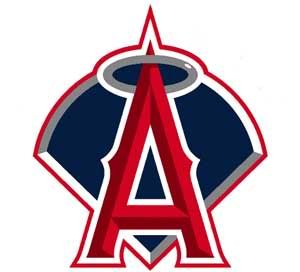 Counting down to the Angels' series against the Rangers in which the Halos need to take advantage of their last gasp of competitive air to try and revive their AL West hopes.

Texas Rangers (60-42) @ Los Angeles Angels of Anaheim (52-52)

Game 1 Starters: TEX – Tommy Hunter (8-2, 2.31 ERA)  LAA – Ervin Santana (9-7, 3.55 ERA)
Game 1 Info: 7:05 PM PT TV-Fox Sports West; Radio-ESPN Radio, KLAA 830 AM, KWKW 1330 AM
Game 2 Starters: TEX – Scott Feldman (5-9, 5.46 ERA)  LAA – Dan Haren (7-9, 4.57 ERA)
Game 2 Info: 6:05 PM PT TV-Fox Sports West; Radio-ESPN Radio, KLAA 830 AM, KWKW 1330 AM
Game 3 Starters: TEX – Cliff Lee (9-4, 2.40 ERA)  LAA – Jered Weaver (9-7, 3.19 ERA)
Game 3 Info: 12:35 PM PT TV-KCOP; Radio-ESPN Radio, KLAA 830 AM, KWKW 1330 AM
5. For all intents and purposes, the Angel season is dead on the operating table right now.  But with the Texas Rangers in town for three games, it seems like Anaheim might have on last gasp of air in their lungs and if they can use that desperate act to pull off a sweep and cut the deficit to six games, they would at least have a faint pulse again.  I know it seems like I am probably just looking for any glimmer of hope here, and, well, I am.  With how pathetic the Angel offense has been of late, I don't have a lot of faith in them pulling off a series sweep, but stranger things have happened.
4. If the Angels are going to win this series, it is going to be because of how they deliberately set up their rotation so that their three top pitchers would be set to go for this crucial matchup.  With Santana, Haren and Weaver all lined up and ready to go (and pitching well lately), the flailing Angel offense may not need to score very many runs for the Halos to get some wins here.  That is assuming Dan Haren doesn't get Charlie Browned by another comebacker and no other starting pitcher pulls a Joel Pineiro and gets scratched at the last minute forcing Scot Shields to make another emergency start.  If any of that happens again, I might not just give on the Angel season; I might give up on life.
3. The Halos really better hope that the starting pitchers are on top of their games though because they need them to go as deep as humanly possible into these games.  The aforementioned Pineiro injury really taxed the bullpen and even with a day off, there are a lot of tired arms down there.  Even if the arms are fresh, they may not be any good though.  With the exception of maybe Francisco Rodriguez, not a single Angel reliever is pitching well right now (especially Fernando Rodney), so if the relief corps is asked to do to much this series, expect to see a blown save or three.
2. With the way each of these teams have been wheeling and dealing lately and the trade deadline coming up right before the second game of this series.  I can't help but wonder if there might not be another trade from one or both of these teams in the next few hours.  The Rangers seem to be doing whatever they can to build more depth and can't be ruled out as making another move, although with the Angels fading away, they may no longer feel the need to do so.  As for the Halos, they should probably starting going into seller mode, but I get a sense that they might be too prideful to just raise the white flag while their hated division rival is in town.  We should find out either way soon enough.
1. Part of me is actually kind of happy that the Rangers are likely going to win the division this year.  One thing that has been missing for me as an Angel fan all these years is a real rival for the Halos.  They've had their spats with the Athletics, Mariners and Red Sox, but none of them seem to have any staying power.  But this Ranger team has the look of a team that could be pretty good for a pretty long time.  Since there has always been a bit of bad blood between the two clubs, it looks like I might finally get my wish to have a real rival that I can focus my hate on.  Hooray!