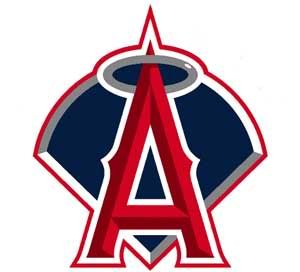 VS.
Counting down to the Angels' series against the Rangers in which we count it down for the final time in 2010, much earlier than expected.

Los Angeles Angels of Anaheim (78-80) @ Texas Rangers (88-70)
Game 1 Starters: LAA – Scott Kazmir (9-15, 6.03 ERA)  TEX – Cliff Lee (12-9, 3.29 ERA)
Game 1 Info: 5:05 PM PT TV-Fox Sports West; Radio-ESPN Radio, KLAA 830 AM, KWKW 1330 AM
Game 2 Starters: LAA – Jered Weaver (13-12, 3.02 ERA)  TEX – Derek Holland (3-4, 4.23 ERA)
Game 2 Info: 5:05 PM PT TV-Fox Sports West; Radio-ESPN Radio, KLAA 830 AM, KWKW 1330 AM
Game 3 Starters: LAA – Ervin Santana (17-9, 3.83 ERA)  TEX – C.J. Wilson (14-8, 3.35 ERA)
Game 3 Info: 5:05 PM PT TV-Fox Sports West; Radio-ESPN Radio, KLAA 830 AM, KWKW 1330 AM
Game 4 Starters: LAA – Dan Haren (11-12, 3.93 ERA)  TEX – Colby Lewis (12-13, 3.72 ERA)
Game 4 Info: 12:05 PM PT TV-Fox Sports West; Radio-ESPN Radio, KLAA 830 AM, KWKW 1330 AM
5. I've listed all the probable starters for this series, but really, they should almost all just be To Be Determined.  It seems unlikely that the Angels are going to let all of their starters take the  mound as scheduled, especially since Weaver, Haren and Santana have all thrown 215+ innings this season.  Haren is the most likely to be skipped since he is slated to pitch the last game of the season.  The same goes for Texas who undoubtedly wants to keep their pitching staff fresh and lineup their rotation for the ALDS.  Man, that was painful to right.
4. Since this is the final series of the season, there is one undeniable piece of good fortune involved here: we won't have to watch Scott Kazmir pitch again until next spring.  Hooray!  I might even have to throw a parade to commemorate the occasion.
3. If Scioscia does decide to ease up on his starters, let's hope Weaver is spared from that decision.  He doesn't have anything left to prove, but he does have a strikeout title within his reach.  As of today, he trails Felix Hernandez by three whiffs.  One has to think that if Weaver is allowed to go at least six innings, he can get the Ks he needs to surpass King Felix.  But he might need to do much better than that to have a real shot at the strikeout crown since Hernandez still has a start coming this week too (though there is no guarantee Seattle won't choose to rest him, but I doubt it since he still needs to beef up his resume for the Cy Young voting and a strikeout title would look really good).
2. Well, since it is the final countdown of the season, I might as well make one final prediction.  These games are totally meaningless to the teams involved, but I have a hunch that some of the young punks on the Texas roster won't be able to resist the temptation to talk a little smack now that they have finally bested the Halos.  Beanballs, takeout slides and plenty of trash talking in the media should ensue.
1. The thing that really pains me about this final series countdown is that it came so early.  I know there were warning signs of a potential Angel downturn before this season, but I honestly thought they were going to be playoff bound again, yet here I am writing this final series preview in disbelief that I am doing it late September and not late October.