Thanks to the trade machinations of Tony Reagins, the Angels now have the distinct honor of having four different natural center fielders on their payroll (with only three on the actual roster, thanks again, Gary Matthews, you useless sack of crap). Due to this stroke of genius(?), one of the hottest topics when Spring Training starts in a few weeks is who will be the Angels' starting center fielder come Opening Day? This is a complicated debate for many, but to me the answer is simple: Peter Bourjos or bust.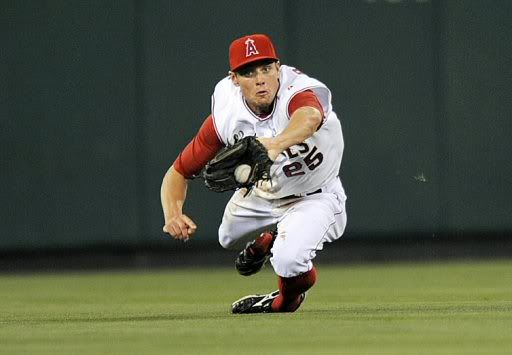 Catches like this alone should make sure Peter gets the job.

Nothing blows my mind more than to hear or see any discussion about whether or not Peter Bourjos should be the full-time CF for the Halos in 2011. It is like witnessing conversations where logic and reason cease to exist. Seriously, I see people tweet things like, "Let's re-sign Vlad and give Bourjos another year of seasoning in Triple-A," and it is all I can do to not stand up in my cubicle and start screaming curse words at my monitors (yes, monitors, I have three at my workdesk, jealous?). So, for the sake of my own sanity, I'm going to walk through the multitude of reasons why Peter Bourjos should be the unquestioned starting center fielder for the 2011 Angels. I will try my best to not have this come off as sarcastic and condescending, but I make no promises.
Let's start with an easy one. Do you think outfield defense is important for the LA Angels? Before you answer, consider this. The groundball/flyball ratios in 2010 for the Angel rotation members were .55 for Santana, .58 for Weaver, .65 for Kazmir, .70 for Haren and 1.25 for Pineiro. With the obvious exception of Joel Pineiro and his sinker, the Angel rotation is comprised of flyball pitchers, with three of them being of the extreme variety (Haren isn't all that bad and has been slighly better from a career perspective). So doesn't it make sense for the Angels to put a special emphasis on having outfielder who can go and chase down all these flyballs? Of course it does, one point for Bourjos.
Now, this is the part where some of you are undoubtedly saying, "but we have Hunter and Wells, they are both Gold Glove winners!" Good point, except that Gold Gloves are pretty much worthless. Need an example? Look no further than the Angels' own Bobby Abreu, who took home the gold in 2005 (a year in which is UZR was negative 7.9) even though he has never been anything more than mediocre in the field, and I'm being nice. So, in short, you can take your Gold Gloves and stick them where the sun don't shine. Nonetheless, Hunter and Wells have at least had a good defensive reputation at some point in time. Hunter's was well-deserved, at least through the first half of his career. In his prime, he was probably one of the best outfielders of his generation, but since 2006 he hasn't posted a UZR better than -2.0. I know UZR is still open to criticism (I, however, am a big fan), so take that for what it is worth. Even if you are anti-advanced metrics, you can't deny that you couldn't tell Hunter had a lost a step (or three) in center last seaosn before he was shifted to the corner. May the baseball gods strike me down for saying this, but the Halos need someone better in center than the soon-to-be-36-year-old Torii Hunter. That's two points now for Bourjos.
That is probably why the Angels have been talking about using Vernon Wells (who is the tender age of 32, yay) in center should Bourjos not win the gig. This, my friends, would be an epic tragedy. Like Torii, Wells was a defensive asset in his younger days, but Vernon has seen his defensive skills fall off a cliff in the last three seasons, posting severely negative UZR number the last three seasons. Vernon actually was so bad that he ranked dead last amongst center fielders in 2009 and would have done the same in 2008 had he gotten a few more weeks of playing time. To be fair, he was only fourth-worst in 2010, so I guess one could assume he is on the rebound. I don't know how Wells went so bad so fast, but it seems pretty clear that the initial plan of having him move to left is a good idea (actually, having him in right and Hunter in left probably makes more sense since Wells has a better arm, but that is a different article for a different time). I've heard some speculation that Wells should be improved in the field now that he gets to play his home games on real grass, but he has been so terrible the last few years, a simple change in playing surface isn't going to be enough to make him an elite defender, at best, he could be average and average isn't going to cut it behind this rotation. And Bourjos earns a third point.
And let's not forget about giving some equal time to Bobby Abreu. After all, if Wells or Hunter were to shift to center, it would be Bobby Abreu who is in line to take over a corner outfield spot. I don't even need UZR for this one, there is nobody in the world who believes that Bob is anything but a flatout trainwreck defensively. Left field, right field, it's all the same. Abreu in the field means the Halos are pretty much forfeiting runs, which at least partially defeats the purpose of sending down Bourjos in order to bring in a more potent bat to replace him. Make it four points for Bourjos.
Which brings us to the primary argument against PBJ: he can't hit. Based on his .204 average last season, that isn't the most preposterous notion, but there are other factors in play here. The real question here is can he hit enough? Seeing how Peter posted an absolutely bonkers 16.0 UZR a mere 51 games (and I can't emphasize enough how utterly amazing that is, it is the defensive equivalent of him hititng 40 or so homers in 51 games), enough probably isn't all that much. In fact, since Bourjos ended the season with a 1.7 WAR, one could argue that his seemingly pathetic offensive debut was actually more than enough to justify him patroling center everyday. I realize that doesn't exactly pass the smell test though, and given the Angels' offensive struggles, they can't afford another .200 hitter (and I think we all know who I am talking about as the other .200 hitter) in the lineup. Luckily for the Angels, it seems that they an expect Bourjos to step his offensive game up next season without a detour through Salt Lake for that extra "seasoning" so many are calling for. Bill James predicts Bourjos to post a .260/.305/.392 slash line while ZiPS anticipates a strikingly similar .259/.300/.401 slash line. That isn't anything special, but in my book, that is "good enough," especially when you factor in the potential terror he could wreak on the basepaths with his blazing speed.
So, to recap. The Angels desperately need quality outfield defense. Center field is the most important defensive position in the outfield and Wells and Hunter are no longer anything more than average in center. Bourjos is scary good defensively and projects, from multiple sources, to be at least passable offensively. Now, remind me again why this is even a debate? Anyone? Anyone? Bueller?