Who says you can't come home again? At least that is what some Angel fans are hoping for in regards to Vladimir Guerrero, who is still a free agent. The Angels gladly kicked him to the curb after 2009, but it seems that a solid season in Texas could convince them to change their minds. The question is should it? Vlad put up some good numbers in Texas, but had a rough second half to the season as his bat continued to look slow. What is a team to do? Sounds like a great question for this week's poll: should the Angels bring back Vladimir Guerrero?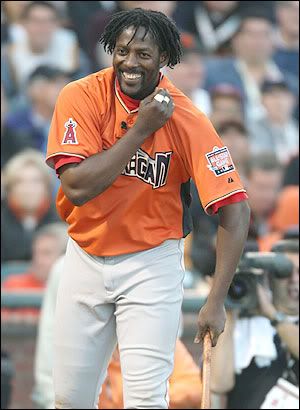 Time to vote!
Hell, yeah! Vlad was an All-Star last season, hit 29 homers, batted .300 and drove in 115 runs. What more could you want?
It's worth a shot. He may be aging, but he clearly still has some life in his bat. If he is willing to sign for the right price, the Angels don't have anything to lose.
I'll take a pass. His second-half numbers were pedestrian at best and the rest of his supposed All-Star credentials were greatly padded by the cozy confines of the Ballpark in Arlington.
Please, no! I am already having nightmares about Scioscia batting him in front of Morales even though Vlad does nothing but pop-up with runners in scoring position.
To place your vote, simply find the Poll of the Week in the gray sidebar to the right.