Asking who should bat leadoff for the Angels might be a asking a question that has no real correct answer, but we're going to have to pick one anyway. So who should it be? Who is the least incorrect? Can anybody on this team become the much needed spark atop the Angel batting order?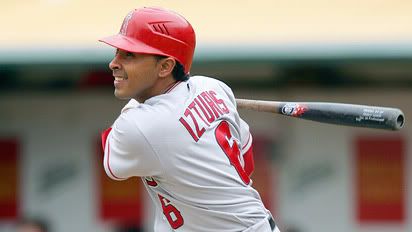 Time to vote!
Maicer Izturis. He is Scioscia's main man, but should he hit leadoff if he is only going to be in the lineup part-time?
Erick Aybar. He didn't exactly shine in the role last season, but he still has the potential to be decent in the role.
Bobby Abreu. You want OBP? Abreu's got the OBP, but having him leadoff just creates another hole right behind him.
Alberto Callaspo. Because… why the hell not?
Someone else. I don't know if there really is anyone else, but Lord knows Scioscia will be sure to give almost everyone a try at landing the gig.
To place your vote, simply find the Poll of the Week in the gray sidebar to the right..